Mountain bikers can be very particular. They find pedals or a dropper lever that works, and that becomes the only one they could possibly ever use. Ask them about those components, and you've just issued an invitation to an evangelist to hold forth. Out of all the parts of the bike to be rigid and sure about, tires are certainly at or near the top. But let's be honest: there are a lot of good tires out there.
Since choosing the right tires is so important and since the market is awash with choices, let's explore what some of the best mountain bike tires are.
Narrowing Things Down
It is a challenge to get the lay of the land. Thinking about what kind of riding you do and what kind of features you need for your riding is the first step—before looking at tires. 
Many riders have an idea of what they want either because they've been mountain biking for a while, they've seen what pro riders use, or they've observed what their friends are using. With new influences and trends, however, these ideas do evolve. For example, there was a time when Maxxis didn't dominate the market.
But before we get to brands and models, what are the features to look for? What are the styles of riding that help reduce the options?
Features, Riding Style
First, there's the speed question. Do you want a tire that will go fast, with the least rolling resistance and with the lightest weight? If you're a cross country (XC) racer, then the answer should be yes. A less knobby and less aggressive tread pattern—especially in the middle—suits this class of rider. Less rubber and higher quality rubber will lead to better lightness. Narrower tires will be lighter and—to an extent—roll faster; however, the improved traction from wider tires will also keep fast riders on the trail.
That all sounds great. I want to be fast! With every choice, though, comes a drawback. Lighter tires will probably puncture easier. Less chunky tires will bite into the trail less.
If speed isn't the primary concern, then, for starters, tire width can increase. There was a time when 2.1" tires were the norm. The trend in the industry just a few years ago was toward wider and wider tires. Plus sized tires—usually 3"—became popular. Even if you didn't want to go that wide, something over 2.5" seemed to be the way to go, if you weren't racing. Wider tires also are more comfortable, so the trend seemed all good.
Nevertheless, if more traction and more comfort were all that mattered, we'd all be riding fat bikes in the summer. Weight and rolling resistance do matter, so why not choose a tire that has sufficient traction. As for comfort, that's what we have suspension for. The backlash against going wider came, and now it seems like the average mountain bike tires are closer to 2.3" to 2.6" for riders looking for all-around goodness, with XC racers going narrower. More than a few bikes still come with 2.8" tires—and this size seems especially good for a hardtail, where riders will appreciate the added comfort in the back.
Enduro and downhill riders are usually less concerned with weight and more concerned with traction, and possibly speed, so their tires usually fall on the higher end of the noted average.
Any Width for Any Bike?
Tire widths do have to be paired properly to bike frames and rim widths. Bike frames will only accept up to a certain width, so it's important to know what that is. I should note that bike manufacturers may wish to err on the side of a conservative recommendation for widths. Why? Because different tires of the same width can vary in actual size and different side knobs stick out more, so why not be careful in their estimates? My bike supposedly takes a max of 2.4", which I respect on the back as I can see the fit of my 2.4" tire there. But on the front I knew I could go bigger, so I tried a 2.5" and believe there's even room for 2.6".
Older MTB wheels have more narrow rims, measuring at less than 25mm. A 20mm rim should not have a 2.5" tire as it will balloon out. Modern rims usually measure at 30mm or more. If you pair a 35mm rim with a 2.0" tire, problems will also result, such as with control when cornering and absorption of impacts. There is room for error here; going slightly inside or outside recommendations won't result in innertubes constantly exploding. Yet respecting the pairings is smart, and this chart helps.
Tubeless
Going tubeless took the mountain biking world by storm years ago. Most serious riders use tubeless tires because the tire will self-repair smaller punctures and the tire can have lower pressure for better traction. Getting rid of the innertube also means a weight savings, though the tires themselves add some weight for strength and the wheel may require a rim strip, so the net weight difference may generally be nil.
Most MTB tires and wheels today are tubeless ready, so it's more of an issue of whether someone wants to set up the tires as such. The set up does take some effort—and chances are you'll need an air compressor (see your local bike shop)—but once it's completed all you have to do is periodically add sealant, which is simple if you add it through the valve. Due to the added strength of the tires, tubeless tires are usually more difficult to mount, but since most better tires are already tubeless, there isn't much of a choice here.
TPI
One more consideration, one that is getting a little techy for most people, is TPI, which stands for threads per inch. Lower TPI means fewer, thicker threads, and higher is the opposite. A higher TPI means it's lighter, it's more flexible for greater comfort, and it has better rolling resistance—but with more proneness to puncture.
Other Features, by Brand
Many brands have their own special names for features and tire compounds. These may seem like gimmicks cooked up by marketing departments, but often consumers have choices among these different features, and usually they signify real differences.
Maxxis, for example, has 3C Maxterra, 3C Maxgrip, 3C Maxspeed, Super Tacky, EXO, EXO+, Double Down, Wide Trail, etc. Some tires may simply come with some of these features, but with others one can choose, and the choices amount to tradeoffs like adding weight to gain more puncture resistance or adding more grip for a higher price tag. So many decisions! Deep in the rabbit hole of first world problems.
The Tires!
Note that some of the links below connect to specific subsets of a tire at Amazon.com. As mentioned above, the combinations for one single tire can be vast, so the width or the compound might not be the exact one you want. Manufacturers websites are the place to go to see all the choices. Also, the combination one selects will affect the price, sometimes significantly, within the same tire.
Maxxis Minion DHF
Maxxis Minion DHF
MINION DHF: With a tread design that deftly balances rolling speed with braking...
EXO: An extremely cut-resistant and abrasion-resistant material added to the...
DUAL COMPOUND: Two compounds used within the tread offer lower rolling...
TUBELESS READY: Sealant-compatible rubber is used with a Tubeless Ready bead to...
Universally acclaimed as the reference standard for a front tire, the Maxxis Minion DHF is a great choice for all styles of riding except XC racing. It's a good tire for all conditions, which is appealing because most of us don't have a quiver of tires that we swap for different trails and conditions. Excellent for cornering and traction, this aggressive tire's weakest aspect is rolling resistance. Although it is not the slowest tire, it is sluggish to accelerate, yet once up to speed it's capable. In the 29" size alone it comes in 16 different varieties. In the 2.5" size, for example, there are eight different types where a consumer can select among different weights, tpi, tackiness, durability, etc. Sizes include 2.3", 2.5", 2.6", and 3.0".
The DHF is also solid as a back tire, though Maxxis also makes the Minion DHR, another beloved tire, with better braking and cornering. With that great bite into the trail, the DHR is slower than the DHF.
Maxxis Dissector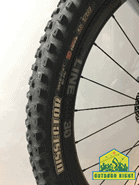 Personally, I pair a Minion DHF in the front with a Dissector in the back, which to me is a perfect combination. Similar to the Minion, the Dissector is a great all-arounder suitable for various trail conditions. This chunky tire is not about speed but cornering and traction. Best for trail/enduro/downhill riding. When this tire first came out, one of its most touted features was its supposedly incredible braking performance. Now the tire is apparently just ok for braking traction but is considered a fast roller for its class. I've found its dig into the trail for braking, accelerating, and climbing to be exceptional.
Maxxis Ardent
Coming in 2.25" and 2.4", the Ardent is a fast-rolling XC tire. Not as good on traction or cornering, it'll get you around the trail faster than your slow friend who's running a DHF and a Dissector!  For an even faster version with better cornering, there's the Ardent Race. The Rekon Race and the Aspen are the other two Maxxis XC race tires to check out, with their low profile centers and decent side knobs for cornering. They're also light.
Maxxis Aggressor
Maxxis Aggressor
AGGRESSOR: Designed for high-speed modern mountain bike trails. Advanced knob...
ALL-AROUND TRAIL: Excells on everything from loose cross country race courses to...
EXO: An extremely cut-resistant and abrasion-resistant material added to the...
DUAL COMPOUND: Two compounds used within the tread offer lower rolling...
TUBELESS READY: Sealant-compatible rubber is used with a Tubeless Ready bead to...
The Aggressor makes an ideal rear tire with its braking performance, solid cornering traction, and good rolling resistance. An attractive choice for all-mountain versatility. The only reason I don't have an Aggressor is because it doesn't come in the right width. Its sizes in both 27.5" and 29" are 2.3" and 2.5", the former too narrow for my needs and the latter too wide for my frame.
Maxxis Assegai
Maxxis Assegai
World Cup Champion Greg Minnaar's signature tire.
3C MaxxTerra Compound: An intermediate compound configuration used in select mountain tires.
EXO Protection: An extremely cut-resistant and abrasion-resistant material added to the sidewalls.
Wide Trail: Wide Trail (WT) construction optimizes the tire's tread layout and profile on today's modern, wider rims.
One look at the Assegai tells you almost all you need to know. This tire means business. Aggressive, burly treads. Tall knobs to keep you on the trail. It can be used front or back, but Maxxis recommends it as a front tire. Comes in 2.5" and 2.6". Do not show up to an XC race sporting this heavy, slower tire. It excels with the use of gravity.
Schwalbe Nobby Nic
Schwalbe Nobby Nic
The Schwalbe Nobby Nic combines Triple compound and the super-fast carcass used by the Racing Ralph providing divine grip and speed for the trails.
Uses an extremely elastic tread base for very low rolling resistance, and a stable center and extra shoulder grip for performance and cornering.
Utilizes the super-fast carcass of the Racing Ralph.
Maxxis is not the first and last word in mountain bike tires. Schwalbe will be the first to assert that. And the Nobby Nic, with its appeal ranging from XC types to enduro shredders, is an attractive do-it-all tire. Most riders are best served by a tire for virtually all conditions and terrain, and the Nobby Nic, redesigned for 2021, may be the all-arounder you're looking for. It comes in 32 different varieties, meaning tire size and width, and various combinations of compounds, performance level, and color. The price among these choices varies widely, so don't be put off by a $95 version thinking that's what they all cost.
Schwalbe Rocket Ron
Schwalbe Rocket Ron
This XC Rocket combines speed and corner control at the highest possible level
An excellent all-rounder for racetracks
Tread design: balanced proportion between stable studs and sufficient gaps for...
Country Of Origin : Taiwan
Schwalbe make a number of fast cross country tires, though some of them, such as the Racing Ralph, are race tires for specific conditions, giving them a limited audience. The Rocket Ron is a more versatile XC tire that rolls fast but keeps the tires pinned to the ground. Its generous side knobs give confidence in corners.
Vittoria Mazza
Sale
Vittoria Mazza
MTB tires for hard pack, slippery muck and gravel; ride faster on trails and...
Top choice for both front and rear use; this mountain bike tire features a...
Safer MTB ride - Tread depth claws into a range of terrain, and is stabilized...
Fast rolling, lightweight, grippy and an overall great mountain bike tire. ...
Vittoria is the official tire of USA Cycling. Tire choice of professional riders...
Coming in 2.4" and 2.6" widths, the Vittoria Mazza is a solid trail and enduro tire. Slot it in as either a front or back tire. With multiple compounds and varying tread flex in one tire, Vittoria designed the Mazza to give traction, speed, and braking where and when you need it.
Michelin Wild AM2 Competition
MICHELIN Wild AM Competition
Grip Leader On Soft/Mixed Terrains
E-Bike Ready
Model Number: Cicli Bonin_082366
Package Dimension: 37cm ( H ) x 8.8cm ( L ) x 15.8cm ( W )
Sport type: Cycling
The Wild AM Performance sounds like the best tire for all-mountain as Michelin describes it as having "more grip for training use and fun rides." But the AM2, a new Michelin entry, sounds like the superior tire as Michelin boasts of its greater robustness and grip over the AM Performance. Also favoring the AM2 is that it comes in 27.5" and 29", with the AM coming, bafflingly, in only 26" and 27.5". The tire works best in mixed to loose conditions and works in the mud as well but isn't as solid on pure hardpack. While the Michelin website won't do you any favors in trying to figure out what tire you want and they don't have the dizzying number of permutations and combinations per tire as other manufacturers, the company does know tires.
Specialized Eliminator Grid 2bliss
Specialized Eliminator comes in 2.3" and 2.6" widths with various different versions that aren't easy to compare, due to a clunky website. Best as an all-mountain rear tire that is well-mannered in various contexts. The T7, T9, Black Diamond, and Gravity all offer slightly different versions of the tire. 
WTB Vigilante
WTB Vigilante
Prominent lugs dig into any terrain, wet or dry, while providing stability at...
Ample spacing between knobs ensures it flings mud while biting into loose,...
Most often used as an aggressive front tire, though it also works well as a rear...
Proven performance as WTB's most popular mountain tire
WTB Velociraptor
Steering specific front designed to provide maximum cornering traction.
Braking specific rear with wide knobs that dig in while braking in loose...
Tube-type tire with a wire bead, these tires are very durable.
With names such as Convict, Judge, Ranger, Vigilante, and Verdict, tires at WTB must get their names from the company's legal department. Sounds very impressive and WTB has the chops to back up the names. My first set of tires were Velociraptors, and I love that WTB still sells this XC tire only in the exact same size that I had: 26" x 2.1"—a very turn of the century size; the price is hardly more expensive than over two decades ago as well!  More to trail riders liking is the Vigilante, WTB's most popular mountain tire. Sizes range widely: 2.3", 2.5", 2.6", and 2.8". It's an aggressive tire that rips down trails and keeps the bike hooked to the ground. The main criticism of the tire is that it's heavy. Comparing a similar size and model of the Maxxis Dissector, for example, the Vigilante is 363 grams heavier. Uff! A good pairing with a front Vigilante is a 2.25", 2.4", or 2.6" WTB Trail Boss on the back.
WTB Trail Boss
Tightly spaced, blocky tread minimizes rolling resistance until braking allows...
Supportive side knobs deliver traction when trying to keep the bike upright on...
Commonly used as a rear tire with a WTB Vigilante on the front.
1036 g
TCS - Tubeless Compatible System
Bontrager XR2 Comp
I've used Bontrager tires on the road and on the trail for many seasons, and I've always thought they make great tires at a fair price. An affordable XC tire, the XR2 is a light, wire bead clincher that goes for only 40 clams. Its tread pattern is straightforward and the tire serves its all-around fast moving XC purpose on hard pack. I also like the XR3 and have a 2.35" of this fast, versatile tire on the front of my cross country bike. For a higher end aggressive tire, the Bontrager SE5 Team Issue deserves a look. It comes in 2.3" and 2.6" versions.
Where the Rubber Hits the "Road"
With a huge effect on the performance of a mountain bike, tires must be chosen carefully. Because the range of tires is so wide—with much greater differences than road tires—it's both exciting to try new tires but nerve-racking as well because they aren't cheap and it isn't exciting to buy three tires before settling on one you like. The good news is that for every rider, there are multiple tires that will work impeccably.
The best mountain bike tires will give a rider added confidence and increase the fun. They'll keep you planted on the ground—except when sending—and ready to rip.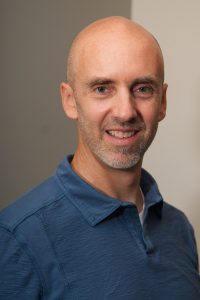 Trevor is an experienced road and mountain biker. He has mountain biked in many of the top places in the world, including Moab, Utah; Fruita, Colorado; Bend, Oregon; Durango, Colorado; Bentonville, Arkansas; Copper Harbor, Michigan; Lake Tahoe, California; amongst others.