Powerful drivetrain, comfy saddle, aluminum constructions – those, my friend, are some of the features the Northrock Xc27 Mountain Bike promises.
If you are an outdoor enthusiast like me, you must recognize that nothing beats a good mountain bike. Having the physicality of conquering the most challenging terrains is just magical.
While most people look for an elegant design, excellent wheels, and good suspension in addition to the three features I mentioned, there is more to a good mountain bike.
A good mountain bike should also have steering accuracy, right pedaling height, and off-road strength. And the Northrock Xc27 and many other Northrock bikes embody all that.
Does it mean that it's flawless? Of course not.
In this review, I'll talk about the Northrock XC27's main specs and features and who this bike is best suited for. So let's get right to it!
Northrock XC27 Mountain Bike Specs
The Northrock Xc27 comes with massive 27.5-inch wheels to promote better acceleration, bike control, agility, and efficiency.
Its frame is high-quality 6061 aluminum, which is rust-resistant, durable, and lightweight.
The rugged bike performs optimally on any terrain, thanks to its high-grade Shimano components – Shimano crank, Shimano integrated shifters, and Shimano 21-speed drivetrain.
Its integrated disc brakes inspire riding confidence, while its double-wall rims boost its strength and overall durability.
The unisex bike has a matte black finish, which is just perfect for the modern cyclist. It generally suits riders who are 5'7″-6'1″ tall.
Best Features of Northrock Xc27 Mountain Bike
Key Features
Hand-Built 17-Inch 6061 Aluminum Frame
The bike's 6061 aluminum frame comes with several benefits that every mountain biker cherishes. For one, the structure is lightweight to give you an easier time moving the bike around.
Don't worry about the aluminum frame breaking, as it is hand-built to guarantee utmost strength.
The 17-inch 6061 aluminum is also rust-proof. So, you don't have to worry about it rusting following contact with water.
Furthermore, the aluminum frame is easy to clean to give you a neatly-looking mountain bike.
High-Grade Shimano Components
The key Shimano components are the triple crank and the drivetrain, which work cohesively to give you better performance.
The Shimano FCT4501 triple crank provides you with a broader gear range to help you find your best riding setting.
Additionally, the gear range boosts your cycling efficiency and overall performance. You get to climb almost seamlessly because of the Shimano triple crank gear range.
As for the Shimano Altus 21-speed drivetrain, it works seamlessly with the Shimano shifters to give you precision, better control, and quick shifting.
The drivetrain also makes it easy to add brake levers to offer you more bike control.
5-Inch Fast-Rolling Wheels
These wheels by Northrock promises greater efficiency, better bike control, and agility. Given that they are massive, they roll over terrains almost seamlessly.
The wheels can conquer off-roads while maintaining steering accuracy. So, you can count on the bike to head where you want it to go, depending on how you steer it.
Also, the wheels promise quicker acceleration, given that they roll over surfaces stress-free.
Other Northrock XC27 Specs
You want your bike to stop when you press the brake. You generally have to control its stopping power, and that is what you get from Northrock Xc27.
Its Tektro disc brake gives you massive stopping power and control to ride safely off-road.
There are also integrated brake levers that are readily adjustable and promise to give you better bike control.
Well-Contoured Velo Saddle
The Northrock Mountain Bike comes with a well-contoured-Velo saddle that's comfortable sitting on for long hours and riding on steep terrains.
So, regardless of the terrain, you can sit more comfortably and enjoy your ride outdoors.
Generally, you can count on the saddle for better performance outdoors. Plus, its design also improves the bike's power output.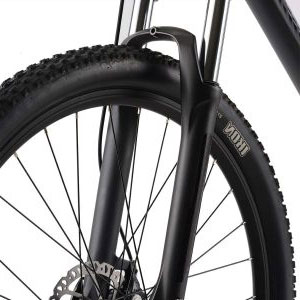 The rims are lightweight to go along with the lightweight aluminum frame, but they are also strong to serve you longer.
You can count on the rims to conquer the unpredictable off-road terrains.
You don't have to worry about the unpredictable rugged terrains as the bike's front suspension will take care of everything.
It'll absorb shock, vibrations, and massive impact when you ride on bumpy surfaces.
What's more, the provision provides the rims with more excellent stability when cycling.
The stem, responsible for connecting the handlebar to the fork's steer tube, is thread-less to give you an optimal cycling position.
So, it becomes easier to take on climbs without having to compromise your posture.
Besides, the presence of the 21-speed shifters makes climbs almost seamless. Therefore, it's not all down to the thread-less stem.
The last thing you would want is a bike that puts your body in an awkward position. Luckily, you avoid that with the thread-less stem.
More Features
These features connect the bike hub with its rims and transfer the bike's load between the two connecting points (rims and hub).
This bike's spokes are strong to withstand enormous loads, something you expect from a premium-quality bike.
So, don't expect the spokes to break like it's often the case with most low-end Costco bikes Northrock.
The feature gives the bike durability plus reliability. The chain also plays a vital role in promoting a light and fast ride.
Northrock Xc27 allows you to mount the following accessories with ease:
Rear bike rack
Child seat
Bottle cage
As a result, you can customize the bike the way you want to suit your cycling preference.
Pros and Cons of Northrock Xc27 Mountain Bike
Pros
Rust-proof
Low maintenance
Strong spokes to support the heavy load
Quick acceleration and cycling agility
Great for both men and women
A quick assembly as the tools come with the bike
Frames, rims, and tires are high-quality
Powerful Shimano drivetrain, brake system, and front suspension
Cons
Doesn't suit riders who are less than 5'7″ tall
The price is slightly higher if compared to most mountain bikes
Northrock Xc27 Bike FAQs
Where Can You Buy The Northrock Xc27?
Click here to get this bike on Amazon.com. You can also check at Costco stores.
What Are The Northrock Xc27 Alternatives?
Consider the following bikes:
Is This Bike for Men or Women?
The Northrock Xc27 is unisex. Both men and women can, therefore, ride it.
It's, however, more suited to young men because of the frame design. If, however, you are a woman and you don't mind a crossbar, you can ride it.
What's the Preferred Rider's Height for Northrock Xc27?
Anyone who is 5'7″-6'1″ can ride this bike comfortably. You can confirm the rider's height from the sizing chart.
Verdict
Overall, the Northrock Xc27 Mountain Bike is a decent bike for getting around, more so off-road. It has the build to withstand the off-road ruggedness and the technical specifications to give you an exciting ride.
The bike is also fast, comfortable, and trendy. What else would you want from a mountain bike?

Alex Mwangi is the creator of Outdoor Right and an outdoor enthusiast. During his free time he enjoys riding his road bike or traveling the world looking for his next adventure.