The first proper folding bike was invented in 1887 as a way to easily store away a bicycle while not in use and as a way to easily transport it on locomotives. 
Eventually, these folding bicycles became specialized equipment for specific military personnel around the world, including paratroopers! They could carry the bikes on their backs while marching or quickly and silently change position via their steel steeds. 
The basic mechanical elements that were utilized back then have been passed down through the 20th century and now in the 21st century and applied to the modern folding mountain bike.
Want to learn more about folding mountain bikes, and the most recent entry into the market, electric folding mountain bikes? Well read on to see if a folding bike is right for you.
What Makes a Folding Bicycle a Mountain Bike?
Standard mountain bikes that do not fold can overcome significant off-road trail obstacles at high speeds while still maintaining a smooth and stable ride quality.  A true folding mountain bike retains the ride characteristics of their non-folding brethren while also accommodating small storage spaces. 
Meanwhile, there are some compact folding bicycles with wheels much smaller than the 26-inch mountain standard that push the boundary of what a folding mountain bike means. 
Although wheel sizes below 26-inch can compromise a mountain bike's ride characteristics and may result in greater probability of striking a large obstacle and being sent over the handlebars, there are several small-wheeled foldable mountain bikes more than capable of handling easier off-road trails. 
These super-compact foldable mountain bikes are similar in size as typical folding commuter bikes, but offer suspension and/or oversized tires to help smooth out the rough. 
True folding mountain bikes have wheel sizes between 26 and 27.5 inches while the compact version have wheel sizes around 20 inches.  Folding mountain bikes borrow standard mountain bike technology such as disc brakes, shock absorbers and more aggressive knobby tires.   
Before Buying a Folding Bike
There are several things to consider before buying a folding bike. 
A true folding mountain bike with its larger wheels and frame is not going to be as conveniently stored as a compact folding mountain bike.  However, these bikes can be ridden as hard as any typical mountain bike over the roughest terrain with expert handling characteristics. 
These bikes are better suited for dedicated mountain bikers short on space such as those riders with economy apartments, subcompact cars or sports cars with small trunk space.  On the other hand, compact folding mountain bikes with 20-inch tires are better suited for recreational riders or commuters wanting to ride dilapidated pavement roads, gravel roads, cobblestone, easier dirt trails or over uneven fields or lawns. 
These folding mountain bikes can break down into much smaller spaces making for easier commutes on public transportation, more manageable when carrying up stairs and likely fit into just about any vehicle or even carried on the back of a motorcycle.
Who Needs a Folding Mountain Bike?
Folding mountain bikes are used by many different people for different reasons, but it comes down to either saving space or ease of transport when not in use. 
Urban commuters have been known to use folding bicycles as a way to accommodate small apartment spaces while also being able to fold them up for easy transport on public transportation.  Drivers with small trunk space such as those found in subcompact cars, sports cars or motorcycles and those unwilling to place roof racks on their vehicles will prefer folding mountain bikes. 
Lastly, those trekking long distances by foot over rugged terrain can haul folding mountain bikes on their backs as an efficient form of transportation once they find trail terrain suitable for a mountain bike.
Electric Folding Mountain Bikes
One of the biggest trends in bicycling has been the development of electric-assist.  Called an ebike, these electric-motor driven bicycles are a game changer for commuters that need to get to work faster or cover more miles without breaking a sweat. 
The compact folding mountain bike versions handle about the same as their non-motorized counterparts, but they weigh quite a bit more due to the added hardware needed for power.  Some commuters skip public transportation altogether riding these bikes because they can outpace the busses or trains and ride to work in fresh air. 
Being more expensive than typical folding mountain bikes, these vehicles pay for themselves over time as owners no longer pay for transit.
You Get What You Pay For
Not all folding mountain bikes are created equal. 
As with any bicycle, there are price points which come with expected performance characteristics.  As they say  –  you get what you pay for and folding mountain bikes are no different. 
The least expensive options priced at $200-$500, such as some found at big box stores, are going to be fabricated with the least expensive materials and manufacturing processes which tend to result in bicycles with added weight, much less durability and less stable ride quality. 
In some cases, these have bad reviews and may even become dangerous or fail when ridden off road.  For the sake of safety, I cannot recommend any discount folding mountain bike.  The mid-range prices for folding mountain bikes between $600-$800 may be suitable, but your own research may be necessary to be sure you're getting a quality product. 
I can highly recommend most folding mountain bikes priced over $800 because unlike the discount brands, they're typically made with the best materials and manufacturing processes which reduces weights, adds strength and greatly improves ride qualities and safety.  
Safety First
I have several personal stories about the safety issues with these lower-end bicycles.
I was working at a residential treatment facility for children when we received a large donation of new bicycles during the holiday season.  All of these bicycles came from discount stores, but we accepted the donation in hopes the bicycles would still be of good use. 
However, by mid-summer, every single donated bicycle was wrecked. 
The materials were so soft that they damaged extraordinarily easily.  In fact, we had several mountain bikes that came with tags stating "Not for Off-Road Use." The biggest safety hazard these bicycles had were the soft brake mechanisms that bent so far out of shape, the bicycles couldn't stop.  All of these bicycles were unsafe and ruined. 
Later in life, my 12-year-old nephew was riding a discount bicycle down a steep hill and he was going very fast.  This was a worse case scenario.  His bicycle lost its brakes and since he couldn't slow down, he flew off the road around a bend striking a large tree at an estimated 40 MPH.  He ended up braking both arms in several locations, getting a concussion, breaking ribs and receiving an enormous gash in his thigh that needed a ridiculous number of stitches. 
Needless to say, the hospital bills far exceeded the cost of a much better bicycle and he was lucky to have survived the accident. 
If you want to avoid serious injury, you need to buy a folding mountain bike with quality materials and manufacturing processes!
True Folding Mountain Bikes
Change DF-812G and the DF-812B
Change offers two models of true folding mountain bikes, the DF-812G and the DF-812B which represent the best-riding folding mountain bikes listed here.  These mountain bikes are considered hard-tails which mean they offer a shock-absorber for the front wheel, but a rigid frame in the back.  Fairly lightweight (under 32 pounds) and fast riding with exceptional handling characteristics, this is the folding bike most avid mountain bikers would choose.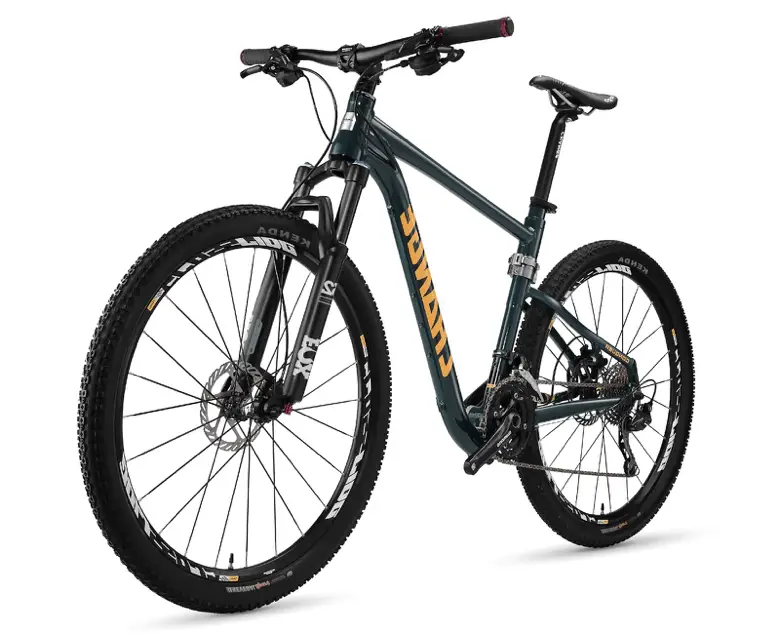 The wheels are the largest of the group at 27.5 inches.  It also has a contemporary mountain bike frame design that makes it difficult to tell that it folds.  These bikes are marked to sell for under $2000 extremely well-equipped.   
Montague Paratrooper
The Montague Paratrooper line of true folding mountain bikes are not only built to last and offer excellent ride quality over challenging terrain, they're also the choice of military paratroopers.  Weighing in at about 35-40 pounds, they're not the lightest, but they do fold down smaller than the Change bikes above.  These bikes are also hard-tails and have wheels sized at the standard mountain bike size of 26 inches. 
The lowest end model of the product line and likely the best buy of all folding mountain bikes listed here is the Paratrooper Express with a MSRP of just $760.  If you're looking for a top-of-the-line ripper, the Paratrooper Elite typically sells for around $2800. 
There are a total of 5 models that fit most budgets and rider needs and I can highly recommend any of these models for safety and durability. 
Compact Folding Mountain Bikes
Moulton XTB Folding Mountain Bike
Moulton XTB is likely the most capable of the compact folding mountain bikes.  It's made from super high end aerospace steel which just about makes it indestructible, and it will likely out live its owner.  
At just over 25 pounds, it's also remarkably lightweight for a steel construction.  It's also a full-suspension design, meaning it has shock absorbers for both the front and rear wheel.  In fact, designed in 1988, it's also considered by some to be the first full-suspension mountain bike. 
It has 20-inch wheels that are more typical of folding commuter bicycles, but it's equipped well enough to handle some light-duty obstacles that would crash a commuter bike.  At below $4500, this is also the most expensive model.
Birdy Pacific Cycles Mountain Bike
Birdy Pacific Cycles
Redesigned oversized main frame that provides better rigidity, internal cable routing for a sleeker look and feel.
It offers 8 speeds, giving you the freedom to ride the way you want to.
10º handlebar for the optimum riding position.
The full-suspension Birdy Pacific Cycles is by far the most interesting design. If you're into turning heads and riding a conversation piece, this is it.  It has tires almost 2 inches wide, but the wheels are somewhat undersized at 18 inches.  
Still, this little bike can handle small obstacles that would destroy a folding commuter bicycle.  At just 25 pounds, this bike folds down small and is the easiest haul on stairs and the most portable of any of the folding mountain bikes listed here.
Electric Folding Mountain Bikes
The Tern HSD 11 isn't quite a folding mountain bike, but with its front suspension fork and its Thudbuster suspension seatpost, it can handle the same rough terrain as the non-electric folding mountain bikes above. 
It's also equipped with the coveted Bosch drive system that's considered the best in the industry.  The only difference is this bike folds flat and not in half, meaning it's gets more narrow or flat as you fold it. 
Although the folding characteristics of this bike may not be suited for everyone, the max speed of 28mph will put a smile on your face and some adrenaline in your blood.  Add to that the cargo rack capable of either a child seat or your groceries and you have yourself a vehicle capable of replacing your city car. 
The one downside for riding trails and gravel roads are the tires.  I would recommend replacing the stock tires with off-road tires upon purchase. The MRSP is around $4500.
BSN Electric Folding Fat Bike
The BSN Electric Folding Fat Bike is a pretty capable folding mountain bike due to having fat tires.  The wheels are 20 inches, but the knobby tires are a whopping 4 inches wide.  The bike doesn't have any mechanical shock absorbers, rather the balloon tires soak up all of the bumps.  This has become a popular model due to its low price point with a MSRP of just $1300.
RadMini Step-Thru 2 Folding Mountain Bike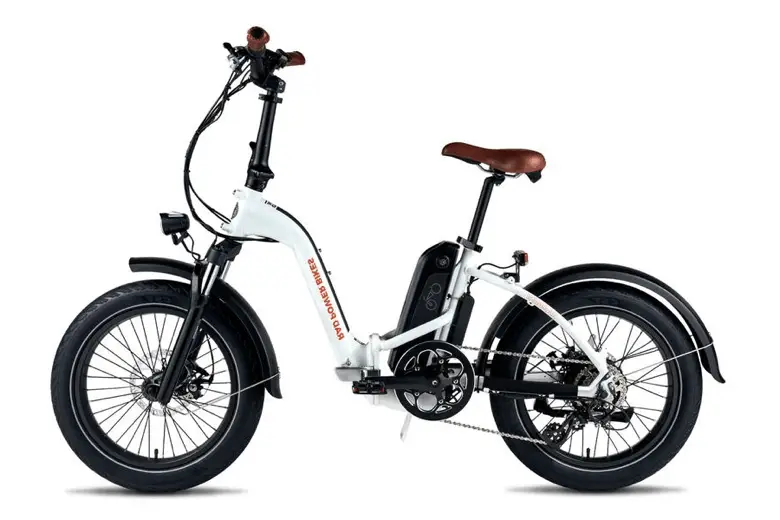 Rad Power Bikes makes the RadMini Step-Thru 2 folding mountain bike.  With it's 3-inch wide puncture resistant tires and suspension fork, it can handle some tough terrain.  It's also the only step-through model which means you can ride this bike while wearing your favorite skirt or kilt.  Not as fast as the Tern above, the Radmini is likely the best equipped bike for the price at just $1500. 
Quietkat Voyager E-Bike
The Quietkat Voyager E-Bike is the most adventure-ready folding mountain bike of the group.  It can be purchased with a suspension seatpost and with it's suspension fork and 4-inch wide tires, it can out perform any of the other electric folding mountain bikes here over off-road terrain.  So if your looking to go off road or rough road very frequently, this bike is for you.  MSRP is under $3000. 
FAQ about Folding Bikes
Can folding bikes be used off road?
Yes, folding mountain bikes can be used off road as long as they're properly equipped and made from quality materials and manufacturing processes.  The true folding mountain bikes can handle anything of a regular mountain bike while the compact folding mountain bikes are designed to handle light-duty off roading.
Are folding mountain bikes good for long rides?
Yes, folding mountain bikes can be used for long rides.  There is nothing preventing them from being comfortable.  However, compared with folding commuter bicycles, they will be a little heavier and the knobby tires may create some rolling resistance.
What's the difference between folding and non-folding bike tires?
The two true folding mountain bikes discussed in the article have no difference in tire design than traditional mountain bikes.  However, the compact folding mountain bikes have specialized tires made to fit the compact wheels of the 18 or 20-inch rim size.   
These tire sizes are specialized products making finding these sized tires at a store front very unlikely.  In most cases, local bicycle shops will be able to order the appropriate tires for your model.)
What size folding mountain bike should I get?
The specific size of folding mountain bike required is dependent upon the size of the rider.  Each manufacturer has their own sizing charts which should be consulted prior to purchasing.  There are also weight limits assigned to each specific folding mountain bike based on the engineering of the frame and components.
Are folding tires lighter?
This is a tricky question, but in general the compact folding mountain bike tires will be lighter than their full-sized brethren given the same tire width.  So a 2-inch wide tire will weigh less for a 20-inch wheel than a 26-inch wheel.  But the biggest difference is in rotational weight. 
The smaller sized wheels and tires of a compact folding mountain bike will accelerate faster and be easier to pedal up hill than the larger wheels and tires of a standard sized folding mountain bike  –  even if they weight the same.
Are folding mountain bikes durable?
Yes, folding mountain bikes are durable as long as they're made from quality materials and manufacturing processes.  The most durable folding mountain bikes are the ones of standard mountain bike size because they're built to handle the roughest terrain, and this has a lot to do with wheel size and suspension travel. 
The compact folding mountain bikes are durable for light-duty off-road use.  This means that if a compact folding mountain bike were to be used over very rocky terrain at high speed, it will not be as durable as the standard size.
Conclusion
Folding mountain bikes are an excellent solution for commuters, frequent flyers, those with small apartments or those with small cars unable accept a bike rack.  There are high quality models made for more aggressive mountain bikers as well as those made for recreation and leisure riding. 
The electric models of folding mountain bikes add a level of ease and speed that can't be matched by their standard drivetrain counterparts.  In short, there are folding mountain bikes designed for everyone that needs a space-saving bicycle capable of going off-road. 
Keep in mind safety and quality while choosing a folding mountain bike because it's better to spend a little more to prevent injury. 
And anyway, folding mountain bikes are just more fun than ordinary bicycles!
Bryan McFarland has spent almost three decades as a recreation professional developing programs for youth camps, managing challenge courses, facilitating therapeutic recreation activities and managing parks.
He's an expert mountain biker of 25 years having ridden some of the best trail systems in the country including Kingdom Trails, Raystown Lake, Tsali, Palo Duro Canyon, Sedona, Moab, Ray's Indoor Bike Park and the Black Hills.
Bryan is also an expert hiker and backpacker, authoring a book about wilderness travel, Bryan's Wilderness Adventure Guide.