If you're new to the world of full-suspension mountain bikes, you have probably looked at your new bike with a suspension right underneath the top tube and asked yourself, "How is that going to fit on my bike rack?"
Although the added suspension makes the traditional hitch rack a bit inconvenient, there are a variety of other options for transporting your full suspension mountain bike.
Some of the best ways to transport a full suspension mountain bike include tray-style hitch racks that support the bike by its wheelbase, roof-mounted racks and other axle mount racks, or in the bed of your truck on a bike shuttle pad.
You can also safely transport it in the trunk of your car in a pinch, but this is not the ideal practice. Read on for a full explanation as to why the first options will work the best and the latter ought to be avoided.
Hitch Racks for Suspension Bike
Hitch racks are the most familiar bike rack option on the market, and for a good reason. They are easy to install and easy to mount the bike onto, but they do come with limitations. Primarily, you will need a vehicle with a hitch or will have to get a hitch installed, which drives up the price a few hundred dollars.
Tray-style hitch racks are the best option available. They support the bike by its wheelbase, which makes them more versatile, being able to function with most bike styles. They are also the most stable of hitch racks by supporting the weight at the wheels.
Sale
Saris Beam Bike Tube Adapter
The Saris bike beam top tube adapter creates a top tube for non traditional bike...
Ideal for mounting your bike to a car rack or home storage unit
Easy to use, the secure snapping feature insures that your bike beam is properly...
Solves the issue of how to quickly, and easily, move your bike from place to...
Top-tube mounting hitch racks are also an option, but you will need to purchase a top tube adapter to work with a full suspension bike. Be warned, if your full suspension has a dropper post, you should not use this style bike rack. Dropper posts are not designed to support the weight of the bicycle, so hanging your bike weight on the dropper post and driving on the highway is absolutely not recommended.
Roof Racks for Suspension Bike
Another good option for transporting a full suspension bike with a sedan or crossover is a roof rack. While this requires some additional equipment to be installed on the vehicle, such as rails, they provide another stable, secure option for your bike.
Roof racks use a tray for the rear wheel and an axle mount for the front wheel, providing a very stable mounting arrangement. Roof racks typically allow you to lock your bicycle to the roof using the axle mount, significantly reducing the concern of theft.
The only downside to the roof rack option is that you need to install additional equipment, and they work best if you own a shorter vehicle. Loading the bicycle requires a bit more physical work, so having a short vehicle will make the overhead lifting and loading process much easier.
Bed of Truck
Truck Shuttle Pad
If you own a pickup truck, then you have a few simple options that work great for full suspension bikes. A truck shuttle pad wraps around the gate of the truck bed, providing padding for the down tube to rest on and a strap to secure the bike in place.
Softride Pick Up Shuttle Pad
Carries up to six bikes in a pickup truck bed.
Rugged nylon straps and heavy duty foam padding for extra protection.Velcro...
Includes four Softwraps for securing bikes to your tailgate pad along a nylon...
Padded protection can haul a load of lumber and hold ladders and tools with no...
When using one of these pads, the front wheel hangs out past the tailgate, but the bike is firmly secured. Loading and unloading bikes is as easy as lifting them into the bed of the trunk and strapping them to the pad. No disassembly required.
The downside to truck pads is that you run a small risk of denting the downtube if the pad wears thin or if you fail to firmly secure the bike. Additionally, there is no integrated locking mechanism, like we saw with the roof racks for sedans.
Axle Mounts
Another option that works well for truck owns and sprinter van owners are standalone axle mounts. There are quite a few offerings on the market, some designed to work with thru-axles (like those on a full-suspension mountain bike) and others designed to work with quick release skewers.
BikeGear Truck Bed Bike Rack Carrier Fork Mount
Lets you transport 1 bike with a 12-mm or 15-mm thru axle in your truck bed or...
Hard mount bolt-down to carry thru-axle forks..Includes 3 interchangeable axle...
Attaches directly to your truck bed or trailer . - holes fit 1/4" and 6-mm bolts
Large center opening makes it easy to feed cable lock .
Capacity for up to 35lb suits most bikes. Strong, non-corrosive cast aluminum...
Certain axle mounts also feature integrated locking mechanisms, which is a great benefit for theft prevention. They are also very stable, firmly securing the bike in place by mounting directly to the fork. However, they do require that you remove the front wheel and safely store it inside your vehicle.
The largest downside to axle mounts is that you need to drill holes and affix them with permanent hardware. This requires drilling through the bed of your truck or the floor of your van, so the installation is a much more permanent decision.
With all that being said, I have a pair of axle mounts installed in a van, and they have worked wonderfully. My bikes are shielded from weathering and firmly, securely mounted inside the vehicle. I highly recommend this option.
Trunk of a Car
In a pinch, you can remove the front wheel from your full suspension bike, put your car seats down, and store the bike in your vehicle. However, this is far from ideal for multiple reasons, not to mention that this isn't even an option for small vehicles.
First, you must lay your bike with the drivetrain facing up, or you risk bending and damaging components. Even with the bike laid down appropriately, there is nothing to secure it in place, and you will be at a higher risk of damaging components.
Another limitation of this method is that you will fill your entire car with a single bicycle. This makes it impossible to fit two bikes or to pack additional equipment and gear for anything longer than a single day trip to the trails.
Ultimately, this method of transporting your bike can work in a pinch, but we recommend not doing it regularly. You risk damaging your bicycle, and the inconvenience far outweighs the price of the superior methods described above.
Conclusion
There are multiple methods to effectively transport your full suspension mountain bike, and you may need to purchase new equipment or a new rack from what you previously used with your old bikes. The most import factors to keep in mind are the stability of the mounting arrangement, security from theft, and protecting your bicycle from damage.
There are safe and secure options on the market that work with every type of vehicle. You should consider which options are most effective for the type of vehicle you own and use to transport your bikes. I would recommend selecting the most stable and secure option, even if it means investing a bit more in a quality rack and setup. After all, replacing a stolen or damaged full suspension mountain bike is much more costly than investing a bit more in a trustworthy transport setup.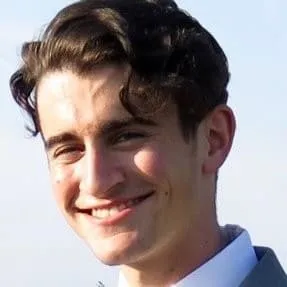 Mitchell Turk is outdoors enthusiast with a lifelong passion for bicycling. He previously worked at his local bike shop before entering the world of engineering, and he may even enjoy geeking out over bike tech more than riding his bike!
Originally a roadie, Mitch dabbled in mountain biking for a couple years and then jumped on the gravel bike bandwagon. He now spends his free time seeking out gravel rides and weekend-long excursions. His ideal outing combines biking, hiking, and climbing for a whole-mountain adventure.