Fat bikes are a top-seller because of their incredible ability to roll over surfaces. One such bicycle is the Northrock Xc00 Fat Tire Bike.
Whether it's on sand, snow, or mud, this rugged fat bike rolls over surfaces almost seamlessly.
Northrock Xc00 is an upgrade of its previous models, which means it's more equipped, sturdier, and faster. The best part is that the fat bike comes at a reasonable price.
This bicycle is generally an excellent pick for entry-level off-road cyclists.
Coming with a Shimano drivetrain and Tektro brakes, this fat mountain bike has an urban cycling machine's technicality.
Its aluminum-alloy frame enables it to hold up to 300 pounds. We cannot forget the impressive alloy rims, low-rise handlebars, Velo saddle, to name a few.
This Northrock Xc00 review will help you understand the bike better. Let's get started.
Bike Specification
Northrock Xc00 comes in a matte black finish and weighs 77.6 pounds.
The fat tire bike features an 18-inch 6061 all-aluminum frame to suit riders who are 5'7″ to 6'2″ tall.
It comes with a high-grade Shimano derailleur, Shimano 7-speed shifters, and Shimano cassettes, which gives it high performance. Cassettes, as opposed to freewheels, are more modern and for "adventurous" riding.
The bike also has impressive stopping power, thanks to its Tektro disc brakes.  Additionally, it's super comfortable, owing to its Velo contoured seat, low-rise handlebars, and Velo handle grips.
Assembly tools are included, and the bike comes with an owner's manual.
Best Features of Northrock Xc00 Fat Tire Bike
Here are the eight reasons why you should get this fat tire mountain bike:
1. All-Aluminum Precision-Formed Frame
There is a lot to expect from the all-aluminum frame of the Northrock Xc00. The fact that it is 18 inches means it suits riders who are 5'7″-6'2″ tall.
You should also note that because the material choice is aluminum, the frame is generally lightweight. As a result, you can move the bike around with ease.
The aluminum frame also features a rust-proof coating that ensures the bike doesn't rust after contact with water.
Moreover, the frame comes in a trendy matter black finish to look modern.
2. High-Quality Shimano Components
The Northrock Xc00 comes with a powerful 7-speed Shimano Altus drivetrain and Shimano shifters, which promote precision shifting and high performance.
The Shimano shifters encourage quick shifting and precision bike control. They feature brake levels that are readily adjustable for effective bike control.
So, whether you ride the fat tire bike Costco on the sand, snow, or a mountain, you get to enjoy full control and easy shifting. That's because of the high-quality Shimano components.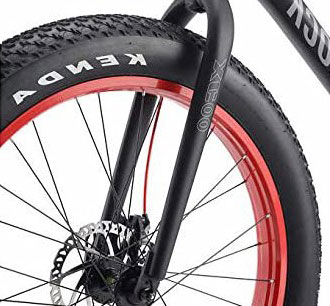 3. Kenda Fat Tires
Measuring 28 by 4 inches, the bike's Kenda fat tires are among the best on the market. Their massive size enables them to roll over outdoor surfaces with ease while also giving the bike utmost stability.
The tires also have enough grip to give you ground traction, which is vital when riding off-road.
Kenda tires are never complete without good rims. The Costco fat bike features alloy rims that are generally lightweight. Not only do they make the bike less heavy but challenging too.
Other Features
4. Tektro Disc Brakes
Northrock Xc00 features Tektro disc brakes that give you better control in all kinds of conditions. You get to enjoy the same stopping power on snow as on sand because of the disc brakes.
The brakes also ensure that you take charge of your cycling. The good thing about them is that they don't require so much maintenance.
5. Stainless Steel Spokes
Unlike most bikes, which feature aluminum spokes, the Northrock Xc00 Fat Tire Mountain Bike comes with stainless spokes. They firmly hold the hub and the fat rims.
So, they give the bike a compact build, something you expect from a fat bike. Generally, the spokes make it possible to ride Northrock Xc00 on all riding weather conditions.
6. Universal Mounts
Northrock Xc00 provides you with an array or mounting capabilities to customize it as you please. Some of the extras you can mount include a rear rack, child seat, and water bottle cage.
7. Low-Rise Handlebar
Its handlebar design lets you put your weight over the bike's front wheels when you take on climbs and steeps. The handlebar generally gives you more leverage when you ride uphill.
8. Contoured Velo Saddle
Comfort is critical when riding a fat mountain bike, and that's what you get from Northrock Fat Tire Bike Xc00.
Its Velo seat is well-contoured to give you a more comfortable feel. So, it's easier to sit for hours.
The best part is that the contoured Velo seat enhances your performance as a rider by increasing your power output.
More Features
Velo handlebar grips – They provide the handlebar with sufficient grip for more comfortable bike control. The grips are not just comfortable but also durable.
Adjustable seat post – This feature lets you find your best seating height.
Jagwire cable cover – This add-on generally improves the bike's overall look. It's strategic to give the Northrock Xc00 a unique style.
Kickstand – This add-on allows you to keep your bike upright anywhere you park it.
KMC chain – The lightweight chain generally adds strength to the bike, boosting its durability.
Assembly tools – The bike comes with everything necessary for its assembly. So, you don't have to worry about incurring extra costs.
User manual – The manual helps you understand the bike's specs better and assemble and maintain it properly.
Pros and Cons of Northrock Xc00 Fat Tire Bike
Pros
Low maintenance
Lightweight and rust-proof all-aluminum frame
Strong rims
Powerful Shimano drivetrain and shifters
Powerful Tektro disk brakes
Highly comfortable Velo contoured saddle and handle
Fast-rolling Kenda fat tires
Adjustable seat post
Easy to ride, even by beginners
The bike is assembly-ready and comes with an owner manual
Cons
The tires look cheap
Not ideal for riders below 5'7″
The tires are more suited to trails than snow
FAQs About the Northrock Xc00 Fat Bike
What Is the Northrock Xc00 Weight Limit?
The bike weighs not more than 35 pounds but can tolerate up to 300 pounds.
Can I Ride The Bike On Sand?
Yes, you can. The bike is perfect off-road, which means you can comfortably ride it on the sand. It's, however, more suited to riding trails
What Is The Bike's Size?
This bike has an 18-inch frame, making it perfect for riders who are 5'7″-6'2″ tall.
Where Can I Buy Northrock Xc00?
You can buy Northrock Xc00 from Amazon or Costco stores.
Is This Bike Tubeless-Ready?
No. The tires of the bike are not tubeless-ready but tubed-ready.
What Are Northrock Xc00 Best Alternatives?
Not many bikes are decent in construction and come at a bargain price as Northrock Xc00.
However, if you want another entry-level bike that'll give you a similar experience without having to spend so much money, consider these two bikes:
Verdict – Is Northrock Xc00 Worth the Money?
The Northrock Xc00 Fat Tire Bike has the build quality, impeccable style, and comfortable touch of the perfect entry-level bike.
It's picture-perfect for entry-level riders on a budget. So, yes, the purchase is worth it.
You only need to address the tires, and you'll have an enviable urban machine in your garage.

Alex Mwangi is the creator of Outdoor Right and an outdoor enthusiast. During his free time he enjoys riding his road bike or traveling the world looking for his next adventure.