Mountain bikers' novel love for the mountains is just indescribable. You are probably one of the pals that want to hit the trail running every few days of the week.
And for real, the mountainous terrain is adventurous. It is fun and quite fulfilling to try to roll on these paths with a proper bike.
Talking of bikes, I've heard many riders wonder what Diamondback Release 1 would do? Well, that's the absolute purpose of this guide.
In this Diamondback Release 1 review, you will know what the bike holds in for you. And the big question is perhaps whether it's the bike for you in the mountains.
In a sneak peek, Diamondback Release 1 is a full-suspension mountain bike curved for serious riders. It doesn't only brim with comfort but it also depicts high speeds, quality control, and top-quality components.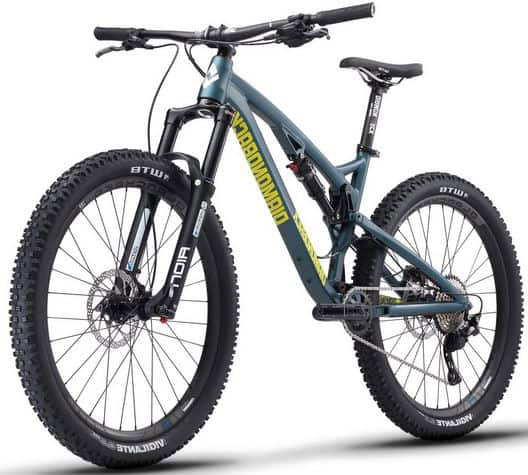 Who is Diamondback Release 1 Full Suspension Bike For?
If you love traversing the mountainous terrain, this is probably one of the best mountain bikes for the purpose. The bike is very durable but also a bit costlier than most.
Additionally, you get maximum comfort thanks to the double suspension set up. So, if you are up for a comfortable ride in the countryside or hillsides, this is your pick.
It is also a versatile machine that you would use on paved rocks, besides cranking over the tough terrains.
Diamondback Release 1 Full Suspension Bike Features
So what makes Release 1 such a hit? Next are some of the most important features that the bike comes with in detail.
1.     The Frame
From the onset, the bike's frame is entirely aluminum. Apart from making the bicycle a bit lighter for easy maneuverability, aluminum also comes with toughness for durable functionality.
The high-strength frame geometry was designed to simulate the women's Clutch model, which is one of the most popular bikes by the Diamondback company.
The entire frame unit sets up perfectly on a level link suspension system. This system allows you to remain stable while applying a lot of pedal pressure up a slope.
The level link suspension also is designed to improve your comfort. It helps cushion the effects of bumpy forces when rolling on roots and rocks.
2.     The Suspension System
Release 1 is presented as a dual-suspension mountain bike. This means, unlike the hardtail counterpart, it features both front and rear suspensions for maximum shock absorption. And this is what makes it a top choice for comfortable rides.
Specifically, the bike comes with a 130 mm rear travel. While there's a 150 mm SR Sun tour Aion fork travel for the front.
With these, you will be hitting the bumpy trails with a little spared to worry.
3.     Drivetrain
Now, a good drivetrain will move you to the highest pinnacle of a climb. It contains the right gear sets for making you go the distance.
In Release 1, the highly functional and durable Shimano Deore drivetrain has been featured. This drivetrain offers excellent functionality thanks to its detailed cogset, shifters, and brakes.
The bike offers a 10-speed gear set, and transitioning from one to the next isn't only effortless but also makes the bike hit the trails with top speeds. The 10-speed gear set will help your course to reach the most difficult terrains without feeling the fatigue.
4.     Wheels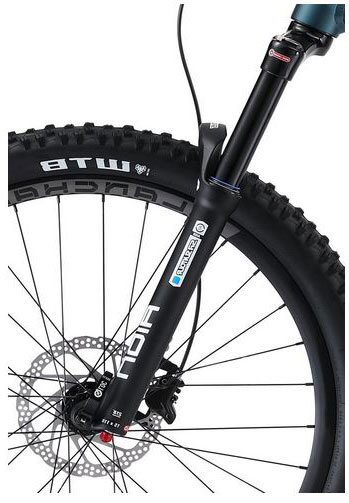 Wheels can make or break your comfort on a bike. They essentially take up a big role – holding other components and allowing riders to effectively control the bike.
Diamondback Release 1 incorporates 27.5-inch wheels or tires. This size is suitable even for tall riders when combined with good frame size.
The wheels are tubeless, strong, and durable. There is no frequent inflating and the next time you are worried about punctures and stuff.
Tubeless wheels also offer a great grip on the surface. So, you will keep the bike in its right balance.
5.     Seat and Seat Post
You also need to know how comfortable you are going to be while seated on the bike. That's why this Diamondback Release 1 review covers the seat and seat post too.
The featured seat angle keeps the rider in a central position for a comfortable posture. It is stable, strong, and offers great positioning while on the bike. You will find climbing over the rocks and roots quite a breeze.
In that regard, the seat post also has a huge bearing on your comfort. It is actually the one that maintains the angle of the saddle.
For the Release 1 Bike seat post, you have a strong tube supporting your weight. It features a low-sided bracket that comes at a 14 mm drop.
6.     Braking System
Brakes are extremely important for any bike. However, brakes should be high-quality, commanding powerful stopping power.
In Release 1, TRP Slate X2 hydraulic disc brakes have been incorporated and they are considered industry-standard. Disc brakes are durable and very reliable. You won't have to grapple to engage them for a stop.
7.     Riding Comfortability
When it comes to riding comfortability, this bike is up to the challenge. It allows for a long and low geometry.
This is great for a proper posture – it lets you sit on the saddle in a center position. You are seated such that your weight is well distributed over the bike for a balanced, effortless ride.
In a comfortable position, pedaling and control of the bike comes naturally and without strain. You can definitely go the distance when your comfort is guaranteed and Release 1 is cut for just that.
The dual suspension fork and rear shocks also add to your comfort. You need to keep in mind that the vast part of your terrain is super challenging.
8.     Weight
The diamond release 1 weight is a bit high. At around 32 lbs., you can see why the bike would be a hauler in rough, tough terrains. This heavyweight advantage makes it a stable and reliable option to use for cruising hard trails.
A thoughtful question would be why the bike has to be heavy and yet it's made of an aluminum frame. The reasons are evident – the bike features a lot of components which certainly add to its weight.
Diamondback Release 1 Pros
The aluminum frame construction is durable and makes the bike a little lightweight
The full suspension system is one of the best when it comes to offering comfort during a ride in difficult terrains. With this suspension, the bike absorbs all possible shocks that you would meet on your way.
It features the Shimano Deore drivetrain. This a durable system with an efficient gear-shifting mechanism.
It uses the hydraulic type of brakes for pulling a stop. Disc brakes are the most powerful brakes in the industry.
The tires are fat, tubeless, and durable. They are the best for navigating harsh mountainside terrain as they don't have the stress of re-inflation.
Diamondback Release 1 Cons:
The bike is a bit heavy. The 32 lbs. weight is not a joke although a heavy-duty bicycle like this would give you an easy time on difficult terrain.
A bit pricey
In Conclusion
As you may have seen in this Diamondback Release 1 review, this bicycle is a good one for mountain biking. The full suspension system highlights why it's a unique pick and therefore great for the challenging tracks with collisions and obstacles.
It is a durable bike – although slapped at a fairly high price. Even so, it's an MTB that will justify your money.

Alex Mwangi is the creator of Outdoor Right and an outdoor enthusiast. During his free time he enjoys riding his road bike or traveling the world looking for his next adventure.