For a mountain biker, the absolute best kind of shopping spree is the one where you're looking for a new bike. And if you're looking for the perfect, affordable trail bike and want that ideal nexus of value and performance, the Canyon Neuron should be high on the list.
In this article, I'm going to take a close look at the Canyon Neuron 6, but know that this will provide an easy entry point into the whole Neuron lineup— which I'll also briefly survey—Canyon's offering of full suspension trail bikes.
So let's get right to it!
Overview of Canyon Neuron
First of all, the bike is a 29er ripper that wants to go on all things singletrack. (The size XS and S are 27.5" in order to fit the geometry proportionally.) It falls in the trail bike category—aka all-mountain—so to modify that a little, it isn't meant for racing and it isn't a downhill rig.
It's a jack of all trades bike.
And with 130mm of front and rear travel, it's ready to hit most of what trails can throw at it, without holding back. It might not get you around the trail the fastest, but, at its price point, it probably will get you around the funnest.
I have the 2019 Canyon Neuron AL 7.0, which Canyon no longer sells, but this bike not only looks similar it has many similar features and components. The current Neuron 6 seems to have taken the place of both the old Neuron AL 6.0 and AL 7.0.
Highlights
The Neuron 6 is a sharp looking bike, especially in the silver and black "stealth" color. Its shape and frame geometry are easy on the eyes, and you feel like Canyon cared about its aesthetics. I've received many compliments passing by strangers on my stealth-colored Neuron, which resembles the 6 closely.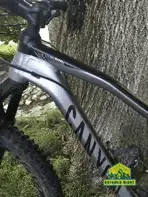 The bike is a great build for the dollar. Canyon specked it out with all the component types you'd want. Of course, those components aren't top of the line, but they're good.
Drivetrain
Component highlights include a 1×12 SRAM NX Eagle drivetrain and shifters. The huge 11×50 cassette range will seldom find you running out of gears.
The bike's SRAM GX and NX components are reliable and smooth. The only issue I've had in two years of hard riding came from crashing on the rear derailleur. A mechanic fiddled with the derailleur but couldn't make it perfect. It goes without saying this issue doesn't relate to the part's quality, and, in fact, it's held up well despite having this notable ding.
Seatpost
The Iridium seatpost sports a variable drop up to 150mm. My Iridium seatpost works perfectly, though there is some play in the seatpost-seat interface, which others besides me have also noted.
On trails, with bumps and varying terrain, you don't notice it, but on the road you may. It isn't a large issue and, anyway, how often will you take this bike on roads for long distances? Hopefully Canyon addressed this minor issue.
Dropper Lever
Related to the seatpost comes my only big criticism of a component: the dropper lever.
Iridium is Canyon's in-house brand and the Iridium lever must have been designed and tested by engineers who don't ride. You know when you set it up that it's bound for trouble as a single small screw is called on to fight the force of every shift to keep the lever in place. And the screw can't win. The lever will move.
This annoying problem eventually had me using my whole hand to shift, meaning I couldn't use it on the fly. Bad!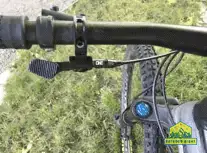 Enter OneUp's dropper lever, which I switched to, thankfully. OneUp's affordable shifter works brilliantly, stays in place, and remains out of the way in case of crashes, unlike the Iridium, which failed on all three counts. It appears that Canyon still uses an Iridium lever, though it's difficult to tell if it's still the lemon from 2019.
Note to Canyon: OneUp would probably be happy to meet you.
Cable Housing
Canyon has gotten the cable housing out of the way, routing it internally and adding to the bike's sleek look. (Interestingly, this still isn't true of the higher end carbon versions.) It appears that the dropper cable, mostly internal, may still pop out and hang awkwardly below the bottom bracket.
That slack hasn't yet caused a problem in my bike, getting caught or smashed, but it does look unsightly. Canyon hid this from the picture when I bought mine, so it's probably still there and just moved for the picture again.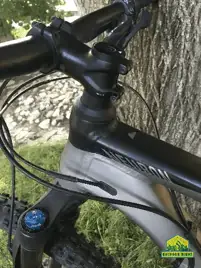 Geometry
In  today's ever-changing mountain bike geometry, the Neuron is slightly behind the times. Let's say it's more 2018 or 2019 than 2021.
Headtube angles keep getting slacker and the 6's 67.5 degree angle is about 1.5 degrees steeper than the average trail bike today, according to Singletracks.com's statistics. Slack head tubes offer better downhill riding but can come with a tradeoff in poor climbing stability.
One way to counteract that is with a steeper seat tube angle, also an industry trend. At 74.5 degrees, the Neuron's seat tube is 1.2 degrees slacker than the average trail bike. Reach and wheelbase—measurements that have trended toward being more stretched out—are shorter than average in the Neuron; chainstay length is longer than average, also going against the trend.
Will you notice such things?
Unless you switch bikes or test bikes, almost certainly not, but as you adapt to a bike you will adjust how you ride it as a result of the geometry. Summed up, these measurements make the Neuron less playful and stable than other models.
Wheels
Two years ago the Neuron came with Mavic wheels; now they're Rodi Tryps with Iridium rims and Shimano hubs. The Mavics were inexpensive, yet Mavic does inexpensive wheels very well. (Though Mavic hubs can be fussy.)
I'm skeptical about Iridium rims, I must say, but as far as I know they only come on some Canyon bikes, so there isn't a lot to go on. Canyon did widen one of the wheels from the Mavics, which were only 25mm, to 30mm; they left the second wheel with 25mm. That's a head scratcher.
Wider rims, which is the industry trend, pull the tire wider giving more traction and stability and improving the ride quality.
Neuron 6 Tires
The changes to the tires since I bought my bike represent an improvement. As with this bike's 2019 iteration, my bike came with a Maxxis 2.35" Forekaster in the front and a Maxxis 2.35" Ardent in the rear. I felt these tires were chosen simply to cut weight, not because they fit the bike.
The Ardent is a racing tire and the Forekaster is a low profile general use tire. Neither should be on a trail bike. I immediately switched to a 2.5" Maxxis Minion DHF on the front and a 2.4" Maxxis Dissector in the back.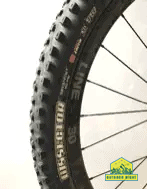 Sale
Maxxis Forekaster
Conditions: Loose/Hard, Medium, Loose, Wet
60 TPI
EXO - Protection resists sidewall cuts and abrasion
Tubeless Ready
Foldable Bead and Dual Compound Material
Now Canyon has gotten less sneaky and, low and behold, there's a 2.4" Dissector! The Dissector is the perfect rear tire, although they put it on the front. (Actually, this is ambiguous; the picture shows it on the front; one of the bike's descriptions says it's on the back.)
Aggressive and great on braking, it's confidence inspiring. They've gone with a 2.4" Rekon on the back. The Rekon is a popular tire, though it hews closer to the speed/trail side of the spectrum. Not a bad choice, but I wouldn't pick it for a trail bike.
Neuron 6 Weight
The Neuron 6 weighs in at 33.1 pounds, which is pretty typical for this category of aluminum bikes at this cost, but that's also a weight that won't win any awards for lightness. In 2019 the 6 weighed 31.74 pounds; certainly, the changed tires are a big part of this increase, but in my book that's valuable weight added.  
How Does It Ride?
I can say that my Neuron provides a well-balanced ride without noticeable glitches. The 29" wheels smash over rough stuff. (In case you're wringing your hands over 27.5 versus 29-inch wheels, know that the 27.5 novelty has played itself out and is now firmly in the minority.)  
Interestingly, in 2019 one of Canyon's biggest selling points with the Neuron lineup was that it was a great climber. Perhaps with the added weight they're no longer willing to claim that, but rest assured, with shock lockouts and the 1×12 Eagle drivetrain, the bike knows how to go uphill.
Personally, I'd switch the tires up to have the Dissector on the back for better climbing traction as well.
My Canyon bombs downhill, and I've never felt it holding me back. If you're shredding on double black gravity trails, yes, this bike will be bottoming out and limiting your fun, but that isn't what it's designed for. I've taken it on trails in New Mexico, Colorado, Arkansas, Michigan, Wisconsin, and Minnesota, and it has proven more than capable on rocky, rooty, techy gnar, and on single black downhills. On the minor drops and jumps that I do, the 130mm rear and front suspension delivers landings with aplomb.
Unless you're upgrading from a lower end bike, you probably won't be in awe of the plush responsiveness of the shocks. The RockShox Judy Silver fork and the RockShox Deluxe Select+ rear shock are just above the base models, yet these shocks reportedly punch above their weight.
Another thing to think about with the travel is whether 130mm is the right amount for your trail bike. Arguing over 10mm may be a little geeky, but some may prefer 140mm. Most trail bikes fall either in the 130 or 140 range, so the Neuron is typical. As you ride the bike, you'll rarely, if ever, curse the lack of that 10mm, and a bigger shock will incur a weight penalty.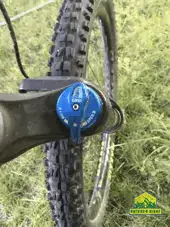 The bike's dropper post will make you rue the days of yore when you'd swear at the seat for getting in your way on every downhill. (Believe me, rigid seat-posters, it's getting in the way more than you think!) In addition to the 1×12 drivetrain, the dropper post is probably the main component that will immediately strike the rider of an older vehicle.
Improvements like boost wheels, wider rims, slacker headtube angles all add up. However, unless you test ride bikes for a living—and even then—you probably won't notice those things, even though they do affect your ride. If you're still piloting a 3x without a dropper post, a modern trail bike like the Neuron will have you kicking yourself for waiting so long to upgrade.
All in all, this is a great all-mountain bike that will hit virtually everything without blinking.
Other Neuron and Canyon Models
The Neuron 6 has an aluminum frame, which is sturdy, stiff, and inexpensive—all in its favor. At a cost of $2,599, it's a great deal. There are also women-specific versions of the 5 and the 6, as well as a kid's version, which costs a sliver under $2K.
The Neuron 5 is a slightly cheaper version at $2,299. The tradeoff of saving $300 is a handful of lesser components. But we're talking lesser Shimano and SRAM components, so if the lower price tag sounds good it's because it is good! In my opinion, the 5 has the two best color options, with the black and silver "stealth" and the blue and black "flash blue" seen below.
To get a carbon frame, you have to move up to the Neuron CF7 and pay $3,799. The more expensive rig will drop the weight by two clicks, reducing it to 31 pounds. A carbon frame is stiffer yet more forgiving than aluminum. With fat tires and full suspension, however, the comfort of carbon is less relevant. An advantage of carbon is that the layup can be fine-tuned to put stiffness and compliance where you want them, so the frame should out-perform a comparable alloy version. The fork upgrades from the RockShox Judy to the Pike and pushes the travel to 140mm. (Rear suspension remains exactly the same.) There are a few other changes as well, including, DT Swiss M1900 wheels. You get two more teeth in the largest GX cassette cog as well, which might sound like nothing, but you'll appreciate those two extra chompers to more easily bite off steeper terrain!
The Neuron CF8 is the high-end version in the line at $5,199. It uses the same frame as the CF7, but it has many upgraded components, including a Shimano XT drivetrain and a better DT Swiss wheelset.
If you want a burlier bike that is more shred-ready for whooping it up on downhills, try the Canyon Spectral, which comes in 27.5" and 29" versions. This rowdy enduro/trail bike is pricier, but those looking for an aggressive trail bike should consider the Spectral with its 150mm or 160mm of travel and more progressive geometry. The Spectral's weight penalty isn't what you'd think because the 29" versions are carbon and the 27.5" versions lose weight around the wheels and tires.
As for competitors, there are many, but I'd check out the YT Jeffsy as a comparable direct to consumer trailbike option.
Direct to Consumer
Can you buy Canyon at your local bike shop? The answer is no. How on earth can you buy a bike, which you even haven't sat on, through the mail?!
It does take a small leap of faith, but the emphasis here is on SMALL. Canyon currently offers a 30 day home trial. You can return the bike for a full refund, assuming it's still in tip-top shape, with free shipping.
Second, in an attempt to get the perfect fit, Canyon runs you through its sizing calculator, then out pops your size.  Personally, this is where it got nervous for me. I did not want to have to repack my bike, send it back, then wait for another bike.
Unless this calculator gave me the answer I was expecting, I wasn't going to trust it. And it didn't. At just over 6 feet tall, it told me I needed a medium, and it stuck to its guns, even when I altered the settings, in some cases by a not small amount. Now what a medium mountain bike means in some office in Koblenz, Germany, may be different than elsewhere. But I didn't trust it. So, I went around the internet to discover what size Canyon bike others, based on their dimensions, got.
From these various data-points, I ignored Canyon's sizing and ordered the large. Thankfully. The large was certainly the right size. Shame on you, Canyon! I did share my experience with the company, and I did hear that they changed their calculator. Now, with my inputs, it does give me a large. Problem, hopefully, solved.
Putting the Bike Together
You see the mailman two blocks from your house, carrying a giant bike box on his back, pack-mule style, and you practically tackle him with your uncontainable excitement.You rush the box inside and slash it open. Wait a minute! It's not already assembled? (Sigh.) Just as you were told with the car kit that took you three years to build in the garage, "some assembly required."
How difficult is the assembly? Think of it this way:  German engineers came up with this plan for a company that depends on home assembly of their products. They know consumers include hopeless nitwits that can't peel a banana nor butter their toast on the right side.
They give you all the tools. If you are patient, you will be fine, and it does not take long. The one thing I will say that was a little tricky was setting up the mechanical dropper post. This part certainly required some trial and error. Plus, my dropper post didn't work. In trying to figure out how to fix it, the directions on the dropper post were generic and confusing.
That's when I punted and took it to the local bike shop. The mechanic had to get on the horn with Canyon in order to figure out the problem: a seemingly quite minor issue of the cable being short by one centimeter. It did require a new cable, but it was up and running in no time, and responsive Canyon reimbursed me right away without bureaucratic nonsense.
The Final Word
The Canyon Neuron 6 is highly recommended. You get a good build at a great price for a bike that should give you nothing but smiles. I am loath to call it a budget model at $2,599, but that's how it's positioned.
If the price point isn't right, you can go up or a little bit down the Neuron lineup to find what you need. While the 6's geometry is a little behind the times—you know, so two years ago—it otherwise readily fulfills the needs of its trail category.
This versatile performer will have you wanting to romp around the trails more than ever. And that's the real test of a bike.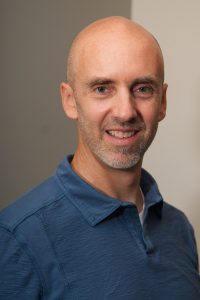 Trevor is an experienced road and mountain biker. He has mountain biked in many of the top places in the world, including Moab, Utah; Fruita, Colorado; Bend, Oregon; Durango, Colorado; Bentonville, Arkansas; Copper Harbor, Michigan; Lake Tahoe, California; amongst others.