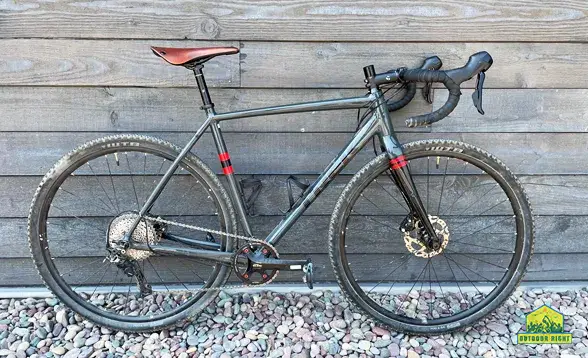 The Trek Checkpoint ALR 5 is a versatile, high-performing gravel bike that appeals to roadies and gravel racers alike, while still offering plenty for the casual gravel rider. With the Checkpoint, Trek Bicycle pulled from their past successes, both in road bikes and cyclocross bikes, and brought to the market an all-around bike that performs on any terrain.
The Trek Checkpoint truly is a quiver-killer, burly and stable enough to take on the roads less travelled while still being light and quick enough to keep up on the weeknight group rides. The Checkpoint puts the rider in a more aggressive riding position than other offerings on the market, with a few geometry tweaks that create a stable and predictable ride compared to its cyclocross cousins.
In short, the Trek Checkpoint ALR 5 is an all-road, alloy success. Stable enough for technical, off-road riding, and race-inspired enough to feel quick and competitive on the tarmac. Furthermore, the alloy build provides great functionality without burning a hole in your wallet.
For a more detailed breakdown, read on for the full review of the Trek Checkpoint ALR 5.
Trek Checkpoint Frameset
The frameset for the Checkpoint ALR 5 utilizes Treks 300 Series Alpha Aluminum with a tapered headtube leading to a carbon fiber fork. The frame includes mounts for front and rear racks, mudguards, and multiple bottle cages.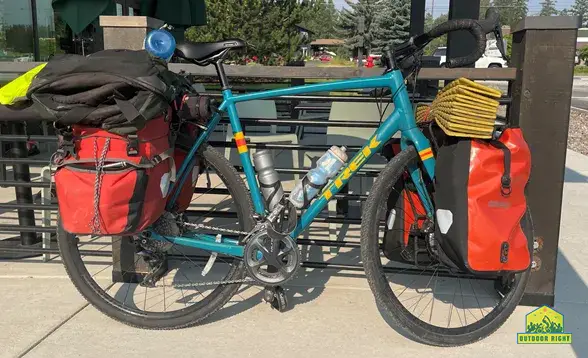 The frame also features internal cable routing, which is not only a nice aesthetic touch but also keeps the cables clean and protected from the off-road environment. The frame has a classic look with hydroformed tubes and clean welds that provide good stiffness and keep it light.
An added versatility of the Checkpoint frame is the sliding horizontal dropouts. They allow the rider to convert to a single-speed, if they so desire, or change their gearing and provide additional clearance for larger tires. I converted my Checkpoint from 2x to 1x after purchase, and the horizontal sliding dropouts provided me with the flexibility to dial in my ideal drivetrain.
ALR 5 Geometry
The geometry of the Checkpoint pulls largely from Trek's impressive cyclocross bikes, the Boone and the Crocket, sharing the same wheelbase and chainstay length as the Boone. The Checkpoint has a few geometry tweaks, such as a lower bottom bracket and slacker seat tube angle, that make it quick and race-inspired while still being very stable on mixed terrains.
Another interesting benefit of the horizontal sliding dropouts previously mentioned is their impact on frame geometry. By increasing the wheelbase and moving the rear wheel further back in the dropouts, the bottom bracket height is slightly reduced, and the frame tube angles are further slackened. While this geometric adjustment seems slight, it will provide a more upright, stable ride feel that will suit some riders well.
These frame design elements contribute to a frame that is race-inspired and adventure ready. By sporting a frame that's aggressive and quick on all terrains and still providing stability and predictably off the tarmac, the Checkpoint is well-suited for all-road riding, gravel racing, or being loaded up with gear for a multi-day adventure.
Checkpoint Tires
The Checkpoint comes stock with 700x40mm Schwalbe G-One tires. When the Checkpoint was initially released, it featured 35mm tires, but they have since upped the size to 40mm, which I think is huge improvement.
Out of the box, the 40mm G-Ones serve the Checkpoint well. They are quick on the tarmac, and the 40mm width offers good traction for light gravel riding. They do suffer a bit in the mud; the tread quickly fills with mud, and they get slick. But, for general purpose riding, the G-Ones are a good all-arounder.
When WTB released the new Raddler, I picked up a pair of 700x44mm's and swapped out my G-Ones. Trek claims that the Checkpoint can accept up to a 45mm tire, so I put that to the test!
Before adjusting my wheelbase with the horizontal sliding dropouts, the Raddler just barely squeaked in there, just clearing the right chainstay by a couple of millimeters. I've since adjusted my rear wheel in the dropouts, and there is plenty of clearance for up to a 45mm. I often find myself in very muddy terrain, and I have yet to have any clearance issues of mud jamming up my rear wheel.
Wheels
The Checkpoint ALR 5 features Bontrager's TLR tubeless ready wheelset. They aren't the lightest wheels in the world, but they are very robust and durable and well-suited for rough gravel riding.
Conversion to tubeless with Trek's TLR wheels is a breeze and is absolutely essential for a gravel bike. It further adds to the versatility of the bike and relieves your worries of pinch flats when you turn off the tarmac. Going tubeless also allows you to run lower tire pressures, which improves traction for off-road riding on loose conditions and provides a smoother ride for long distance adventure rides.
Drivetrain
When I purchased my Checkpoint ALR 5 in 2018, Shimano had not yet released their GRX groupset, and the Checkpoint came equipped with a full Shimano 105 groupset. While this represented a great value back then, I felt it was a bit over-geared with a 50/34 compact crank, and I ended up swapping out my drivetrain when Shimano came out with the GRX.
Trek has since updated the Checkpoint ALR 5 and equipped it with a 2x Shimano GRX build, using the higher-end GRX 810 derailleurs. The crankset is a 46/30 with the same 11-34 cassette, providing more low-end gearing that is much more appropriate for off-road riding, especially for the casual gravel enthusiast.
The GRX groupset is, in my opinion, a huge success for Shimano.
I converted my Checkpoint to a 1x GRX 812 drivetrain and fell in love with the GRX 812 rear derailleur. The long cage derailleur allows me to run an 11-42 cassette with a 40t chainring upfront, further increasing my low-end gearing while still providing me the gears up high for pushing the pace on fast descents.
I am a big fan of 1x drivetrains, especially for off-road riding, so my 1x GRX 812 drivetrain has been a dream. The 810 level components are "Ultegra level," for you roadies out there, but they are more robust for the bumps and vibrations encountered on mixed terrains. I never experience any chain slap, and the shifting is reliable, crisp and quick on any surface.
I can't speak highly enough of the GRX 810 drivetrain, and I think it is outstanding that Trek offers such high-level components on an aluminum build at an affordable price point. The Checkpoint ALR 5 offers a high value build with its drivetrain selection without the added cost and pain associated with carbon frames.
Shifters
The Shimano 105 hoods provide plenty of grip and control for my older Checkpoint, but I do wish I had the GRX shifters that now come stock!
Similar to the drivetrain, the Checkpoint ALR 5 was originally released with 105 shifters when I purchased the bike. The front of the hoods on these shifters is raised up high enough that I do not experience any issues sliding too far forward on the hoods when riding on rough roads.
Shimano has since improved on the hood design with the GRX line of shifters. They offer an excellent, raised stop for your hands. This provides even better control and stability off-road, and the GRX shifters now come standard on the Checkpoint ALR 5. While my 105 shifters still get the job done, I am admittedly jealous that I don't have those robust GRX shifters!
Sale
SHIMANO GRX Shifter & Disc Brake
Lever: ST-RX815
Lever Adjustability: reach
Actuation: [brake] hydraulic, [shift] electronic
Caliper: BR-RX810
Mount Type: flat-mount
The Checkpoint ALR 5 also comes stock with hydraulic disc brakes. This is pretty standard for any gravel bike, but it is worth noting that the Checkpoint checks this box, as well, providing reliable stopping power, even in harsh conditions.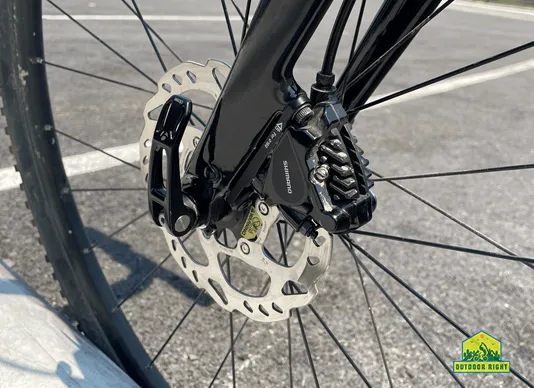 Saddle
The saddle that comes on the Checkpoint ALR 5 is the Bontrager Montrose Comp. This saddle is surprisingly plush, when compared to a road saddle, and provides plenty of flex from its shell and central cutout. This makes it very comfortable for long rides, even on rough gravel, and I found it surprisingly comfortable out of the box.
Eventually, I swapped out the Bontrager saddle for my go-to, the Brooks Cambium C17. While the Bontrager saddle is very comfortable, I am a fan of Brooks saddles and like to use them on most of my bikes, especially for road and gravel riding.
The Brooks Cambium C17 is one of my all-time favorite saddles, so, of course, I had to put it on my do-it-all bike: the Checkpoint.
Brooks Cambium Saddles Octane
C17 Cambium; Flexible and Robust Touring Surface.
All Weather, durable and comfortable saddle that is "ready to ride".
Vulcanised Natural Rubber Saddle Top.
UV + Abrasion-Resistant Waterproof Nylon Top.
Tubular Steel Rails; Durable, Anodised Aluminium Rivets
Handlebars
The handlebars look a lot like cyclocross handlebars and, in fact, are the exact same bar that Trek puts on the Boone, their top-level cyclocross race bike. The bars are a standard width and do not feature any flare to the drops, something that is becoming more common on gravel bikes, but this maintains the more race-inspired feel that Trek was obviously looking for with the Checkpoint.
One nice touch for the handlebars is the gel padding included underneath the handlebar tape. This dampens vibrations in the handlebar and provides a nice reprieve for your hands and wrists over long rides. This small touch makes a big difference during long days on the road, and I've come to appreciate those little pieces of gel.
Where is the Checkpoint ALR 5 Lacking?
Only 700c Wheels
Trek claims that the Checkpoint can not accept 650b wheels; it can only use 700c wheels. I do find this to be a bit disappointing, honestly. Many other gravel bikes on the market, such as the Specialized Diverge, are similar to the Checkpoint but offer the added versatility of 650b wheels.
Running 650b wheels allows riders to increase their tire size for improved off-road control and softer ride quality. With 650b wheels, you can run 27.5" mountain bike tires at widths exceeding 2". I think having this versatility is extremely valuable in a gravel build, and I do wish I could run a pair 27.5"x2.1" tires, as this would suit my riding style well.
More Race-Inspired than Gravel-Inspired
The Trek Checkpoint ALR 5 pulls a lot of design elements from their cyclocross line, perhaps too many. While the race-inspired geometry makes a roadie like me feel right at home on the bike, it creates a bike that is simply a good all-arounder.
The Checkpoint performs well on road and light gravel, but it can be challenging to ride on more technical off-road terrain due to its race geometry. When the downhills get steep and loose, the Checkpoint's more aggressive ride position quickly becomes noticeable, and I sometimes find myself wishing I had a slacker set up.
The handlebars are also reminiscent of a cyclocross race bike or a road bike. It's more common for gravel bikes to offer wider handlebars with flared drops that provide more control and stability for the rough stuff, but the handlebars on the Checkpoint do not offer that same stable feel when the roads turn especially rough.
Conclusion
The Trek Checkpoint ALR 5 truly is a great gravel bike. It offers excellent value with a high-quality build for your dollar. If you want to spend your money on high-quality drivetrain components and functional design, rather than dishing out cash on a carbon build that cuts corners on the components, then the Trek Checkpoint ALR 5 is for you.
The Checkpoint performs well on any terrain, but you may find it lacking in certain areas where other bikes excel. If you know you want to run wider tires for rough off-road riding or are interested in ultra-distance touring or bikepacking, there are better options on the market that will more fully meet your needs. Furthermore, if you aren't a fan of race-inspired geometry and prefer more of an endurance bike feel, the Checkpoint is not for you.
The Checkpoint ALR 5 is a great all-arounder and can replace a couple of your bikes. Performing well on and off the road gives the Checkpoint potential to replace your quiver of bikes and be a contender for your one do-it-all bike. The Checkpoint ALR 5 truly fits the description of a "jack of all trades, master of none."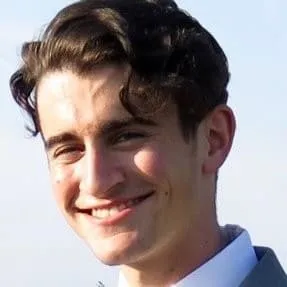 Mitchell Turk is outdoors enthusiast with a lifelong passion for bicycling. He previously worked at his local bike shop before entering the world of engineering, and he may even enjoy geeking out over bike tech more than riding his bike!
Originally a roadie, Mitch dabbled in mountain biking for a couple years and then jumped on the gravel bike bandwagon. He now spends his free time seeking out gravel rides and weekend-long excursions. His ideal outing combines biking, hiking, and climbing for a whole-mountain adventure.