If you have a big butt, and want to get more from your bike, then you need to learn specifics about bike seats for big bottoms.
My reasons?
Often times, your bike will come with a saddle that's lacking in many ways. Narrow, hard, and unsupportive to a big bottom.
The last thing you want is to lose your passion for riding because of discomfort.
In this article, I'll explain exactly what kind of seat you should look for if you have a big bottom. And I also include my top picks for most comfortable bike seats for overweight bicyclists.
So let's get right to it!
In a Rush? Here are Our Top Picks
What are Bike Seats for Large Bottoms and Why Should You Get One?
Bike seats for big bottoms are saddles with a larger surface area, intensified padding, and additional support.
This special design helps relieve strained contact points and makes them perfect for oversized riders.
Certain models even come with a complete anatomic channel and help to maximize circulation through the sensitive butt muscles reducing numbness and discomfort.
What Type of Bike Saddle Should I Select for My Big Bottom?
1. Bikeroo Oversized Comfort Bike Seat: Best Overall
Bikeroo Oversized Comfort Bike Seat
Comfortable bike seat for overweight riders with extra padding and elastomer spring suspension; spares you from aches and pains as it divides the pressure when used as a stationary exercise, indoor, or outdoor bike seat.
Tested by more than 25.000 cycling enthusiasts, our customers believe that the soft padding and extra wide construction makes it great for Indoor and Outdoor bikes.
Bonus Bikeroo Accessories: Waterproof bicycle cover, easy-to-use tools to mount, universal bicycle seat adapter, mounting instructions, and an ebook filled with additional info.
The universal mount will fit your ride whether it is a cruiser, mountain, road city, fixed gear, or touring bike; our Bikeroo dual spring saddle has a standard rails mount system and adapter
The Bikeroo Oversized bike seat is by far one of the most comfortable bike saddles in the market today and it's pretty clear that it's been made for people with big butts…
First, it measures 10.2 x 7 x 10.2-inches, which is a far cry from the narrow, standard bike seats that dot the space, and should fit every big butt.
Similarly, its elastomer spring suspensions ensure that you will be comfortable even on the bumpiest roads.
It features a universal fit that is ideal for your road bike, mountain bike, or your Peloton.
Additionally, this bike seat for overweight people also comes with a thick memory foam padding and is ranked as among the most comfortable wide bike seats.
This unisex saddle distributes the pressure sublimely on the seat and will help you cycle without pain or soreness.
Features
Ergonomic design
Elastomer spring suspension
Accessories: waterproof seat cover, universal bike seat adapter, and mounting tools
Standard rails mounting system
Soft padding
10.2 x 7 x 10.2-inches
Pros
The saddle is well padded, firm but yet soft and feels very good on the butt.
It comes with dual spring suspensions and absorbs pressure excellently when maneuvering bumps.
It's a good looking bike seat.
It's quite spacious and will fit a bigger behind comfortably.
The bike saddle comes with a waterproof cover.
Cons
The accompanying mounting tools are a bit weak
2. DAWAY Comfortable Soft Bike Seat: Most Durable Bike Seat for Big Bottoms
Sale
DAWAY Comfortable Soft Bike Seat
👍SOFT, ELASTIC, NON-SLIP, WEAR-RESISTANT - the best protection of the hip!...
👍WITH WATERPROOF BRIGHT TAIL LIGHT UNIQUE DESIGN - more eye-catching & safety...
👍ERGONOMIC, DUAL SPRING & HOLLOW BREATHABLE DESIGN - enjoy healthy & happy...
👍UNIVERSAL DESIGN, BIKE SEAT RAIL CLAMP INCLUDED - as picture shows, 7/8"...
👍HIGH QUALITY, PROFESSIONAL CUSTOMER SERVICE - If this soft bike saddle...
Whether it's weather-resistance or wear-resistance, DAWAY promises you the most durable bike seat.
The DAWAY Comfortable Bike Seat comes with a tough PVC leather cover that resists wear and water damage. The covering is also slip-resistant, soft, and elastic.
Inside, this comfortable bike seat comes densely-padded with memory foam to provide you with unmatched seating comfort.
DAWAY C99 is generally ergonomic. It features a dual-spring rubber suspension that absorbs the bumps to guarantee a smoother ride.
Plus, the bike seat for big bottom has a hollow design that promotes cool air circulation, improving your seating comfort.
Even better, the seat comes in a broader dimension but has a narrow nose to allow you to sit comfortably for longer rides.
You don't have to worry about your visibility on the road at night as the saddle features a bright LED taillight. Impressively, the taillight is waterproof to allow you to continue cycling in the rain.
The taillight enjoys three light modes and has an inbuilt battery that can run for 36 hours.
What's more, DAWAY C99 comes in a universal design to fit on either your bike for spin class or outdoor bike.
Features
Resistant PVC leather cover
3-mode LED taillight
Dual-spring rubber suspension
Dense memory foam padding
Hollow design
Universal fit
Pros
Very comfortable
Breathable
Absorbs shock
Durable and weatherproof
Great for night cycling
Cons
Not great for smaller bottoms
3. Asani Oversized Comfort Bike Seat: Easiest to Install Bike Seat for Big Bottoms
Asani Oversized Comfort Bike Seat
DESIGNED FOR EXTRA COMFORT: Unlike other bike saddles that are too thin, too...
UNIVERSAL FIT: No more getting stuck with an ill-fitting replacement bike seat....
ISO CERTIFIED QUALITY: Premium materials meet detail-oriented workmanship to...
SIMPLE TO INSTALL: You'll have this outdoor/spin bike seat replacement up and...
LIFETIME WARRANTY: You have nothing to lose. Our bicycle seat cushion saddle is...
Are you looking for an oversized bike seat for big bums that you can mount almost seamlessly? Then the Asani Oversized Comfort Bike Seat might be a good option for you.
This bike seat comes with simple-to-follow installation instructions. Plus, it enjoys a universal fit, which means it's readily compatible with standard seat posts.
Besides, you don't have to worry about the installation tools as the installation is 100% tool-free.
The comfort of this saddle owes to its oversized design and ample padding. We believe it is perfect for heavy riders.
This seat is extra wide to provide you with optimal comfort. Even better, it comes softly padded and with dual spring suspension to relieve you from pressure when riding long-distance.
The Asani Oversized Comfort Bike Seat is ISO-certified and comes with a lifetime warranty. So, you're buying a premium-quality bike saddle.
The best part? This oversized bike seat comes at a budget price.
Features
Wider design
Soft padding
Dual spring suspension
Universal fit
Lifetime warranty
Tool-free installation
Pros
Great for heavy riders
Compatible with standard bikes
Adequate padding
Absorbs bumps
Quality construction
Budget-friendly
Cons
4. INBIKE Most Comfortable Bicycle Seat – Breathable Big Bike Seat for Men and Women
INBIKE Most Comfortable Bicycle Seat
Size 10.6"*7.9", suitable for cruiser bikes, comfortable bikes
Surface microfiber artificial leather is of wear resistant, smooth and...
Inner high density perforating foam plus dual springs (covered by rubber rings...
Middle groove is helpful to air ventilation and sweat releasing,good for cyclers...
Universal design, can work on any standard seat posts, a free wrench for you to...
It may already be a household name but the Inbike brand is taking their game even higher with this bicycle seat.
Measuring 10.6″x7.9″x2.36″ and foam padded, this impressive saddle has a lot of followers among the overweight biking community not least because of its breathable leather.
The microfiber artificial leather surface is also wear resistant, super smooth, and anti-scratch so you are sure this seat will last.
It has captured the hearts of even elite bikers with big bottoms thanks to its inner high density foam coupled with the dual springs, a combination which provides a superior buffer and a better shockproof performance under weight.
Features
10.6″x7.9″x2.36″
Microfiber artificial leather Surface
Inner high-density perforating foam.
Middle groove
Front sides narrowed design
Universal fit
Pros
The bike saddle is breathable so fantastic even in hot weather.
This is one of the more durable bike saddles.
The padding creates a superior buffer and is superb in handling uneven terrain.
It flexes bringing you greater comfort.
It's has a universal design and can thus be installed on various standard seat posts.
Cons
The stitching is not very well done.
5. Zacro Gel Bike Saddle: Most Universal Bike Seat for Big Bottoms
Simplicity is what describes the Zacro Gel Bike Saddle. But despite its simplicity, this bike seat for big bums comes in a universal design to allow you to mount it on any seat post.
Zacro Gel BS053 has so many provisions that make it an excellent choice for big guys.
Starting with elastic dual-density gel foam padding, it saves you from unbearable cycling pain.
The bike seat also comes with a carbon steel dual-spring suspension that absorbs bumps to enable you to have a smoother ride.
Zacro Gel BS053 is generally easy to install, and it's not just because of its universal fit. The saddle comes with a Zacro wrench that allows you to fit it more comfortably.
Moreover, its cover is tough leather that resists wear and water damage, making the seat an all-weather choice.
Features
Universal fit
Zacro wrench
Dual-density foam padding
Dual-spring suspension
Leather cover
Pros
Easy to install
Compatible with most seat posts
Comes with adequate cushioning
Absorbs shocks to promise a smoother ride
Waterproof and durable cover
Cons
The seat may move sideways if not well-fitted, making it uncomfortable over long rides
6. Bell Sports Comfort Memory Foam Seat: Best for Shock Absorption
Though all the bicycle seats for big bottoms on my list come with some form of shock absorption, the Bell Sports Comfort Memory Foam Seat stands out.
This bike seat features an elastomer suspension (a set of rubber cushioning) that absorbs shock to promises a softer ride. So, it's never a problem when you have to ride over bumpy surfaces.
Bell Sports Comfort 810 comes with a 2-inch layer of authentic memory foam padding that offers you unsurpassed seating comfort.
Plus, it has an ergonomic relief channel that relieves you from tailbone pressure.
Bell Sports Comfort 810 comes in a broader design to provide you with a roomier seating area.
Additionally, it comes with a clamp that allows you to fit it on your bike seamlessly.
The Bell Sports Comfort 810 has a universal design to fit most seats, so it is perfect for bikes for overweight women and men.
It is a unisex saddle to suit all adults and only weighs 1.3 pounds.
Features
Elastomer suspension
Thick memory foam padding
Ergonomic relief channel
Wider dimension
Unisex design
Pros
Soft and highly comfortable
Absorbs shock
Lightweight
Relieves pain
It fits most seat posts
Cons
It feels slightly harder when cycling long-distance
7. ProVelo Most Comfortable Bike Seat: Best for Night Cycling
ProVelo Most Comfortable Bike Seat
✅ FULL PACKAGE – includes Bike Seat with Rechargeable Taillight, USB...
✅ DESIGNED FOR COMFORT and SUPPORT – ProVelo bike saddle has an optimum...
✅ RECHARGEABLE TAILLIGHT – NEW DESIGN! Easy removable with USB port to...
✅ UNIVERSAL REPLACEMENT – rail system and mounting clamp (adapter) allows...
✅ DURABILITY & GUARANTEE – Made from superior quality materials, this saddle...
If you cycle at night, you should consider one of the best bike seats for big bottoms that make you visible in the dark. Luckily, that's what the ProVelo Most Comfortable Bike Seat promises.
It comes with a rechargeable LED taillight with six lighting modes to improve your road visibility at night. The LED taillight features a USB port, compatible with standard USB chargers.
Note that the ProVelo Most Comfortable Bike Seat has more to offer other than the LED taillight.
This bike seat for overweight riders is very comfortable for plus-size cyclists. It comes in an optimal profile and contains soft cushioning to feel extra comfortable on your seat bones.
The bike seat is effective on bumpy surfaces, thanks to its shockproof, double-spring rubber suspension.
It features a rainproof PVC leather cover and comes with a waterproof bag to allow you to continue cycling in the rain,
ProVelo Bike Seat comes in a universal design for easy mounting.
Overall, this is one of the best bike seats for overweight riders and is perfect for mountain bikes, cruisers, road bikes, and other standard bikes. Its ergonomic design makes it comfortable for all genders and edges.
Features
PVC leather rain cover
Optimal profile
Soft cushioning
Shockproof suspension
Rechargeable LED taillight
Universal fit
Pros
Great for night cycling
Waterproof
Absorbs shock
Fits most bikes
Easy to install
Durable
Cons
The PVC leather cover is slightly slippery
8. Bikeroo Extra Wide and Padded Bicycle Saddle: Best For Tailbone Relief
Bikeroo Extra Wide and Padded Bicycle Saddle
GET THE IDEAL CUSHIONED SADDLE FOR INDOOR CYCLING - With the extra wide design, the perfect amount of padding and the extra soft elastomer springs.
CHOOSE THE PERFECT SADDLE FOR THE PERFECT TRAINING - If you love cycling but the pain and numbness you feel while peddling makes you want to get off the bike, you should improve your saddle comfort with our Bikeroo Elastomer indoor bike seat.
STATIONARY BIKE SEAT ENGINEERED FOR COMFORT - Don't give up on indoor cycling because of the pain.
We've designed the Bikeroo bike seat shock absorber for seniors to evenly distribute your weight on the seat and allow you keep yourself in a good shape and health without any discomfort or pressure on your lower back.
A strong, dogged big butt bike seat, this is another wider and comfortable saddle from Bikeroo and should help you cycle your way to shape in comfort.
Because of this construction, the saddle is wonderful for prostate and tailbone relief.
The saddle goes even further and adapts to your anatomy to enable you to ride longer while remaining relaxed.
There is even talk that this Bikeroo extra wide bike seat has one of best shock absorbers around making it an intriguing choice even for obese seniors who love bicycling.
It's 10.5 x 10.5 x 7 inches and this wide surface plus a similarly ideal level of foam cushioning, help distribute your weight over the entire saddle, relieves pressure on your bottoms and ensures the smoothest ride.
It's recommended for your road bike, cruiser bikes, mountain bikes, hybrid bikes, and exercise bikes.
Features
Dual spring suspensions
Super thick & soft foam padding
10.5 x 10.5 x 7 inches
Universal seat adapter
Waterproof cover
Pros
Relieves pressure on your perineum and the prostate.
It's so easy to install even without prior experience.
The waterproof cover helps to maintain your saddle dry in wet weather.
It fits in most standard bicycles.
This saddle is comfortable
Cons
It sometimes makes squeaking noises.
9. Tonbux Most Comfortable Wide Bike Seat: Best for Off-Road
Tonbux Most Comfortable Wide Bike Seat
Long soft nose with a nature and comfortable transition to the bottom, will not...
Airflow vent in middle accommodates circulation of buttock and speed up the air...
Surface microfiber artificial leather is of wear resistant, smooth and...
Dual Shock absorbing ball Designed,Using double Shock absorbing ball in the...
90 DAYS MONEY BACK GUARANTEE - We absolutelly think you'll love this saddle, but...
A blissful bike seat for overweight cyclists, this has emerged as one of the leading options for larger bottoms.
The ergonomically designed Tonbux wide bicycle seat comes with an airflow vent and allows good ventilation under hot weather.
The 10.1 x 8 x 4.8 inches saddle is quite sturdy thanks to its carbon-steel metal frame while the microfiber artificial leather feels plush and soothing on your behind.
Its thickened pad in the rear increases shock absorbing, cushioning, and delivers much superior comfort on pavement.
On the same note, if you like riding off road, then built-in dual shock-absorbing ball provides good elasticity, larger endurance, toughness, flexibility, and helps you remain cool on rough terrain.
This is recommended for mountain bikes, road bike, BMX bikes, kids' bike, mini bikes, electric bikes, and stationary bikes.
Features
Carbon-steel metal frame
Microfiber artificial leather surface
Ergonomic design
Thickened pad (in rear)
10.1 x 8 x 4.8 inches
Dual shock absorbing ball
Universal fitment
Pros
It's so comfortable you can ride the whole day and feel nothing.
It's one of the saddles build to help you remain comfortable off-road.
It fits on practically every other bicycle.
It's super easy to install.
It made of a good looking breathable Leather surface.
Cons
The bolts will occasionally need tightening to remain stable.
Reflective tape may come out easily.
10. Serfas Comfort RX Saddle: Best for Long Trips
Serfas Comfort RX Saddle
90-Day Comfort Guarantee on all saddles
Patented I.C.S. Infinite Comfort System
RX & Deep Groove designs
Dual Density base technology
Patented Dual Density Base
This Serfas' RX saddle has a full-length anatomical groove running down the middle and a raised seat position.
This extraordinary outline helps eliminate pressure and reduces numbness around the soft tissue.
It also sends weight around the sit bones meaning you can cycle for more miles without sacrificing comfort.
Still on comfort, the Gel infused foam reduces saddle friction and chaffing again making trips pure bliss.
The saddle's innovation doesn't end there:
There is the used dual density base and infinite comfort system both which give maximum support whenever riding in addition to ensuring that your sit bones will never hit hard spots.
Features
13 x 10 x 3 inches
Infinite comfort system
Deep groove designs
Dual density base
Lycra/waterproof microfiber cover
Gel infused foam
Pros
This saddle is awesome in absorbing pressure wherever you ride.
It removes pressure from the contact points while maintaining its nose for enhanced riding stability.
The complete anatomical channel construction boosts circulation reducing numbness and discomfort.
The paddle installs easily.
It lets your bottoms breath.
Cons
It's not as attractive as the Bikeroo oversized comfort bike seat.
A bit expensive.
How To Choose the Best Bike Seats for Big Bottoms
The market is overflowing with seats for bikes for big guys.  Any wide saddle bike seat for overweight riders must, however, meet some of our minimum requirements:
Padding
The idea is to get the most comfortable bike seat. The best extra large bicycle seat should have extra, softer padding to upgrade your experience.
But you have to be cautious here as a bike seat with excessively soft, thicker padding may make you uncomfortable by elevating the pressure between the sit bones.
Gel cushioning is very plush for comfort riders while road racers find foam padding more supportive.
Saddle Width
If you have a big bottom, your discomfort is probably stemming from having a seat too narrow. Specifically we are talking about having a seat that is too narrow for your sit bones.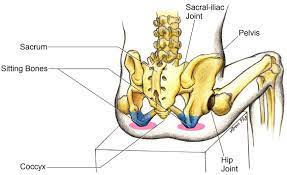 You should be able to get your sit bones measured at most bike shops. But if not, you can follow these simple steps to measure your sit bones.
Generally speaking, you'll want an extra wide design. This way your bodyweight is distributed over a larger surface area helping to eliminate numbness and discomfort which are the norm with typical bicycle seats.
Mounting
You extra wide bicycle seat should not stress you to install.
Go for a super wide bike seat that you can fix using a simple wrench or any other basic tool.
In any case, bike saddle for fat guys are designed for easier and quick removal/replacement.
Plastic or Leather
There are two dominant types of saddle materials for bike seats: plastic or leather.
Leather saddles stretch and flex, without needing foam padding and "break in" easily to fit your specific shape. Heat and perspiration also "breathe" through porous leather, improving comfort in hot and punishing sun.
It's however heavier than plastic and won't be waterproof.
Conversely, plastic bases flex under your weight, are often thinner to enhance their shock-absorbing properties and lighter. However, they do not usually breathe while some are slippery.
More Considerations for Bike Seats for Overweight Riders
Adjustment
A height –adjusting saddle is awesome. If you have your saddle too low, your knees will be excessively bent as you pedal, making cycling tiring.
A too high saddle will rock your hips as you pedal, and you'll increasingly feel an urge to stretch the legs to reach your pedals causing discomfort.
Also, check the angle and setback of the bike seats for big bottoms.
The best is to select a properly-shaped and adjustable big butt bicycle seat.
Grooves or cut-outs
Some wide bicycle saddle shells come with a groove (in the center) while others have a hole cut-out.
The idea here is to remove that part of your saddle that usually triggers pressure on sensitive tissues causing pain and numbness.
Different manufacturers have different tastes and offer different shaped cutouts some going all the way to make a deep groove while other go for a slight recess.
Rails
Titanium rails provide additional flex, absorb more vibrations passing through your big bike's frame, and are more comfortable.
Cheaper saddles use heavier steel alloys and may not be as good in shock absorption as titanium or carbon rails. We therefore don't believe they are the ideal seat for overweight riders.
Accessories
Some manufacturers of bikes for fat people will add a couple of useful accessories. Common accompaniments may include a waterproof seat cover, mounting gear, and universal bike seat adapters.
Although a seat cover usually doesn't get much attention usually with bike riders, it will help a great deal in ventilation. So don't ignore the importance of a good quality seat cover, especially if you are an overweight rider.
Bike Seats for Big Bottoms: Useful Tips
Higher quality bike seats for overweight riders typically comes designed with rails, made from titanium, steel, or carbon fiber (quite expensive). But it will last for a long time, can handle lots of abuse, and is super adjustable.
A plastic wide bicycle seat with no covering is generally bad news for your body. Even if extremely big, it needs some padding to make it comfortable.
A leather large bicycle seat can be great for long-distance riders. Besides, they're very durable and usually outlast saddles made from cheap synthetic foam padding.
Women looking for a wide bike seat should favor saddles that are a bit short but adequately wide to fit a female pelvis.
Don't read too much in the price. While some of the best models may look expensive, it may as well turn out to be a shrewd investment once you experience the riding comfort.
FAQs
What Is the Most Comfortable Saddle for Overweight People?
Comfort, shock absorption, and durability are instrumental in picking the best bike seat for bigger bottoms. Here are the ten bicycle seats for overweight riders that meet our criteria:
Is a Bigger Bike Seat Better?
In general, bigger bike seats tend to offer you a roomier seating area. That, in the long run, translates to better comfort.
However, the seat shouldn't be too wide, more so on its nose area, to avoid creating friction with your thighs.
Are Gel Bike Seats Any Good?
In terms of seating comfort, Gel saddles are super-comfortable. So, yes, gel bike sites are good.
The only issue is that gel padding compresses over time, making the bike seat less comfortable. So, gel seats are generally excellent as introductory saddles.
Can You Put Any Seat on Any Bike?
Most bike seats nowadays come with a universal design to fit on the seat post of any standard bicycle.
How Do I Choose a Bike Seat?
Generally, these tips will help you find the best bike seat for overweight bicylists:
Pick a saddle that is quality in construction and weatherproof
It should have adequate cushioning, preferably gel or foam padding
Its shape should not cause friction with your thighs
The seat should absorb shock and relieve your tailbone from pressure
It should fit easily on your bike's seat post
Bottom-Line
If you have wide sit bones, then you probably need to look specifically for bike seats for big bottoms.
The right saddle will eliminate pressure, reduce lingering numbness around the soft tissue and distribute the weight evenly around your sit bones. This not only maximizes comfort, but is much better for your long-term health.
You will ride further, have more fun, and get more from your bike just because of making the simple decision to invest in the most comfortable bicycle seat- a bike seat for overweight cyclists.
It is one of the best investments you can make and is worth the time to find the right fit.

Alex Mwangi is the creator of Outdoor Right and an outdoor enthusiast. During his free time he enjoys riding his road bike or traveling the world looking for his next adventure.