Being over 6 feet may pose a bit of a challenge when finding the best cruiser bicycle for tall riders.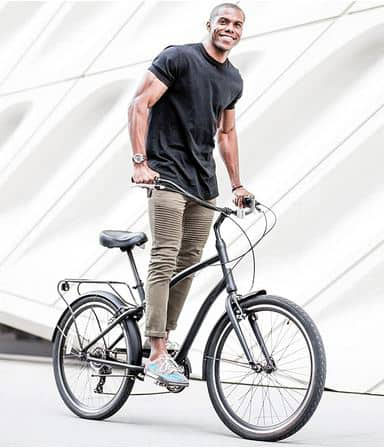 While the tallness has everything good associated with it, it's also a pain seeing that you don't fit straight to any bike.
Not only is it time-consuming but it can also be a source of frustration. Imagine most bikes coming with rim dimensions of about 24" to 26".
Let's say you are slightly 6 feet tall. You may be lucky to fit straight on a 26"ish or so. However, going above 6 feet and 4 inches is way above the mentioned sizes.
Perhaps, better said, you would be needing a 29" rim and a 20"+ frame size. Yet, to get this kind of machines on the market is not an easy undertaking.
You don't need to worry though. This guide enlists and reviews top brand models, cut to the needs of your stature.
Before I proceed any further, two aspects matter a gazillion times: the frame size and rim or wheel size – recount.
In a hurry? Below are the hottest cruiser bikes for tall riders.
Best Cruiser Bicycle for Tall Riders: 10 Hottest Picks
Why You Need the Best Cruiser Bicycle for Tall Riders.
The benefits of having a great cruiser are many. Generally, it comes down to your overall wellbeing while you use the bike.
If your comfort is compromised on a bicycle, you've just got to do something. Otherwise, you've compromised your performance.
Let's look into some of the benefits of owning the best cruiser bicycles as a tall person.
A good bike provides the ultimate comfort for riders. Because of the quality components designed to fit a tall person, you will definitely enjoy riding on them.
The extra-large frames offer your legs enough space to pedal. So you won't feel being squeezed as you ride.
Also, with well-cut relaxed handlebars, tall riders can move around freely while in the seat. Some bicycles come with larger seats to help riders endure long distances.
Not only does a high-quality cruiser bike ensure your comfort but it also makes your ride convenient and straightforward. Since you can fit on it, pedaling and control are going to be a cinch.
Your posture gets well-oriented and the bike even keeps your fitness in check. The best cruiser will make your life easier than just any other bike on the street.
Comfortable cruiser bikes for tall guys are designed for both speed and power. When the performance of a bike is top-of-the-table, you will love it straight away.
Best Cruiser Bicycle for Tall Riders Reviewed
If you are a male cyclist looking for the best all-around cruiser bike, nothing beats the Sixthreezero Around the Block Men's Beach Cruiser Bike.
It's not just perfect for leisure cycling but also commuting. The bike, featuring a 19-inch steel frame and 26-inch giant wheels, is ideal for male cyclists, 5'4″-6'2″ tall.
The notable bit is that the bike is heavy (about 40 pounds), but that doesn't deter it from bearing up to 300 pounds. Therefore, Sixthreezero Around the Block Men's is the perfect cruiser for tall, heavy men.
The frame not only has a classic matte black look, but it's also curvy for comfortable riding around your neighborhood.
Thanks to its cruiser handlebar (with grips) and ergonomic seat, you stay upright when riding this cruiser bike.
The bike features large slip-resistant waffle-treaded tires that roll fast and smoothly over surfaces. And given that it's a single-speed cycle, it's excellent for flatter terrains, more so paved roads.
This cruiser bike's other impressive features include a shock-absorbing dual-spring seat, simple coaster brakes, and a rear rack. They all improve the bike's convenience.

Click to Check Current Price on Amazon
Pros
Classic urban look
Anti-slip, fast-rolling tires
Low maintenance
Great for plus-size, tall riders
Absorbs shock
Great braking power
Cons
Not ideal for aggressive riding, off-road
Overall, the Sixthreezero Around the Block Men's Beach Cruiser Bike is the best cruiser bicycle for tall riders who want a classic urban, casual bike for men.
The Sixthreezero Around the Block Women's Beach Cruiser Bike promises the same thing as its male counterpart above. So, it's perfect for leisure riding around the neighborhood. But still, it can serve as your commuter bike.
This giant cruiser bike comes in a mint-green curvy frame that makes it perfect for modern women cyclists.
It's a single-speed beach cruiser, which means it's easy to ride, especially on paved streets, and doesn't call for so much maintenance.
Sixthreezero Around the Block Women's features a 17-inch elongated steel frame that you can access easily. Together with the wide cruiser handlebar and saddle, the bike frame gives you an upright riding posture.
The other thing to note about the saddle is that it features a dual-spring suspension that allows you to have a smoother ride.
Its pedal-backward coaster brakes promise easy stopping and effective speed control. Moreover, this best cruiser bike for tall riders comes with a rear rack and large cushioned tires.

Click to Check Current Price on Amazon
Pros
Lady-like urban style
Easy maintenance
Excellent braking
Great stability
Rear rack for storage
Cons
The installation tools that come with the bike are not perfect
Overall, the Sixthreezero Around the Block Women's Beach Cruiser Bike is perfect for casual and commuter lady cyclists. It's comfortable and easy to ride by women.
Few cruiser bikes exemplify top-notch single-speed performance like the Firmstrong Urban Man Beach Cruiser Bike.
This cruiser bike for tall riders comes with a reliable one-speed gear that makes riding by tall men much more comfortable. With an average speed of 3-15 mph, this bike is great for casual riding around town and on the beach.
And with the cruiser bike featuring a 19-inch matte black steel frame and 26-inch wheels, it suits tall men who are 5'5″ and beyond.
The cruiser bicycle has a classic cruiser metal frame design that blends well with its large balloon tires and massive dual-spring saddle.
While the large balloon tires ride over obstacles easily and with excellent traction, its dual-spring saddle absorbs the bumps. So, the two give you a smoother ride on bumpy surfaces.
And to provide you with excellent stopping power, the Firmstrong Urban Man Beach Cruiser Bike comes with simple pedal-backward coaster brakes.
This cruiser bike allows you to sit more upright, taking off pressure from your back. As a result, it's perfect for tall riders with back issues.

Click to Check Current Price on Amazon
Pros
Shock-absorbing saddle
User-friendly and reliable coaster brakes
Easy-to-adjust handlebar
Adequate traction
Keeps you upright
Cons
Overall, Firmstrong Urban Man Beach Cruiser Bike is best for the tallest men who prefer an easy-to-ride and cheap-to-maintain casual bike.
Women's cruiser bikes like this Firmstrong Urban Lady Beach Bicycle command the respect for taller women. Right from its name, the Urban Lady suggests its high-end construction is not a fluke.
Like many other models listed in this guide, Urban Lady features a 17-inch steel frame. And you have 26-inch tires.
The steel frame means two things. First, the bicycle is in to serve your purpose for the foreseeable future and second, it's super strong to withstand a lot of weight.
Looking further into the frame, it's female-friendly. That's why you see a curved top tube design that facilitates effortless riding.
A quick look at the footprint of the bike shows that it's beautiful. It has all the perfect stuff women look for in a bike.
Naturally, women have soft builds. And the cruiser is here with us to maintain your comfort by offering a wide, oversized dual-spring seat for a kind ride.
This little beast can be quite a versatile instrument. A bit of off-road riding and pavement riding is possible with the bike.
Overall, the bike is lightweight and easy to handle. the model displayed here is a single-speed version – although if you want something higher, there are also 3-speed and 7-speed versions of the bike.
Click to Check Current Price on Amazon
Pros:
Lightweight
Female-friendly frame design
Attractive
Cons:
Overall, this is the best cruiser bike you can have for women.
If you want to ascend the climbs and conquer them, you need more speed. And when it comes to more speed, the Schwinn Cruiser Bike Wayfarer provides you with seven. It comes with a 7-speed derailleur with twist shifters for easy uphill cycling.
So, if you are looking for a commuter cruiser bike for conquering the steeper roads on your way to work, you have a perfect pick here.
The bike comes with an 18-inch step-over frame, and together with its giant 700c wheels, it suits tall cyclists who are 5'4″-6'2″ tall.
With the bike featuring dual linear-pull v-brakes, its stopping power is unquestionable. Interestingly, you can ride over the mud without fearing for mud splashes, thanks to the bike's reliable fenders.
This bike comes with swept-back handlebars that put you in an upright riding posture.
Since it's a classic bike, Schwinn Cruiser Bike Wayfarer features a rear carrier for carrying your small stuff. Plus, it comes with a worry-free limited lifetime warranty that proves quality of workmanship.
Click to Check Current Price on Amazon
Pros
Classic urban look
Consistent stopping power
Low maintenance
Fenders for mud protection
Shock-absorbing saddle
Cons
The saddle feels slightly firm.
Overall, with this bike relishing a retro-style, there is no doubt that its style is timeless, thus a perfect purchase for the present and future.
As a casual male cyclist, you deserve a bike that is easy to ride, stylish, and powerful. Luckily, that's what the Firmstrong Chief Man Beach Cruiser Bicycle brings to the table.
Given that it's a single-speed beach cruiser, its pedaling is almost effortless. That explains why it's a great choice around town and on the beach.
With its 19-inch elongated black steel frame, the Firmstrong Chief Man Beach Cruiser Bicycle is the best cruiser bike for tall man, 5'1″-6'4″. So, there is no doubt that it's a tall man cruiser bike.
Its 26-inch aluminum wheels allow you to boss the streets while its large balloon tires offer you a smoother ride.
The bike enjoys a forward-pedaling design, which keeps its seat closer to the ground surface while offering you more room for leg extension.
Owing to its easy-to-use and powerful coaster brakes, you can count on the bike's unrivaled stopping power. With the cruiser cycle weighing just 18Kg, you can move it around more comfortably.
Click to Check Current Price on Amazon
Pros
Adequate shock absorption
Excellent braking
Keeps you upright
Great stability
Easy to ride
Cons
The gears and brakes can be hard to adjust
Overall, the Firmstrong Chief Man Beach Cruiser Bicycle embodies style, ease of riding, and comfort, making it perfect for casual tall male riders.
If you are planning to have a simple, yet flamboyant bike for light casual riding, the sixthreezero Men's Beach Cruiser Bicycle may be a superb catch. Its size does not disappoint thanks to the 26" tires and 19-inch durable steel frame.
This best cruiser bicycle for tall riders can accommodate guys up to 6'4" quite comfortably. It is also a solid construction that boasts a combination of high-quality components for its build.
As mentioned, the 19-inch frame constitutes steel material. Steel is a heavy-duty metal and it is the reason why the frame is safe even if the bike is used by big and tall individuals.
For your comfort, both the moderately wide seat and the thick wide wheels combine to cushion your ride. The tires are smooth and hold on to good traction for easy rolling. Further on the saddle, you have a soft cushioned platform with single springs to take you the distance.
This is your fun cruiser bike, that's why there's a lot of focus on a comfortable geometry. In this case, the bike has a laid-back geometry courtesy of the retro handlebars that are bent backward.
So when you are seated, your hands are close to the body. This is not only comfy but also helps to eliminate pains in shoulder areas.
You can get the model in four versions: single-speed, 3-speed, 7-speed, and 21-speed.
Click to Check Current Price on Amazon
Pros:
Affordable
Easy to use
Comfy and eliminates shoulder pain
Cons:
Most parts are not long-lasting.
Need for brighter colors
Overall, this is a great cruiser bike for budget buys.
Here is another good quality beach cruiser for tall guys. The bicycle has a 19-inch steel frame and a 26-inch tire all geared for the comfort of up to 6'4" tall men.
Firmstrong Bruiser comes as a single-speed machine without a complicated gear system. Therefore, it is easy to actually ride the bike, and control is straightforward. Its braking system is a bit unique thanks to the pedal-backward coaster brake that gives a powerful stopping.
The frame is steel make and the top tube is thick for a beefy look. This also adds another dimension to the bike – longevity, and strength.
With the adjustable seat and handlebar heights and angles, you will be able to set the bike in the perfect riding position for enhanced convenience and comfort. You have a dual spring oversized seat where you can sit for long rides without fears of fatigue or soreness of butts.
You might think that with the single gear setup, the bike is not speed-efficient. No – Firmstrong Bruiser is still capable of rolling from 5-15 mph.
Click to Check Current Price on Amazon
Pros:
Pedal back brake system is efficient
Simple gear set up
Consistent cruising speeds
Cons:
Overall, this is a great acquisition for guys looking for a simple cruiser for commuting.
Serious cruisers have come to love sixthreezero EVRYjourney because of its classic touch. The bike features a 19-inch aluminum frame, which makes it lightweight and durable.
Plus, the included tires are 26" in size. These aspects favor the tall guy from the start; of course, you will need to be no taller than 6'4".
The handlebars are bent backward so that your hands are not overstretched. Combine this with the comfortable saddle, you'll be in an upright riding style.
Unlike the other models discussed above, the sixthreezero EVRYjourney has both front and rear handbrakes. These are high-quality brakes that command incredible stopping power. Thus, the bike is safe to ride.
Your comfort on the bicycle is also bolstered by the dual-spring saddle and grips. Together with the semi-slick tires, you will be perfectly ready for a cool recreational ride.
From cruising to leisure and commute rides, this bike is a consistent ride machine. The bonus feature on this bike is the rear rack that offers space for tagging additional baskets that come in handy for holding a few items bought from the market.
Click to Check Current Price on Amazon
Pros:
Thick tires and well-padded seat offer comfortable seating
Smooth-rolling tires
The bike is preassembled
Cons:
Problems with the brake adjustment
Overall, this is the best cruiser bicycle for riders that love machines with a bunch of accessories.
Are you looking for a really lightweight cruiser bicycle for men? The sixthreezero Men's In The Barrel is a fantastic pick if you love speed demons too.
I mean the bike comes with a 7-speed gear setup. This offers a lot more speed and efficiency to your adventurous ride thanks to the shifting capabilities.
The terrific design combines an extended sturdy frame made of steel. It is an 18-inch frame which then combines with the 26-inch tires to make up a reliable tall person cruiser bike.
You also have other useful features including the black leather bubble saddle and black leather grips for better comfort while seated on.
When you sit for a ride, the bike offers an upright seating position. This has come to be a recommended riding style by many cycling enthusiasts.
To stop a moving Men's In The Barrel, the front and rear handbrakes have been included in the construction.
Click to Check Current Price on Amazon
Pros:
Great seating posture
Sturdy and comfortable
Easy to assemble
Cons:
For guys taller than 6'3", it may not be a very ideal option
Overall, this is your choice bicycle if you a blend of features from a road bike and a touring bike.
Also Read: Best Huffy Mountain Bikes
Buying Guide for the Best Cruiser Bicycles for Tall Guys
Here are the key things you need to consider when buying the best cruiser bikes. Just keep in mind that the bikes market can be overwhelming especially when you need to make a purchase.
Frankly, this is the perfect starting point – whether you are a newbie or a guru in matters of bicycling. So you need to give a keen eye on the overall size of the bike guided by the frame and tire aspects.
You want to ensure that you are buying a bike with the correct frame and tire sizes. Otherwise, you will struggle to fit in with other bikes.
In general, the performance of a cruiser bike depends on the number of gears it's built with. There are single-speed models, three-speed, seven-speed, and even 21-speed gear cruisers.
If you choose single-speed bikes, you are probably not going to travel far and into poor terrains. But for 7 and 21-speed gears, you can blast the most difficult and challenging terrain on your way.
Be careful to check the brakes of your bike. Some cruisers have rear coaster brakes that are easy to engage and stop smoothly while others come with both front and rear handbrakes.
You have to determine which braking setup is ideal and easy for you to master. However, both brake types will do a great job stopping your bike on the go.
Best Cruiser Bicycle for Tall Riders FAQs
1. Are Cruisers Good For Tall Riders?
Most cruiser bikes feature bigger frames to match the height of tall riders. They are also equally-comfortable and easier to ride both on-road and off-road.
So, irrefutably, cruiser bikes are good for tall riders. The stipulation is that you have to find your match.
2. Which Bike Is Suitable For Tall Person?
I recommend cruiser bikes, and I have the perfect list for that. Here are the best cruiser bikes for tall riders:
3. Can Cruiser Bikes Go Uphill?
Most cruiser bikes come in heavy-duty constructions, making it cumbersome to cycle uphill. However, for the few that feature lighter frames, they are easier to pedal uphill.
Besides, a good number of them have multi-speed gears that make uphill pedaling much easier.
4. Should I Get A 26-Inch Or A 28-Inch Bike?
If you are looking to roll over obstacles much quicker and more comfortable, a 28-inch bike will do the job much better. That's because it has larger wheels.
But still, choosing between the two depends on your height. If you are not more than 170cm tall, a 26-inch bike is more convenient.
5. Can Cruiser Bikes Go Off-Road?
Cruiser bikes like mountain bikes, dirt bikes, and BMX are designed to go over gravel and riding trails. So, yes, cruiser bikes can go off-road.
However, you have to ensure you go for broader, bump-absorbing tires. Luckily, the best cruiser bikes for tall guys feature such tires.
Best Cruiser Bicycle for Tall Riders: Final Thought

You have probably seen that you are good with cruisers. Don't hesitate, therefore, to take on your desired model from the five high-quality options enlisted in this guide.
I hope by choosing one of them, you will bag the best cruiser for tall riders. And you will never have to lament pain in your shoulders or legs.
All the best.
Liked this Post? Share it on Pinterest!
Recent Posts