As a woman, I know just how hard it is to find the right bike. And if you are overweight, you might be concerned that riding isn't for you.
Let me assure you that as a fellow female rider, no matter your size, there is a bike for you and you deserve to ride!
In this article, we'll talk about what types of bikes you might enjoy riding and discuss some of our top picks for overweight women.
In a Rush? Here are Our Top Picks
Best Bikes for Heavy Women
1. Hybrid Bikes For Women
Women's hybrid bicycles are a perfect blend of the best components from road bikes and mountain bikes.
Hybrid bikes come in all different shapes and sizes, but typically you'll find them with a little bit of an upright position, flat bars, and larger seats. They'll also have slight wider, more grippy tires. This type of bike offers a more relaxed riding position, a cushier feel when riding, and solid, stable bike on both flat terrain and trails.
These bikes are great for larger sizes because of the upright position and the stable ride. The sixthreezero bikes have 2 inch semi-slick tires, a lightweight aluminum frame, and incredible stopping power. It also carries up to 300 pounds so you can feel confidant riding it.
The step-through frame is an added bonus, making it easier to mount and dismount, as well.  
What I like:
Easy to install
Lightweight Aluminum frame
Step-through frame for easy dismounting
Includes bike rack
What I don't like:
2. Best Road Bikes For Big Women
Northwoods Pomona Comfort Bike
26 inch 36 Spoke Alloy Rims with Custom-Design Cruiser Tires.
Aluminum Frame , Will fit riders from 5.3 feet to 6 feet.
Riser Steel Handlebar with Twist Shifters.
Comfortable Cruiser Seat, full cover chain guard.
Shimano Rear Derailleur.
If you want to stick to road riding, that's great too. You might want to consider a classic road bike with slick tires and drop handlebars.
To give you an idea of why road bikes have a huge following, let's take an example: the Northwoods Pomona Comfort Bike.
The Pomona Comfort Bike frame is aluminum and can fit women up to 6 feet tall. The custom cruiser tires are fast on the flats and the wheels have a whopping 36 spokes, allowing them to feel more stable even when carrying extra weight.
What I like:
Dual-suspension
36 spoke wheels
Padded seat
What I don't like:
Heavy
Non step-through frame
3. Mountain Bikes For Overweight Ladies
Sale
Royce Union RTT Women's Mountain Bike
Assembly video under images; ready for adrenaline-soaked adventures; RTT...
All tools are included for fast assembly; this 24-inch wheel bike is for a...
The Shimano EZ Fire Plus Trigger & TY 300 rear indexed derailleur deliver 21...
Lightweight alloy linear pull brakes with machined alloy wheel rims enable...
The padded saddle, with quality side stitching, can be adjusted for the perfect...
If single track makes you happy, you'll want to check out a mountain bike. They're specifically made to navigate rough terrain and cruise over and around rocks and roots.
The usually have flat bars and a slightly more upright position than a road bike.
What's great about mountain bikes, is they have some form of suspension or shock absorbers to take some of the bumps out of the ride. If you're slightly overweight, you'll feel a lot more comfortable on a bike with shock absorbers.
Well, I stumbled on a very good heavy woman mountain bike a couple of months back: The Royce Union RTT Women's Mountain Bike.
It comes with wide tires, 21 speeds, and steel suspension fork. It has an oversized padded seat and allows you to sit upright and in comfort.
What I love most is the sturdy aluminum construction – it remains firm under pressure but is also light enough to ride uphill.
4. Cruiser Bikes For Heavy Ladies
Sale
Firmstrong Urban Lady Cruiser
BEACH CRUISER BIKE FOR WOMEN: Classic, curvy women's beach cruiser bicycle with...
COMFORTABLE AND ERGONOMIC: Beach cruiser bike features an upright riding style...
SINGLE-SPEED DESIGN: 1 speed beach cruiser bike is great for cruising on flat...
SLEEK STYLE: These bicycles for women feature a stylish, curvy frame with a...
QUALITY TIRES: Adult beach cruiser bikes feature 26 inch wheels with 2 inch pink...
Probably the most comfortable and forgiving style of bike is a cruiser bike.
This classic design is easy to spot on the boardwalk because it can fit so many different body types and shapes. Some cruiser bikes can handle weights over 350 pounds, so there is no need to be afraid to ride one of these even if you aren't super thin.
A cruiser bike is basically one with a classic design: bigger handlebars, bigger seat, and bigger tires. The upright position is a lot more comfortable for plus-sized women since it won't force your body into a tight, uncomfortable position.
Of all the cruisers I have researched, I was very impressed by the firmstrong urban lady cruiser. This bike is suitable for women who are up to 6 feet tall. Its unique 2.125" tires ride every bump so smoothly you almost forget you're riding a bike.
It comes with standard coaster breaks, which are sufficient for normal cruising but not the best if you plan on descending big hills. Keep in mind, this bike only has 1 speed, so you may want to stick to mostly flat riding.
If you're looking for 7 speeds we'd look into the Schwinn Mikko & Huron Cruiser Bike.
Schwinn Mikko & Huron Cruiser Bike
Cruiser bicycle is perfect for leisurely neighborhood rides, at the beach, or...
Equipped with an easy to use 7-speed drivetrain and a twist shifter, this beach...
Front and rear alloy linear pull brakes provide secure stopping power
17-inch durable steel cruiser frame and fork, 26-inch x 2.1-inch wide tires,...
Arrives partially assembled, will require tools, Philips head screwdriver, Allen...
5. Cyclocross Bikes for Overweight Women
Raleigh RX 2.0 Cyclocross
The Superlight Butted 6061 Alloy frame with Thru Axles, Disc Tabs, & Tapered Headtube is made for competition.
TRP Spyre Dual Actuated Mechanical Disc Brakes provide great stopping power in the craziest of cross-riding conditions.
The proven and reliable SRAM Rival 1X11 drivetrain helps power this snappy ride while offering plenty of gears to choose from.
If you are into racing on mixed surface courses and looking for a bike that is stylish enough to match your ambition on diverse bike paths, a Cyclocross 400 lb capacity bike (more weights available) would be ideal.           
These remain steady and ride smoothly on pavements, gravel, unpaved trails, and grass.
In terms of design, they have drop handlebars like road bikes but have grippy tires providing more off-road traction for hopping over obstacles.
One of my favorites- the Raleigh RX 2.0 Cyclocross Bicycle, has disc brakes which give it outstanding stopping power even when riding rough terrain. The frame is made from lightweight but sturdy aluminum, making it fast and strong.
6. Touring Bikes For Women
Touring bicycles are made for long distance riding and for carrying extra cargo.
They have a dropbar but a more relaxed, upright position so you can ride for long distances comfortably. These bikes are great for female riders, especially plus sized, because they are extra sturdy and especially comfortable.
Personally, I would rather go for tall touring bikes such as the Windsor Tourist bike and with excellent Shimano speeds.
7. Folding Bikes for Overweight Women
Schwinn Loop Folding Bike
Lightweight step-through frame folds for easy storage; Folding frame with 20-inch wheels fit riders 56 to 74 inches tall.
7-speed twist shifter provides smooth gear changes.
Front and rear linear pull brakes deliver secure stops.
Rear carrier includes detachable heavy gauge nylon bag for easy storage.
20-inch alloy wheel with smooth rolling street tires are perfect for commuting.
Folding bikes are ideal if you live in a big city and need to navigate public buses or subway systems. You will also find a folding bike great for quick storage if you live in a small apartment.
An oversized woman bike such as the Schwinn Loop Folding Bike best illustrates this type of construction.
It comes with pretty standard 20 inch wheels to keep this folding bike lightweight. Its aluminum frame also ensures you'll be able to carry this bike around pretty easily.
And let's not forget the step-through design which is super critical if you live in a crowded city and need to mount (and dismount) your bike quickly and easily. Also comes with a rear cargo rack if you have to do light shopping or carry your personal items around.
One main downside with this bike is the seat is not very comfortable. So you may have to replace the saddle on this one if you want to prevent perineal saddle pressure as a woman, which is common in narrow bike seats.
What I like:
Small wheels keep weight down
Rear cargo rack
Step through frame
Good for tall riders
What I don't like:
8. Adult Tricycles for women
Schwinn Meridian Full-Size Adult Tricycle
Designed with 26-inch wheels, this bike provides a comfortable ride for those...
Single speed drivetrain is easy to use and maintain
Linear-pull brakes deliver smooth and intuitive stopping, and both front and...
Wide upright handlebars provide a stable, balanced ride, and the adjustable,...
Super low, stand-over, step-through aluminum frame allows easy step-through...
If you struggle with balance or just aren't comfortable on a two wheeler, you might be interested in an Adult Tricycle. They are also great for cruising around and moderate exercise either on flat pavements or gently sloping terrain.
If you want to go to the beach with your family, you can carry an outstanding brand like Schwinn Meridian Full Size Adult Tricycle.  
The seat is comfortable, and the bike has an ergonomic design plus the rear-wheel steering system is brisk and enjoyable.
Additional Best Bikes for Overweight Female Riders
9. Sixthreezero Around the Block: Best for Fun Riding
Sixthreezero Around the Block
Classic, curvy women's beach cruiser bicycle with 17-inch durable steel frame;...
Upright riding style keeps your back and shoulders comfortable; dual-spring...
Single-speed bike great for cruising on flat terrain; pedal-backwards coaster...
26-inch, 2.125-inch wide aluminum wheels with large waffle tread tires provide a...
Blacked-out components for added style; includes rear rack for optional baskets...
The Sixthreezero Around the Block is a single-speed bike with a curvy, feminine frame and a pretty mint color.
The frame is a sturdy 16-inch steel with large 26-inch wheels. (But keep in mind steel is prone to rust, so I wouldn't recommend it especially if you live on the coasts). And of course, you will need to stay on top of scratches right away.
This bike can handle heavier weight riders with ease, and the cushy tires make it feel much more comfortable.
But keep in mind steel is prone to rust, so I wouldn't recommend it especially if you live on the coasts. And of course, you will need to stay on top of scratches right away.
The cruiser-style handlebars with foam grip put you in a relaxed, upright position. Along with the dual-spring saddle, you'll get a smooth, comfortable and confidant ride. It has old-fashioned, coaster-style brakes and adds on like a rear rack.
Although it's a single-speed bike, you'll have fun and feel comfortable cruising around your neighborhood no matter what size you are.
Highlight Features
17-inch mint green steel cruiser frame
26-inch wheels
Dual-spring saddle
Wide cruiser-style handlebar
Single-speed gear
Waffle tread tires
Pedal-backwards brakes
10. Schwinn Discover Hybrid Bike: Best Unisex Bike for Overweight Female Riders
Sale
Schwinn Discover Hybrid Bike
Front suspension fork, alloy crank, and a city rise adjustable stem, while the...
21-speed SRAM grip shifter and rear derailleur, uphill pedaling becomes more...
Promax alloy linear pull brakes provide reliable stopping power, while the alloy...
Comfortable ride, swept-back upright handlebars, padded seat, and lightweight...
Fenders that protect riders from dirt and to ensure a clean and enjoyable ride...
If you want a hybrid bike for larger riders, look no further than the Schwinn Discover Hybrid Bike. The aluminum frame is lightweight but sturdy enough for heavier riders.
It enjoys a 16-inch aluminum frame and 28-inch wheels.
And if you love hills, you'll have 21 speeds to conquer them. The city-rise stem is adjustable for different height riders, as well.
Its handlebars, for example, have a swept-back design to allow you to have a firm hold. It also comes with a thickly-padded seat to improve your overall comfort.
Don't worry about muddy roads because this bike has cute fenders to help deter mud splashes.
This bike is generally lightweight, given that it features an aluminum frame. But still, that doesn't prevent it from being sturdy and reliable. It's one of the better bikes for over 300 lbs men and women.
Highlight Features
16-inch aluminum frame
28-inch sturdy wheels
21-speed drivetrain
Linear pull brakes
Well-padded seat
City-rise adjustable stem
Rear and front fenders
Swept-back handlebar
11. Schwinn Phocus Drop Bar Bicycle: Best for Competitive Racing
The Schwinn Phocus Drop Bar Bicycle is another unisex bike by Schwinn that overweight women cyclists can leverage.
This bike for overweight females comes with a step-over aluminum frame that's easily accessible.
It enjoys a carbon-fiber road fork that absorbs shock to allow you to conquer bumpy roads smoothly. And it's not just the road fork that makes it an excellent off-road choice but the 16-speed Derailleur too.
Schwinn Phocus 1600 enjoys high-profile alloy double-wall rims that boost its robustness. And to give you a wider gear range, the road bike comes with an alloy crank.
This bicycle enjoys remarkable braking power, all due to its dual-pivot caliper brakes.
Its narrow, high-pressure thin tires make it an excellent choice for competitive racing.
And finally, the drop bars and skinny slick tires are great for racing.
Highlight Features
Step-over aluminum frame
Carbon fiber fork
16-speed Shimano derailleur
Double-wall rims
Narrow, high-pressure tires
Drop handlebar
Dual-pivot caliper brakes
12. Firmstrong Single-speed Cruiser: Best Budget Choice for Overweight Female Riders
Firmstrong Single-speed Cruiser
Men's 7-speed black cruiser with red rims
26" aluminum rims and stainless steel spokes
Long lasting comfortable grips and spring supported seat
Custom Men's frame with thick top tube
Shimano 7-speed derailleur
If you're looking for a bike but you have a tight budget, you'll want to consider the Firmstrong Single-speed Cruiser.
It has a classic beach-cruiser style with white balloon tires for a cute look and a fun ride. This single speed bike comes with rubber-blocked pedals and broad handlebar for a comfortable, stable grip.
And easy-to-use coaster brakes make stopping a breeze.
Highlight Features
Curvy cruiser-style frame
Single-speed gear
Extra-large seat with dual-spring suspension
Foam grip handlebar
Coaster brakes
Large white balloon tires
13. DJ Fat Bike Electric Bicycle: Best E-Bike for Overweight Female Riders
When it comes to cycling speed, nothing beats an e-bike, and very few are as good as the DJ Fat Bike Electric Bicycle.
Ebikes are typically capped at a speed of 20mph, so if you are looking to go faster, you'll have to pedal it yourself to get that fast. However, it gives you lots of assist to get up hills more comfortably. And the 4-inch Kenda tires will take you on all kinds of surfaces from snow, trails, beach, and muddy roads and a sturdy aluminum frame.
When it comes to off-road bumps, you get to go through them smoothly, all because of its reliable fork suspension. And don't forget the disc brakes for great stopping power.  
Overall, the bike has a cleaner look and is easy to ride. More importantly, it comes at a budget price.
 Highlight Features
750W Bafang brushless motor
4-inch Kenda fat tires
7-speed Shimano derailleur
26-inch alloy rims
King Meter LCD
Suspension fork
Tektro disc brakes
Factors to Consider Before Buying a Bike for an Overweight Female Cyclist
There are a few things to consider before you purchase your bike. And it doesn't matter if you are overweight or just a large rider overall, you want to make sure you get the bike that gives you the most confidence for your ride.
So you'll want to consider factors such as brakes, frame material, bike seats, and overall sizing of the bike. Everyone deserves a bike that makes them feel great!
Good Brakes
You'll feel more confidant on your bike if you have good stopping power.
I feel best when I ride a bike with hydraulic disc brakes, because this type of brakes offers the best stopping power. However, some riders prefer the more classic rim brakes.
If you don't know the difference between disc and rim brakes, you can check out this video for more information.
To sum it up, rim brakes are the old standard for many bikes. But disc brakes, especially hydraulic disc brakes, offer a lot more stopping power, especially in rain, mud, and on gravel.
Although they might be a little bit heavier than rim brakes, the extra stopping power is definitely worth it. If you are a larger rider, you'll probably want to invest in 160mm disc brakes.
Comfortable Saddle
A very real cause of bike riding discomfort for women is the saddle! This is because women have wider sit bones then men, so they need a slightly wider saddle to give their tushes the right support.
And if you are plus-sized, you might feel more comfortable with a little bit more cushion, too. In other words, bike seats for big bottoms!
A foam saddle may feel a little bit firmer than a gel saddle, but the best thing you can do is to stop by your local bike shop and try out a few different saddles to see which one is the most comfortable for your body.
Here is a great video with some other considerations for getting the right saddle.
The Right Tires
Wider tires give you a much more comfortable ride. They are more stable and easier to balance and they have a lot more grip when cornering.
So if you aren't a small person, you may want to consider a bike that can fit wider tires to make you feel a little more secure when you're riding.
Gear
The right gear can make you ride even more comfortable.
I've found that having quality padded bike shorts greatly reduces saddle discomfort. More and more manufacturer's are making plus-sized clothing for female cyclists that are both fashionable and comfortable.
If you are in a colder environment, you might want to consider a soft shell jacket. They've gained popularity with cyclists over the years and with good reason. Not only are they extremely breathable, but are more comfortable than traditional hard shell jackets.
And one final consideration is your helmet! There is a chance you have a bigger head if you are overweight. If that's the case, looking into bike helmets for big heads will be well worth it.
Frame Construction
Frame construction is an important aspect of choosing the right bike, especially if you are overweight. However, there are plenty of options.
Bikes have historically (since the late 1800's) been built using steel frames. While steel is incredibly strong and durable, it is heavier than other popular options like aluminum and carbon fiber. It also is prone to rust, which is something to keep in mind if you live on the coast.
However, steel is incredibly easy to repair and offers a relatively smooth ride.
Nowadays you'll see many more bike frames made out of aluminum. It is resistant to corrosion and also has a very good strength to weight ratio.
The downside to Aluminum is that it is relatively stiff and can be a little uncomfortable to ride. So if you're doing long distance touring or anything similar, aluminum might not be the best option.
Our frame of choice is carbon. It is significantly lighter than other frame materials, which is going to be noticeable on hills.
For overweight riders, carbon also has a key advantage of being easier to bend into different shapes. What this means is bike manufacturers can selectively strengthen certain high stress areas of the bike. Not only does this equate to a sturdier bike, but also more comfort.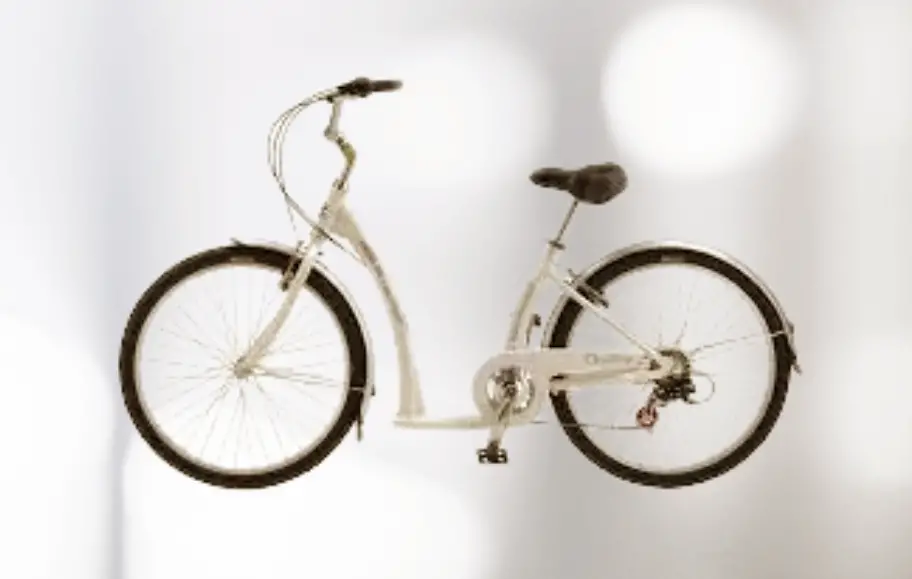 Step Through Frame
Step-through frames are great for people with limited mobility or flexibility. If your size or your health make it difficult to swing your leg over a bike, you might want to consider a bicycle with a step-through frame.
If you're unfamiliar with a step-through frame, it is a style of bike that doesn't have the top tube (or crossbar). This allows you to "step through" the bike a lot easier.
Sizing a Bike for Overweight Women
Getting the correct sized bike as an overweight woman is perhaps the most important thing you'll do. But how exactly do you find your correct bike size as a woman?
Well, just like with jeans, you want to first focus on your inseam (leg) length. The taller you are, the higher the frame of the bike you will need to feel comfortable.
Here are bike sizing charts for women for road bikes, hybrid bikes, and mountain bikes. Note that mountain bikes require a smaller frame that road bikes, as they are require you to bend over and be positioned lower on the bike as you ride.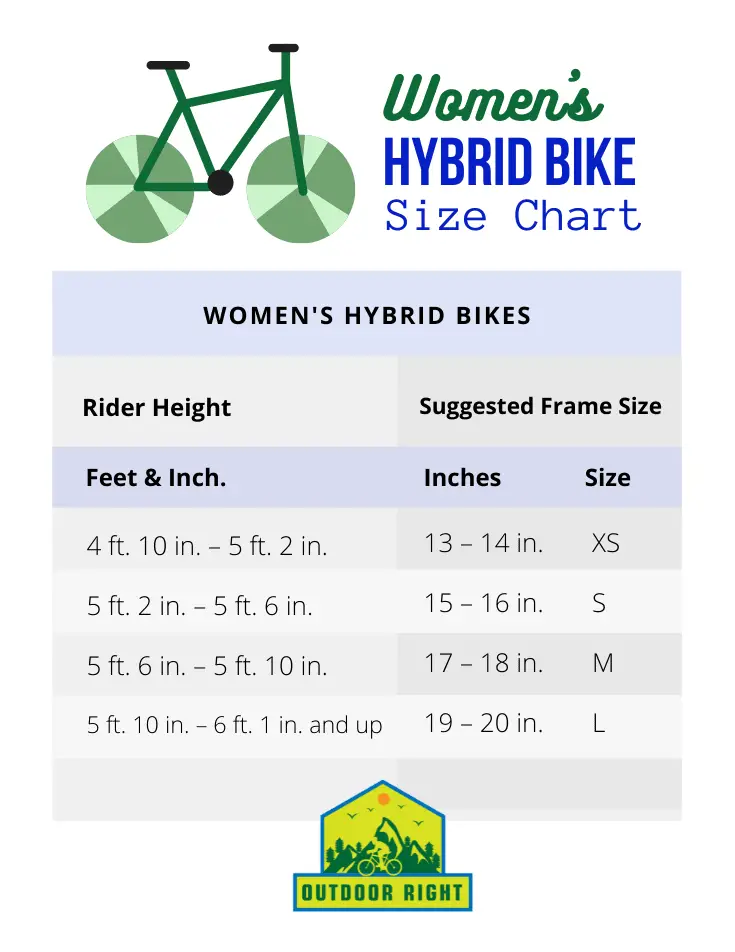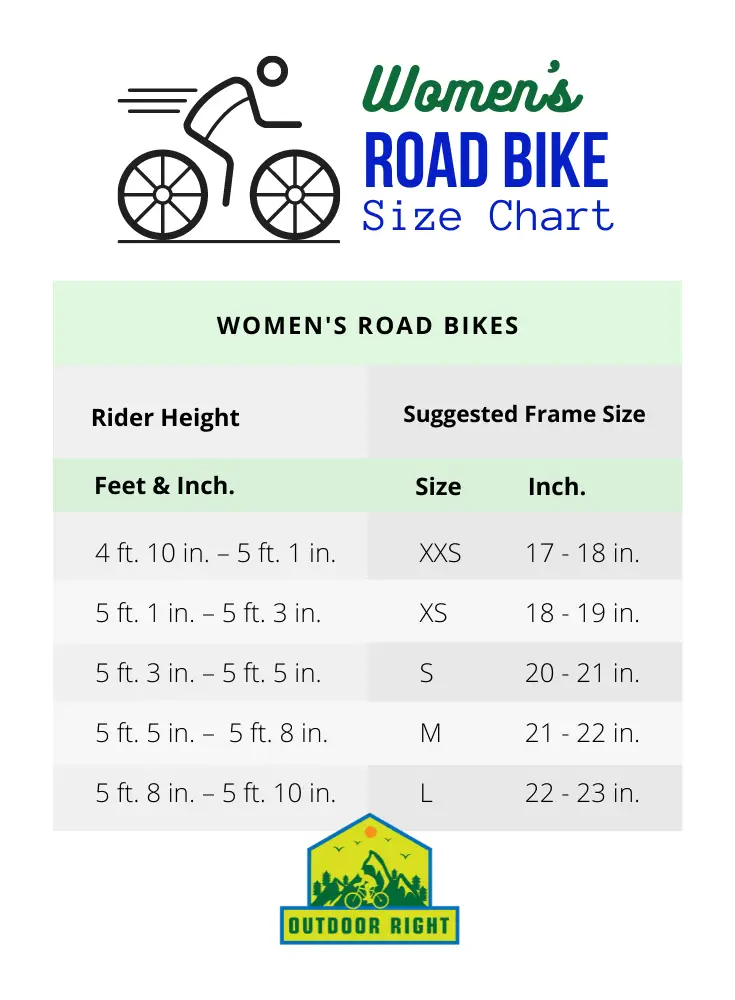 After finding the correct frame size, you can always make minor adjustments to the bike to make it feel right for you. For example, you can optimize your bike fit by raising/lowering the height of the seat or even your handlebars.
We recommend you always do this under the supervision of a bike fitting specialist. After all, a bike is not a cheap investment, and you want to ensure you feel comfortable and minimize the chance of injuries.
Does Riding a Bike Help You Lose Weight?
Steady cycling will burn about 650 calories every hour. Then, the more energy you channel into cycling, the more you reap of it.
Don't believe me? Check out this a great story about a woman who lost over 70 pounds from cycling.
Other benefits of cycling besides weight loss?
Well biking is low impact and is easy on the limbs while strengthening your various muscles, including your hamstrings.
Of course, while cycling promotes faster fat burning, it will not replace other weight loss strategies such as healthy eating. Just combine healthy eating and cycling and watch the fat burn off!
The lesson?
If you are launching the mother of all battles against your weight, biking regularly could be your secret weapon.
What are Benefits of Riding a Bike for an Overweight Woman
So, why should you ride your bike, especially if you are overweight?
Bicycling daily can promote weight loss and make you healthier. Even moderate biking burns an estimated 650 calories in one hour!
So you will soon be back in shape.
Biking is an aerobic activity and is a great cardio workout. It strengthens your heart, increases your heart rate, and has been associated with a lowering the risk of getting heart disease.
Biking stimulates the release of more endorphins— the famous feel-good hormone. You are likely to feel happier, full of positivity, free, and re-energized to pursue your life goals.
You can join the local cycling club which gives you a chance to meet and socialize with people with whom you share a common interest.
A cold beer will be more enjoyable if shared with friends after a tough afternoon ride on your bike!
Going green is the in thing nowadays and biking is an environmentally friendly commuting options as it involves zero emissions.
So, you will be helping the World as much as you're helping yourself.
FAQs
Can an Overweight Person Ride a Bike?
Everyone deserves to ride a bike, no matter if they are overweight or underweight.
Cycling can be especially helpful for people who are overweight because it is easier on the joints and considered a low impact exercise.
Do Women's Bikes Have Weight Limits?
While some of the bikes for overweight ladies come with specified weight capacities, others don't. But as a general rule of thumb, bikes can carry anywhere from 250 to 300 pounds.
But keep in mind because of factors like terrain, tire type, and cycling style, manufacturers are hesitant to specify bike capacities.
Those factors determine how much load a given bike can take and for how long.
Does Bike Weight Really Matter?
Yes bike weight matters!
The obvious advantage is that a lighter bike is easy to carry around. If you're commuting in the city for work or shopping on your bike, this is a huge plus.
In addition, especially if you live in a hilly area like San Francisco, every gram you can remove from your bike frame while make a tangible difference.
This is another reason why we always recommend carbon frames if you can afford them. Not only are they strong and don't carry the risk of bending or breaking over time that metal frames do, but they are extremely lightweight.
Can Women Ride 24-Inch Bicycles?
Yes, there's no problem with women riding 24-inch bikes if the frame is right for your height and inseam length. Nowadays, some of the best 24-inch bikes are unisex.
Can a 300-Pound Person Ride a Bike?
Typically, most heavy-duty bikes have a 275-300 lb carrying capacity. So, yes, a 300-pound person can ride most bikes without a problem.
Not all bikes can tolerate 300 pounds, however.  There are some bikes that have a smaller weight capacity, so just make sure you check your bike's weight limit before you ride.
What is the weight limit on a Fat Tire Bike?
The weight limit on a fat tire bike is typically up to 300 pounds. If the fat tire bike has better components, like the Mongoose fat tire bike it can support more weight, closer to 350 pounds.
The Bottom Line
No matter your size or whether you are overweight, you deserve to have a bike that fits and makes you feel confident! When you feel comfortable on your bike, you'll want to ride more often, which will contribute to a happier and healthier life.
Before your invest in a bike, think about the types of riding you want to do.
Do you prefer long, flat rides? Navigating rough trails? Or fast descents on steep hills?
Knowing the type of riding you like best will help you choose the best bike for you, no matter your size.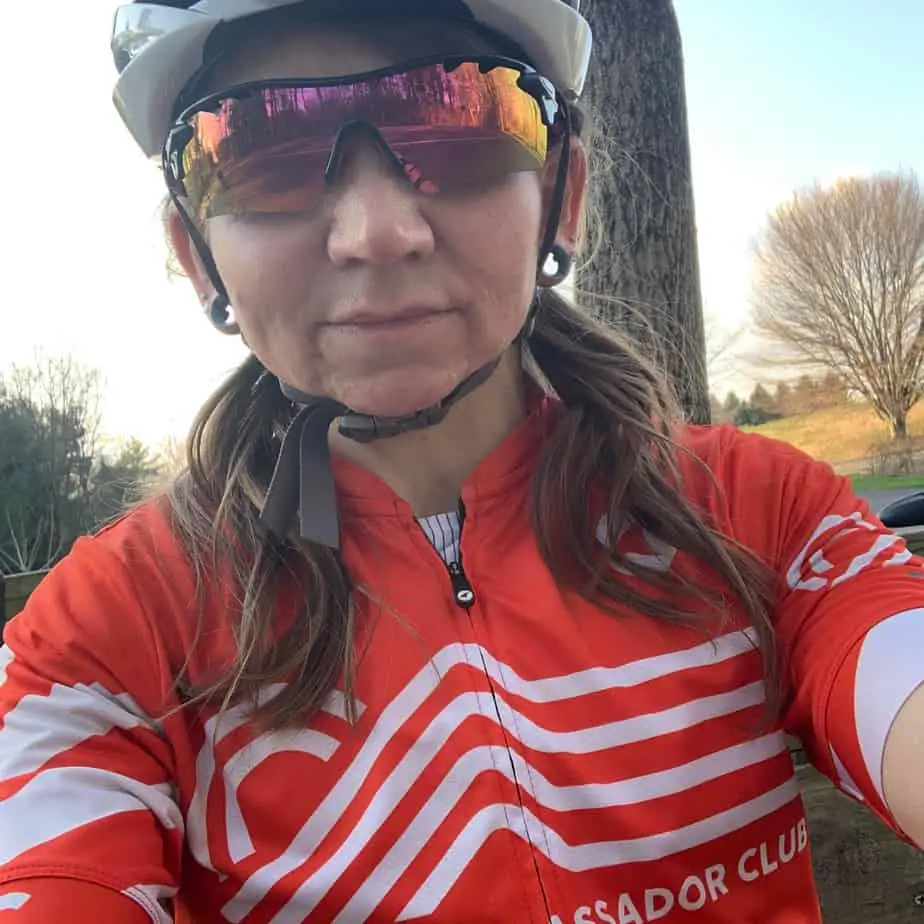 Amanda spends her free time absorbed in cycling and gardening, all while spreading autism awareness, encouraging adoption and foster care, championing the underdog, and of course, working with her chickens and goats.
When she's not spending time with her kids and her pets, you can find Amanda on her bike.