Cross-country or XC mountain bikes are now one of the most diverse types of bicycles made. They represent different shapes, different types of suspension and somewhat different uses. 
Made for riding over the most varied terrain, XC mountain bikes are efficient enough for climbing miles up mountain trails, comfortable enough for riding flatter sections at high speed and capable enough for downhill descents at moderate speeds – all on the same ride. No other segment of mountain bike can keep up with the XC mountain bike over long distances of ups and downs.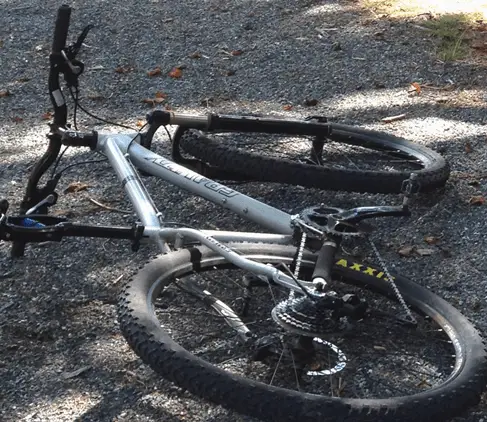 XC mountain bikes are also known as race bikes. To add to the confusion, there are also a wide range of XC mountain bike build qualities. Some of these bikes are tough as nails and built for riding fast over rugged terrain. Others have the look of a XC mountain bike, but are of such low quality that they come labeled with a warning…. "Not for Off-road Use."
Either way, they are great bikes and I love riding them. If you want to learn more about XC mountain bikes, then read on.
The History of XC Mountain Bikes
Mountain bikes got their first real start in 1976 as local riders in Marin County, California would modify junk bikes with wide knobby tires to race down a dangerous dirt and gravel mountain road. The race was named The Repack which was the name of that dangerous road. Riders would end the race bloodied and bruised with bicycle frames broken and brakes smoldering. By 1979, news of the race spread throughout the country making it a famous cycling event. 
Joe Breeze eventually built a bicycle specifically to win the Repack and it was called the Breezer 1. He didn't know it at the time, but this became the first prototype mountain bike of which all were modeled. Then in 1983, Specialized Bicycle Components mass produced the first true mountain bike, the Specialized Stumpjumper. By the 1990s, mountain bikes outsold road bikes and became the most popular cycling sport around the world. 
As the sport progressed and divided into segments such as downhill, XC and Slalom, these early mountain bikes were used as the XC mountain bikes. So many XC bikes today are still based on the original Joe Breeze and Stumpjumper designs. 
Advances in XC Bike Design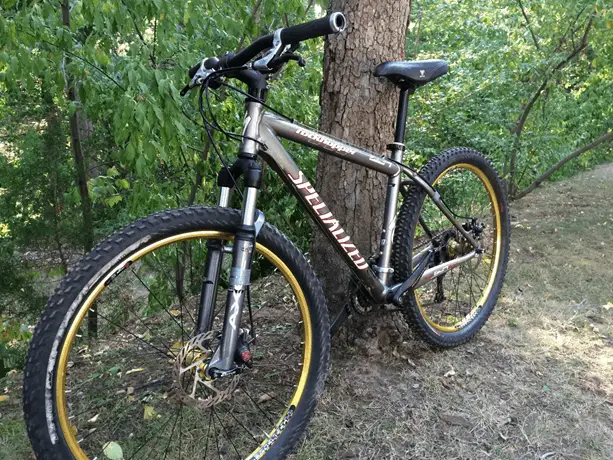 XC mountain bikes have changed over the years based on the progression of the sport. Riders are taking their XC bikes over more challenging terrain at much higher speeds. This required some modifications from the original Joe Breeze design.
Mountain bike geometry refers to the size, shape and angles of the bike frame.  Builders have learned over the years that the frame's geometry plays an enormous role in how the bike handles. 
XC mountain bikes now generally have more slack headtube angles, steeper seat tube angles and a longer reach. These things basically mean the bikes can handle better over rocks, roots and drops while also being efficient.
A mountain bike said to have aggressive geometry is one that can handle much more challenging terrain. A XC mountain bike with traditional race geometry is one that's less capable, but sometimes preferred on race courses with smoother trails. 
Frame Material
XC mountain bikes are made from a variety of materials and each material has special properties that can maximize the bike's performance. In general, you'll find XC mountain bikes made from steel, aluminum, carbon, titanium or even bamboo. 
The descriptions below are for typical bike frames, but keep in mind that some frame builders engineer their frames to reduce the unwanted characteristics of the frame material. 
Although steel is generally heavier than the other materials, a master craftsman can build a frame that's competitive with other materials. 
Some steel race bikes weigh under 5 pounds. The Niner Sir9, one of the best steel-frames available, weighs around 6 pounds. That's considered a heavy frame, but the ride quality of steel makes it desirable among some riders. Steel is more compliant and it absorbs a lot of vibration which gives it a smoother and quieter ride over rough terrain. This smooth ride can translate into much faster speeds over rougher trails. The Niner Sir9 retails for as low as $2550.
Aluminum bike frames come in a variety of alloy mixtures with many different properties. One of the best alloys is the 6061 heat-treated tubing. This is a super light, strong and resilient aluminum alloy. Aluminum is also the easiest material to work with regarding exotic frame shapes. These frames are known for their efficiency which can give a harsher ride than steel. Aluminum alloy XC mountain bikes can drastically lower the entire cost of the bike. The Trek X-Caliber 9 has an aluminum frame that weighs about 4.25 pounds. This bike retails for a very reasonable $1650.
Carbon fiber frame material has become extremely popular for XC mountain bike racers. This is because it's one of the lightest materials, only rivaled by titanium. Carbon fiber is also super rigid which can give it the harshest ride quality of any frame material discussed here. Racers like this because they can transfer more power to the rear wheel for acceleration. 
Cannondale's F-Si Hi-Mod 1 frame weighs about 2 pounds. But be prepared to pay for the weight savings because this bike retails for around $9000. 
Titanium XC mountain bike frames are similar in weight to carbon fiber bikes, but they provide a ride quality closer to steel. These bikes are smooth, quiet and really fast. Some racers around the world choose titanium for a mountain bike that will last a lifetime. The Seven Cycles Sola XX frame weighs about 3 pounds and lower-end models sell for about $8300. 
Bamboo is certainly not a typical frame material for XC mountain bikes, but some racers prefer the material over all others. A frame made from bamboo gives a ride quality between carbon and titanium with a weight between aluminum and titanium. A typical frame would weigh about 3.75 pounds. 
Boo Bicycles makes an excellent XC mountain bike they call the Boo SL-M Mountain Bike.
Rigid XC Mountain Bikes
The most basic style of XC mountain bike are the rigid types. These rigid XC mountain bikes are the most similar to the original Joe Breeze design of any type here. This means they do not have any suspension or shock absorbing properties. 
The frame is of a solid-state design and typically made from steel, aluminum, carbon or titanium. The fork which holds the front wheel in place is also a solid structure typically made from steel, aluminum, carbon or titanium. 
The rigid XC mountain bikes are typically used for riding trails which are of easy ruggedness of terrain.  They are also the most likely design to be single speed rather than up to 30 speeds. Some XC mountain bike racers prefer rigid bikes due to their light weight and simple operation.
The Surly Lowside is a great example of a quality rigid XC mountain bike. Here's an example of what you can do with the Surly Lowside if you're an expert rider.
Hardtail XC Mountain Bikes
Like the rigid bikes above, hardtail mountain bikes have a solid-state main frame made of steel, aluminum, carbon or titanium.  Although instead of having a solid fork, they have a suspension fork which acts as a shock absorber for the front wheel.  The amount of up and down movement for suspension is called travel.  Early suspension forks had less than 70mm (2 ¾") of suspension. Now XC mountain bikes can have as much as 120mm (4 ¾") to soak up some really big bumps. 
Hardtails make up the largest subset of XC mountain bike. They're efficient, fairly capable over moderately rugged terrain and have a more simple mechanical design. Some of these too may be single speed, but a vast majority are geared bikes of between 10 and 30 speeds. 
The Santa Cruz Chameleon is a great example of an aggressive XC mountain hardtail.
The Specialized Epic Hardtail is a great example of a race bike.
Soft-tail XC Mountain Bikes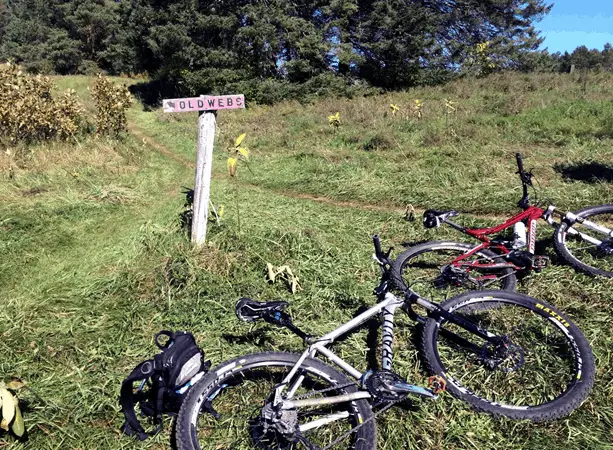 There are not many soft-tail mountain bikes made as this is somewhat of a specialty. These XC mountain bikes typically have flexible spring-like frame material that allows the frame to flex. This in turn allows the rear wheel to move up and down over rough terrain smoothing out the ride. The rear wheel travel in this type of suspension is typically under 60mm or about 2". 
Soft-tails have become a niche favorite for some XC racers. Most of the soft-tails are made from super high-end titanium. These ultra-light bikes are pure bred race machines that are much more efficient than full suspension bikes, but are also faster over more rugged terrain than hardtails or rigid bikes. 
The Moots Mountaineer and Trek Supercaliber are great examples of soft-tails and the Trek Supercaliber won gold at the 2021 Tokyo Olympics.
Full Suspension XC Mountain Bikes
Full suspension XC mountain bikes not only have a suspension fork, but they also have mechanical swingarms or linkages that attach the rear wheel to the main frame which drives a shock. 
The amount of travel offered in the rear suspension can range from about 60mm (2") to 120mm (4 ¾"). These bikes usually have fairly equivalent suspension travel shared between the suspension fork and the rear suspension. This means if the rear suspension has 100mm of travel, the front will likely be about the same. 
These fully suspended bikes are typically the most capable of the XC mountain bikes. They're able to ride moderately rugged terrain at the fastest speeds. 
It's a common misconception that these XC mountain bikes are typically not as efficient as their hardtail brethren, but advances in technology have made this less true over the last several years. In fact, both the men's and women's XC gold medalists in the 2021 Tokyo Olympics won their races using full suspension XC mountain bikes.
The Specialized Epic is a great example of a full suspension XC mountain bike.
FAQ
What is the best XC mountain bike for the least amount of money?
A hardtail aluminum XC mountain bike with 100-120mm suspension fork is going to be the best riding bike for the money. One example is the Motobecane Fantom 29 EXPERT 29er that retails for about $600. 
Steel is heavy, wouldn't carbon fiber be the best frame material?
There's a lot more to how a bike performs than just weight. Some heavier bikes routinely win races over lighter bikes based on their geometry and components. Some racers prefer riding steel frame XC mountain bikes. 
However, carbon fiber is now the most popular frame material for a XC mountain bike built for racing. And either frame material is fine if you're concerned about how it will hold up to weight. This is one of the better mountain bikes for big guys.
What is the best XC race bike?
XC mountain bikes built for racing come in many different varieties and are very personalized to the rider's preferences. The best racing bike is going to be the one that makes you the fastest. However, this bike may not be suitable for another racer. This is why there are so many varieties.

What's the difference between an XC mountain bike and a trail mountain bike?
There's not much of a difference between a XC mountain bike and a trail mountain bike. In general, a trail mountain bike is going to be a little more capable and a little heavier than a typical XC mountain bike. 
As an example, trail bikes may have a suspension fork with a travel of 120-140mm and larger heavier knobby tires made for absolute traction. This is going to make that type of bike accelerate a little more slowly. Most racers will prefer the specific XC mountain bike category for doing cross-country races, but some racers ride mountain bikes from the trail category.
Is enduro mountain biking the same as cross-country?
No. Enduro racing is a downhill mountain biking discipline that relies on big heavy and super-capable mountain bikes. These bikes are able to do jumps, drops and ride the roughest terrain. They are also much heavier than XC mountain bikes with an average weight of 32-36 pounds.
How much does a XC mountain race bike weigh?
XC mountain bikes made for racing can weigh as little as 18 pounds for a hardtail and up to 24 pounds for a full-suspension bike. 
The heaviest XC mountain bikes are typically no heavier than 26 pounds.
What is the fastest wheel size?
There are three typical wheel sizes of a XC mountain bike. The original standard size used to be 26", the most popular racing size is now 29", but some prefer the better handling of a 27.5" wheel size. 
Studies have shown that 29" wheel sizes are typically the fastest and most efficient. However, smaller wheel sizes are easier to maneuver over challenging terrain.
Conclusion
I hope this guide to XC mountain bikes has helped you. There are many different styles to choose from, and picking the right one for you is a matter of preference.
If you are looking to go up and down trails, there really is no better bike. So what are you waiting for? Which XC mountain bike are you going to buy today?
Bryan McFarland has spent almost three decades as a recreation professional developing programs for youth camps, managing challenge courses, facilitating therapeutic recreation activities and managing parks.
He's an expert mountain biker of 25 years having ridden some of the best trail systems in the country including Kingdom Trails, Raystown Lake, Tsali, Palo Duro Canyon, Sedona, Moab, Ray's Indoor Bike Park and the Black Hills.
Bryan is also an expert hiker and backpacker, authoring a book about wilderness travel, Bryan's Wilderness Adventure Guide.