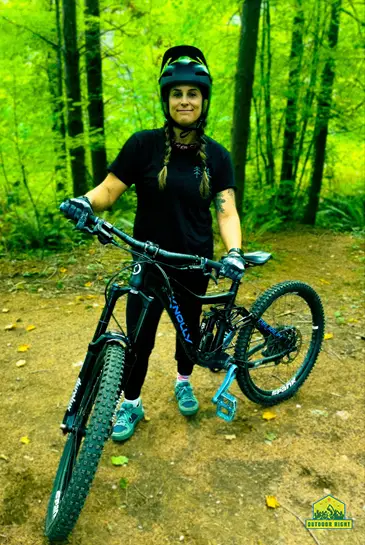 This is my wife's Knolly Delirium. It's a 2018 freeride machine.
It has 180mm of travel in the front and 170mm in the back over a worn knobby Maxxis Minion DHR II back tire. It has a Chromag cockpit, a seriously sweet Ground Keeper fender, and a leaky Cane Creek shock. It's one of the raddest bikes you'll see on the trail, and it rips.
There also isn't a day we ride (and we ride every day) that we don't get compliments on the bike. And that's not only because of how beautiful it is or how well she rides it; it's also because it's a Knolly.
When it comes to PNW riders' favorite bike brands, If you know Knolly, you know. 
Curious about what else there is to know?
History of Knolly Bikes
Vancouver BC's North Shore and Whistler Bike park are world-renowned mountain biking destinations.
The terrain is steep and sweet, aggressive, and absolutely stunning. It's so aggressive and stunning with unbelievable downhills and legendary wood features that the style of riding it developed has taken over the mountain biking world.
Before "the shore" takeover, though, local riders were left to navigate the riding style and rides themselves.
Driven by the terrain, the style, and the need for high performance, precision manufactured rigs to take up and down, Knolly Bikes was born.
Initially, a one-man nano brand, with the engineering physicist founder building bikes for himself and eventually his close friends, today, nearly 20 years later, with over 25 employees and 5 million a year in revenue, the company is the real deal.
Why Riders Love Knolly Bikes
The simple answer to why riders love these bikes can be found in the smiles at the end of a crushing and cruising downhill.
The more complicated answer is that these bikes do it all. They're beasts in every sense of the word, and in most cases, whether you buy a trail bike or a gravity rig, they're more bike than you'll need.
And having more bike than you'll need means you'll always have as much bike as you want.
Looks
Listen, I know looks aren't at the top of the list, but, listen, they're close. Every one of us but the most courageous has rolled up to a group of riders self-conscious of the bike we're pedaling.
With a Knolly build of any year, that just won't happen. These bikes look excellent. Their suspension looks unique. Beautiful even. And their looks age well, something to consider with new progressive geometries and eye-catching builds coming out every year changing what's "in."
Model Selection
From titanium hardtails and gravel bikes to the super aggressive enduro monster Warden 168, they have it all. That means you'll be able to pick up the perfect burley bike whether you're looking for a 700cc 40m fork commuter cruiser or a 29 inch, 180mm slack attacker.
Build Kit
Some riders may prefer to build out their own frames, but if you're a rider looking for maybe the most solid factory complete build on the market, these bikes are the way to go.
That's because you won't find an in-house poorly manufactured build kit with no name hubs and handlebars. Knolly knows bikes and knows what you want. So Chromag, industry nine, Spank, Cane Creek, RaceFace, and Maxxis are a few names you should expect to see right out the door.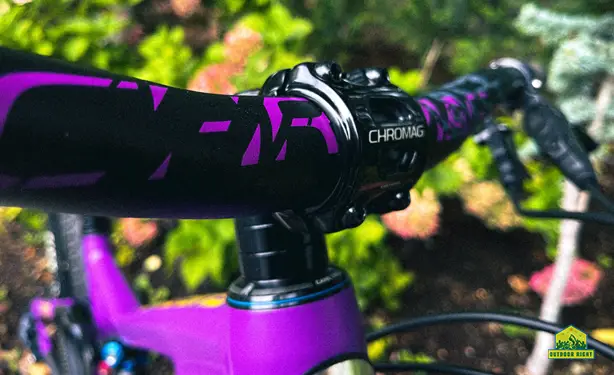 Progressive Suspension
It's called Fourby4 suspension, and it either is the future of the tech or is from the future. It's designed to maximize the performance of your rear shock and give you increased traction in every situation. And it just works.
With a reduced brake squat, your wheel stays firmly in the mud giving you what feels like unlimited suspension.
When she's not in the air it's probably her favorite part of the bike.
Reliability
These bikes are built for North Shore riding and are burly. With engineers behind the control panels, these things are over-engineered to handle whatever you throw at them.
Versatility
Besides the wide range of bikes offered and incredible build kit options, you'll also find versatility when looking at individual bikes.
Suspension
Besides their patented Fourby4 suspension, most of their bikes have optional regular and "slack" settings for more aggressive downhill riding.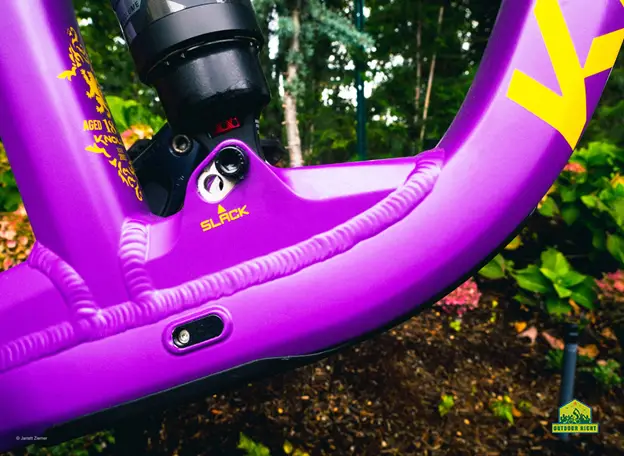 Hub Spacing
The company uses a 157″ trail" rear hub. With wide flanges and a 73mm BB Shell, you'll have the most options for tires sizes.
OSD
A patented "offset straight seat tube" gives riders the ability to transition from attack position riding to pedaling with ease.
Keeping It Local
Knolly has roots in riding and the kind of roots in the kind of riding a lot of people love.
They're a small, local PNW brand, and they understand the people on their bikes.​​ They also understand that trails are often gritty, wet, and super steep and build their whips accordingly.
Current Knolly Model and How To Choose
Knolly currently offers 9 bikes in various sizes and styles.
All of their factory-built-up frames come with parts that'll make you blush. And with multiple quality build kit choices for each frame, you'll even be able to narrow down the good to the gooder.
If you're a serious shredder hucking wood boxes to shark fins, you can always opt for a higher-quality build.
Don't worry, though, if you plan on casual weekend rides. Even the less expensive "lower quality" built bike will handle more than most can throw at it.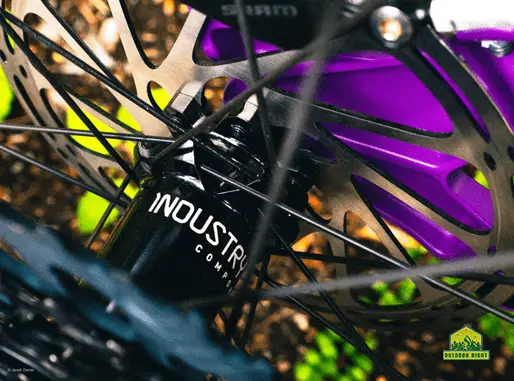 What that all means at the end of the day is that instead of basing your bike purchase with this company on the quality of parts or frame, you should base it on where you'll be riding and how aggressively.
Gravel
Cache Steel
The Cache Steel is the company's durable, versatile traditional feeling gravel bike. The second bike in their gravel line, the steel, is meant to up the feel from the first traditional model.
Pros
Tough frame
Dampened road feel
Long front center
Gravel-specific GRX drivetrain
Cons
Cache Titanium
The Cache Titanium is the company's innovative first gravel bike offering. Featuring a smooth, precision-built frame and company-built carbon forks, the Cache Titanium is the speed demon of the two bikes.
Pros
27.5 x 2.1″ tire clearance
Dropper post routing
Optional Gravel Suspension Forks
Comfortable long-ride ergonomics
Hardtail
Tyaughton Steel
The Tyaughton Steel is a brand new progressive geo hardtail monster. This bike is built to ride tough. With the company's nearly standard Superboost 157mm rear axle spacing, mullet capabilities, and a steel frame, it'll go anywhere.
Pros
Super Boost hub spacing
Durable steel frame
Factory Mullet possibility
Rowdy downhill geometry
Tyaughton Titanium
The Tyaughton comes in two versions, steel and titanium. The titanium is the more expensive of the two offerings.
Pros
Internal Dropper Routing
Super Boost Wheelset
Half as light and twice as tough as steel
Cons
Only available in premium build kits
Trail
Fugitive 138
The Fugitive 138 is the "Short travel" bike in the family with 138mm rear and 150mm front. It's one of the bikes I got to check out at my local shop, and it's gorgeous in person. Don't let the "trail class" misnomer through you on this one. It's a climber and a crasher.
Pros
Efficient pedaling uphill and capable of crushing down
Adjustable Slack Setting
Predictable ride
Cons
It's on the heavier side for a short travel bike. But it's a Knolly.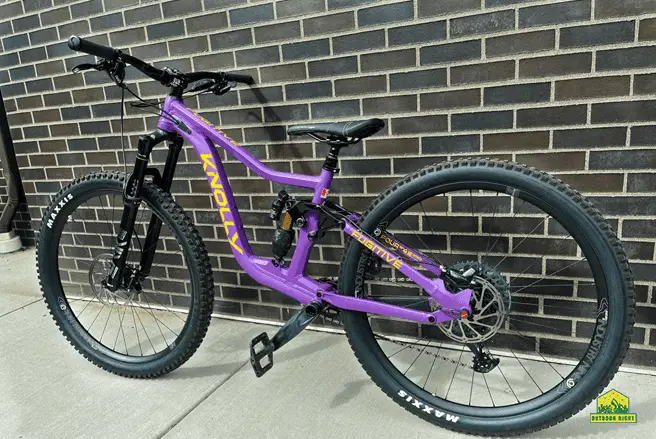 Enduro
Chilcotin 151
The Chilcotin 151 is another gorgeous bike I got to check out, thanks to my buddy TrailReviews working over at Ride Bike Shop. With 151mm in the rear, 160mm in the front, and a 64.5-degree head angle, the 151 is a firm all mountain enduro bike. It'll love going up and down mountains as much as railing berms in the park.
Pros
The 151 is a versatile everyday rideability
29-inch wheels
Super boost hub spacing
Cons
Only available in aluminum frame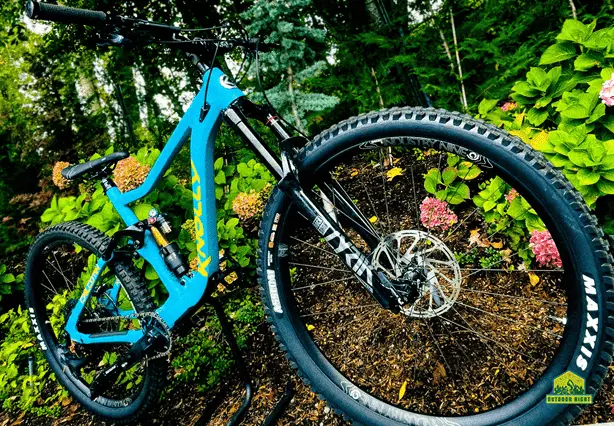 Chilcotin 167
Today the term enduro covers a broad range of bikes. All of Knolly's bikes are arguably enduro. From the "trail" oriented Fugitive 138 to the Wardens and even the hardtails, they all want to go uphill fast and downhill fast.
With that said, none is more fully in the thick of the spirit as the Chilcotin 167. With a 170mm long front travel, 167 rear, 29-inch tires, and surprising climbing ability, this bike is pure race enduro.
Pro
Excellent geometry
Downhill friendly head angle with uphill climbing ability
Responsive and incredibly stable ride
Super boost hub spacing
Cons
It may be a bit big and aggressive for some riders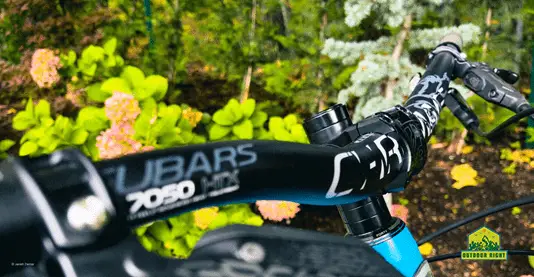 Warden 160
If someone knows about Knolly, it's most likely because of the Warden. The 160/160 travel version of the aggressive bike is "tamer" than its big brother, but that balanced tameness is no reflection of its capabilities. This is a bike you can ride anywhere.
Pros
A stable ride
27.5 tires
Aggressive seat tube angle for better climbing
Super Boost hub spacing
Continuous seat tube for a long dropper post
Warden 168
The Warden 168 is your gravity-oriented, big drop, big compression, high-speed friend. It has near downhill bike capabilities in the body of a bike that can climb, too.
Pros
Aggressive, capable downhill ride
Super Boost hub spacing
Continuous seat tub for long dropper
6066 aluminum frame
Conclusion
Knolly Bikes range from the aggressive to the, well, really every Knolly bike is aggressive. That's what makes them so fun to ride, though. Whether you're looking to throw some buds in for a leisurely weekend gravel cruise. Paired with some mellow tunes. Or you're throwing on your full face stage and sending it; if you're looking for a rowdy time, Knolly has you covered.
Troy Lee Designs Adult
POLYLITE Shell construction with fiber reinforcement
11 High Flow air intakes and 14 Open Core exhaust ports with deep max air flow...
FIDLOCK magnetic buckle system
DRAWSTRING BAG with breathable mesh paneling
Not rated for motorized use**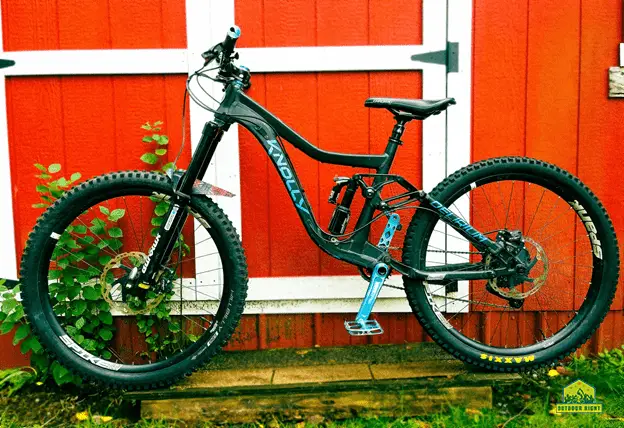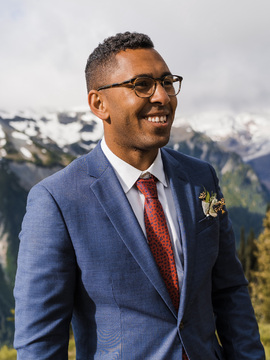 Jarrett Ziemer is a writer and author on biking topics based out of Snoqualmie, WA. He's been riding bikes since he could walk and never looked back.
Today, when he's not writing about bikes or the outdoors, you can find him sessioning laps at his backyard playground, Duthie Hill Mountain Bike Park. Most days, you'll see him on a slopestyle bike, but he loves riding downhill, to road, and everything in between.