For those who find themselves in the market for a new bike, the most common bicycles considered are road bikes, mountain bikes, and hybrid bikes. While each of these are designed to excel on their respective terrains, there is a fair amount of design overlap and some clear distinctions between all of them. This is especially true for hybrid bikes.
Hybrid bikes specifically come in a variety of different flavors, with some closely resembling road bikes and others looking more like mountain bikes. While the differences in frame design and the implementation of suspensions versus rigid forks are immediately apparent, the differences in drivetrain components are harder to spot for the untrained eye.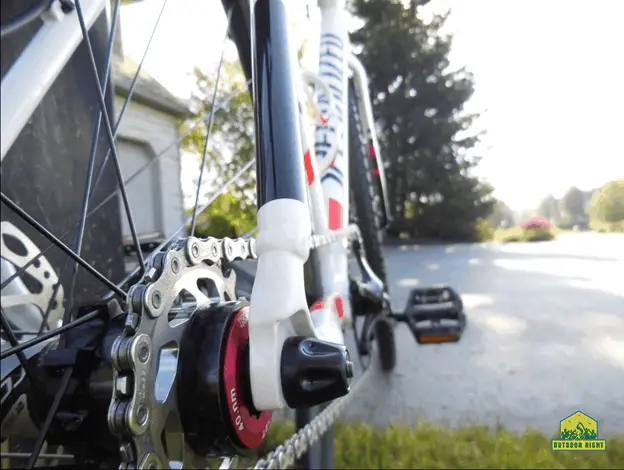 One of the key differences between these types of bikes are the component and drivetrain selections, which attribute to the performance differences between them, ultimately resulting in their price differences, too. Hybrid bikes typically come in at a lower price range, largely due to the drivetrains they are kitted out with.
Read on for a detailed breakdown of the drivetrains for road bikes, mountain bikes, and hybrid bikes. We will discuss their design differences, performance differences, and price differences.
Drivetrain Basics
Before the detailed comparison of these bicycles' drivetrains, let's first break down the basics of a drivetrain with respect to the components we will be analyzing. If you're already familiar with this information and interested in learning about drivetrain conversions, you can find our detailed guide to drivetrain conversions here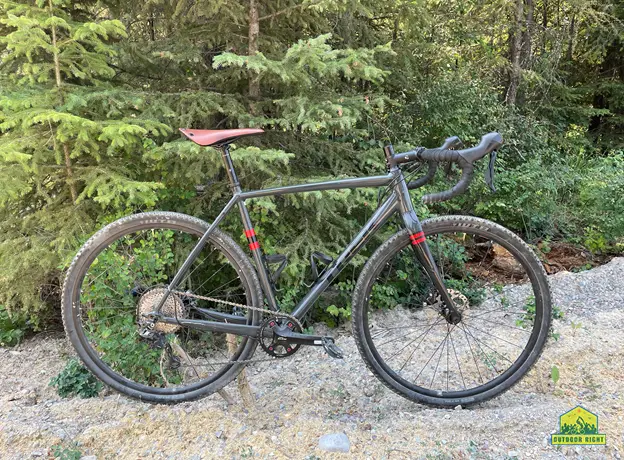 A bike drivetrain starts at the shifters, ends at the chain, and includes everything in between. The drivetrain consists of the shifters, cables, derailleurs, crankset, cassette, and chain.
Are you wondering what the difference between freewheels and cassettes are? Read this article to find out.
The most noticeable performance differences result from the selection of derailleurs and shifters on the bike, but each component of the drivetrain impacts the performance.
Intended Terrain
Before we proceed into the breakdown, it's important to note that these different bicycle categories are designed for different intended purposes, which is what drives the design differences in their drivetrains.
Road bikes are designed to be as efficient as possible on tarmac and pavement. Mountain bikes are designed for riding primarily off-road on technical, challenging terrain. Hybrid bikes are intended to offer more of a budget-friendly, high-value package for commuting and riding on pavement and bike trails.
It's important to keep the bikes' intended purposes in mind when comparing drivetrains. Mountain and road bikes will offer the highest performance level for their respective terrains, with hybrid bikes offering a budget friendly option that still performs well in a variety of terrains.
Hybrid bikes are some of my favorite bikes, as they still offer great performance for most riders at a much more approachable price. With that in mind, let's proceed to the detailed breakdown.
Shifters
As one of the most frequented contact points on a bike, the shifters have a large impact on the bike's feel and the drivetrain's shift quality. Shifters can be categorized into two main categories: flat bar shifters and drop bar shifters. The mechanisms for shifting vary slightly within each category, but the differences between the two categories are immediately apparent and only available on certain bikes.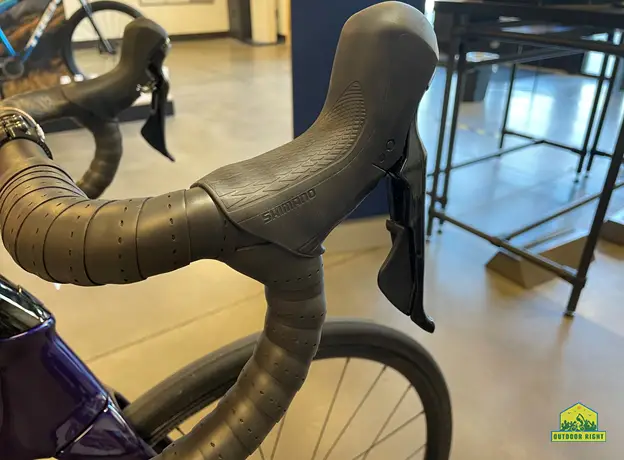 Road bikes rely almost exclusively on drop bar handlebars and dropbar shifters. Lower end dropbar shifters utilize thumb paddles and a sideways push of the brake lever for shifting. Mid-range to high end shifters also utilize the brake lever, in addition to a secondary paddle that sits flush to the brake lever and is also actuated with a sideways push of the paddle.
UPANBIKE Alloy Flat Riser Bar
Handlebar material:aluminum alloy;Color:matting black;Fits most kinds of...
Handlebar type:flat bar,riser bar;Bar ends diameter:22.2mm;
Bar bore clamp diameter:25.4mm;Handlebar length:600mm;
Bar bore clamp diameter:31.8mm;Handlebar length:620mm;
IMPORTANT NOTE:Before ordering, please do make sure to measure and confirm the...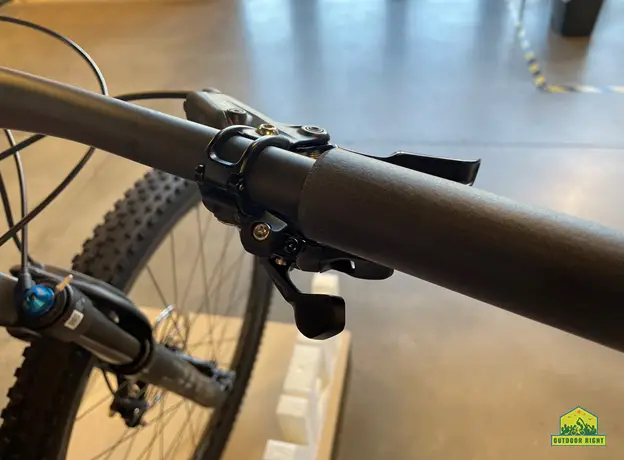 Mountain bikes use flat bars and flat bar shifters exclusively, unless custom fitted with drop bars by personal request. Mountain bike shifters tend to be actuated with thumb presses for both upshifting and downshifting. The benefit of this is that you do not need to shift with your index fingers, which can remain dedicated to the brake levers for improved reaction time and control.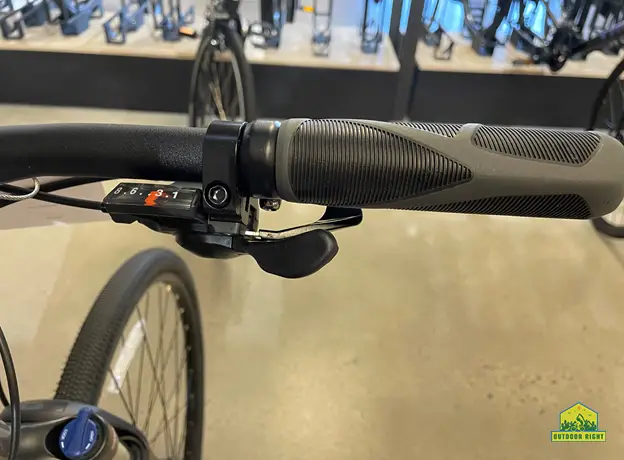 Hybrid bikes offer more variability in handlebar choice, including wide flat bars, narrow flat bars, and risers, to name a few. As one would expect from these handlebar varieties, hybrid bikes typically use flat bar shifters.
Hybrid bike shifters are typically lower end than those found on mountain bikes, relying on thumb and index levers for shifting. The shifting on a hybrid bike will not be quite as crisp but performs well, nonetheless, and is offered at a much more affordable price.
Gear Ratios and Ranges
Another notable distinguishing factor between these bike categories is the available gear ratios and gear ranges. Resulting from the crankset/chainrings and cassette combination, the bikes are geared to tackle their respective terrains as effectively as possible.

Road bikes have the almost the same drivetrain across the board, with two chainrings and a cassette ranging from eight to twelve cogs. The range of gear ratios are much higher for a road bike than any other bike, because they are designed for high speeds and smooth terrain. They also offer low ratios for steep climbs, but road bikes are still efficient and quite fast on climbs. As such, they do not offer gear ratios as low as those found on mountain or even hybrid bikes.
Mountain bike drivetrains are aesthetically appealing with their large range of cogs on the cassette and their single chainring. Typically, they have a 1x drivetrain with a cassette of ten to twelve cogs, representing the optimal setup for simplicity and efficiency. This simple yet functional setup translates to great performance on the trail.
With the 1x drivetrain found on mountain bikes, there is no risk of dropping the chain when shifting between chainrings. They provide very low ratios for extremely steep climbs while maintaining some higher ratios for fast descents. Mountain bikes provide a large range of ratios in a simple package.

Hybrid bikes come in many varieties that fully bridge the gap between road bike and mountain bike drivetrains. Many hybrid bikes offer two or three chainrings and a range of eight to eleven cogs on the cassette.
BUCKLOS Alloy Double/Triple Chainring
Featuring irregular teeth and concave-convex design to ensure smooth and fast shifts. These chainrings are made from high quality material, ensuring they can handle the abusive ways of the trail.
High Strength & Durability: The drilled steel and thicker 6061-T6 CNC aluminum alloy rings provide superior rigidity, lightweight and durability.
Compatibility & Easy To Setup
Highly Cost Effective & Trustworthy Brand
Crossover hybrid bikes, designed for light off-roading and towpath trails, look like mountain bikes with a 2x drivetrain, but they do not offer as low of gear ratios as mountain bikes. They are intended for flatter terrain and less strenuous riding, so they offer more of a mid-range gearing.
Fitness hybrid bikes, designed primarily for paved riding and commuting, look like a flat bar road bike with more comfortable geometry. They are frequently equipped with 2x drivetrains, but recently some fitness hybrids are now offered with 1x drivetrains for their simplicity.
Fitness hybrids offer mid-range gearing, slightly higher ranges than crossover hybrids, that is well suited for casual riding and commuting at lower speeds than those typical for road bikes. Fitness hybrids offer efficient gear ratios for exercise and quick speeds on pavement, but they are designed for more comfortable and casual riding than one would do on a road bike.
Derailleurs
The functionality of these bikes' derailleurs, specifically their rear derailleurs, is what truly distinguishes their drivetrain performance from one another. Rear derailleur technology has evolved to achieve unparalleled discipline-specific performance and to also provide quality performance at an affordable value.
Due to their specificity, these derailleurs are typically not cross-compatible, meaning you cannot use a road derailleur with mountain bike shifters. The cable pull – how far the derailleur moves per length of cable pulled through the shifter – varies by brand, type of riding, and even derailleur type within the same brand.
This means mixing and matching derailleurs and cassettes could result in very poor performance, so be sure to ensure compatibility of your components if you ever do any drivetrain conversions, upgrades, or change your handlebar type.
Road bike derailleurs are made of high quality, lightweight materials and provide fast, crisp shifting in a lightweight package. The weight of the components is important for road bikes, so minimizing weight is a high priority for the design of road bike derailleurs, in addition to their high-performance level. Road derailleurs tend to have a short or medium length cage, because their cassette range is relatively small (11-28t, for example).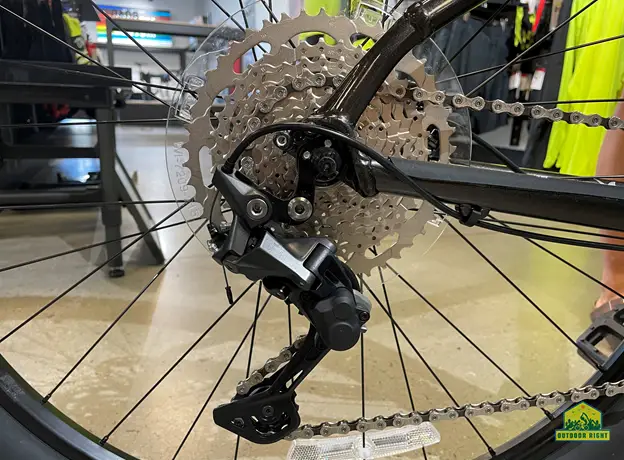 Mountain bike derailleurs, conversely, have medium or long cages, accommodating their wide cassette range (such as 11-42t). Mountain bike derailleurs are fast and responsive, prioritizing durability and strength for rough terrains.
Almost all mountain bike derailleurs are clutch-type, increasing the pivot strength and resisting any movement of the derailleur cage. This is an excellent feature for off-road riding. It reduces chain slap, offering a quieter and more reliable drivetrain, especially for difficult terrain.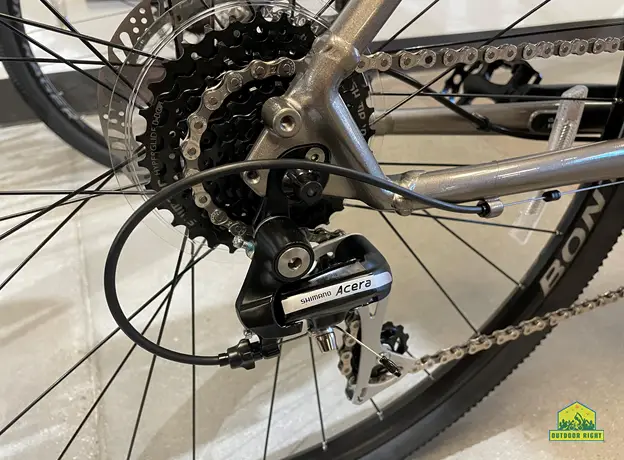 Hybrid derailleurs sacrifice some of the fancy features to reduce price. Hybrid derailleurs will not be offered in clutch-type, nor will they use the expensive materials found on road and mountain derailleurs.
Hybrid derailleurs are typically made from plastic. They are less durable and less stiff, and they cannot provide the same shifting quality as high-end components. Regardless, hybrid derailleurs still perform well for the riding they are intended for, and they pose a great value when you consider the price you pay for the quality performance they provide.
Performance & Durability
By now, you are probably noticing the trends between these different drivetrain types. Designed with different terrains in mind and prioritizing different factors, these drivetrains each serve their own purpose and effectively meet the needs of their intended riders.
Road bike drivetrains set the standard for high performance in a lightweight package. Since they are designed specifically for road riding and smooth terrain, they optimize performance and present the lightest option possible. The responsiveness of a high-end road drivetrain truly is unmatched by anything else. These are made of high-quality materials and are built to withstand thousands of miles on smooth, paved terrain. Of course, this level of performance comes at a high price.
Mountain bike drivetrains are also an incredibly high-performing option. These are designed for tackling rough, off-road terrain and maintaining their responsiveness no matter where the ride takes you. The clutch-type system and high-quality components ensure the drivetrains performance on all terrains. Mountain bike drivetrains are more rugged and durable than any other drivetrain, also coming in at a high price as a result.
If you're looking for a beginner friendly bike with quality Shimano drivetrains, look at this review of the Northrock X27 Mountain bike.
Hybrid bikes fill the gap between performance and price. They sacrifice performance and durability, but they are offered at a much more affordable price that makes them more approachable for the casual rider. They are built to last a long time and will perform well within their limits, but they do have more limitations than the high-quality components of more expensive builds.
Conclusion
If you are a performance-oriented cyclist, you will certainly want to look past hybrid bikes and their drivetrains and consider an option designed specifically for your discipline. Whether you are interested in mountain biking or road riding, the specificity of these drivetrains will provide the performance you are looking for and allow you room to grow as a cyclist, without feeling limited by your equipment.
The drivetrains on mountain bikes truly are a necessity for trail riding. They are the only components that can stand up to the abuse of trail riding and continue to perform at a high level.
Similarly, road drivetrains offer the responsiveness and longevity that is required for road cycling. After thousands of miles and grinding up steep climbs, road bike drivetrains continue to perform just as good as they did out of the box, something that cannot be said for inexpensive alternatives.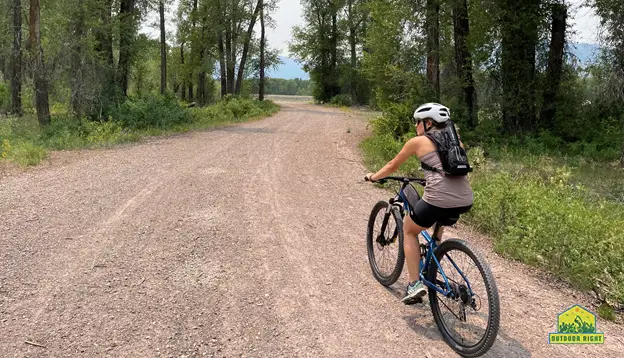 Although they are not the pinnacle of high-performance componentry, hybrid drivetrains should not be overlooked. These comparisons are all relative, so while they may not offer the high-quality performance of road or mountain drivetrains, hybrid drivetrains are still an excellent option.
Hybrid drivetrains are reliable and consistent, and they will serve casual cyclists and commuters exceptionally well. If you are in the market for a bike for commuting, hopping around town, or simply casual exercise, a hybrid bike certainly provides the best value of a well-performing bicycle at an affordable price. After all, who would want to spend thousands on a road bike and then leave it locked up outside their office all day?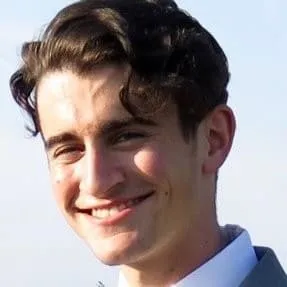 Mitchell Turk is outdoors enthusiast with a lifelong passion for bicycling. He previously worked at his local bike shop before entering the world of engineering, and he may even enjoy geeking out over bike tech more than riding his bike!
Originally a roadie, Mitch dabbled in mountain biking for a couple years and then jumped on the gravel bike bandwagon. He now spends his free time seeking out gravel rides and weekend-long excursions. His ideal outing combines biking, hiking, and climbing for a whole-mountain adventure.