The recumbent bicycle. The "what's that?" of the road biking world. 
From daily drivers in urban jungles to shoulder season cruisers taking in majestic views on some famous tarmac, riders young and old are ditching their traditional cyclist's back inducing rides for recumbent bikes. 
The recumbent bike is an aerodynamically advantageous, ergonomic bicycle available in a wide range of styles and layouts.
If you're considering getting that aerobic burn on in fashion or hitting that apex raked out low over the lines on a "bent" bike, here's some information that might help with your decision.
Why Choose a Recumbent bike?
The first thing many pedal pushers and passerby alike probably wonder when looking at the bent bike is why. What's the deal with the la-z-boy looking thing rolling down the road?
Comfort
Recumbent Definition: "Lying down, especially in a position of comfort or rest; reclining."
The clear winner in reason is comfort. 
Cycling of any kind is an excellent way to build cardiovascular fitness, increase muscle strength, and even reduce stress. Those clear cycling advantages, though, come with a few disadvantages. One of the biggest is a lack of comfort and even injury from the sustained repetitive motion and awkward body position many bicycles put their riders in.
For many riders looking for longevity in their chosen sport, the recumbent cycle offers the advantage of a comfortable ride that's easy on the body. 
If you're a rider who experiences pain in your back, neck, and wrists during or after a long ride, a bent bike is an easy option to get the miles and fitness. And it'll still work the lower kinetic chain without the pain and sometimes irreversible damage caused by traditional cycling. 
All that, and you'll actually be able to ride for longer.
Safety
Although recumbent riders sitting low to the ground need to be more mindful of traffic (bright, reflective colors always help), any cyclist who has experienced a fall off of their traditional bike will love the built-in safety of sitting low to the ground.
Reflective Vest Running Gear
BEST REFLECTIVE GEAR EVER! > The FREEMOVE is the original, best quality and...
FEEL SAFER - DRIVERS CAN SEE YOU AND HAVE TIME TO REACT! > Your visibility and...
ULTRA LIGHTWEIGHT YET DURABLE > The reflector vest stands out with its nice...
EASY TO USE > It's very roomy, easy to put on and off, adjustable and...
MADE FROM HIGHEST QUALITY MATERIALS > There's a lot of copycats, but only one...
That low center of gravity also means increased stopping power when you need to throw the brakes on quickly.
Speed
Speed demons, these things are for you. A low center of gravity also means these cycles are flat out quicker than their traditional counterparts. And they're more aerodynamic, too. They're so much faster, actually, that a souped-up version holds the human-powered speed record. 
So, whether you're looking to ditch the peloton or just enjoy a smooth and easy long-distance ride for once, the supine position will get you the win.
Are Recumbent Bicycles Challenging To Ride?
Although, as with any new undertaking, there's a learning curve, bent bikes are relatively easy to ride. Many individuals report learning to handle them in seconds. Those same riders describe perfecting their perfect application in mere weeks. And cyclists who opt for a three-wheeled version reduce that time even further.
That said, there are few things you'll want to pay attention to when learning to ride one. There are a few differences from traditional bikes in balancing, turning, pedaling, and starting. 
Balancing and Turning
Your back against the seat in a bent bike will mean that leaning to steer  is easy and balancing at slow speeds takes a bit more work. So, in the initial phases of learning, you'll want to focus on small steering movements and a balance control.
You'll also want to perfect your countersteer, something that most riders are already doing on a traditional bike anyways.
Starting and Pedaling
When it comes to getting your bent bike in motion, you'll need a bit more aggressive of a first push than you're used to. Since you most likely won't be able to mash a pedal down with your other foot trailing along, you'll need to commit and go. 
Just remember, a bit of a wobble is expected, so if you feel a bit tippy, just continue to give the bike the proper input. 
And once you do get rolling, you'll want to keep it rolling since it won't feel as natural to drop and drag a foot. With bent bikes, instead, gearing down and continuing to spin when you ride slowly is the way to go.
Are There Any Downsides to Recumbent Bikes?
As with most new endeavors, there are a few downsides.
Weight
Although faster on the road, pound-for-pound bent bikes are heavier than their traditional counterparts. 
Spend a bit more dough, and you'll be able to find some ultralight competitors. If you're looking to save cash or need to load your bike in and out of a truck every day, though, weight is certainly something to consider.
MZ Recumbent Trike
MZ Recumbent Trike: Custom Built Recumbent - Built to your specification.
Frame: Alloy Seat
Lever: Tektro CL-520
Front Derailleur: Microshift R439 Rear Derailleur
Climbing Hills
Extra weight and the inability to stand up and dig in make these bikes slow climbers. 
That seated position also means you'll be using slightly different muscles to get up that hill. 
Don't fret, though, as the comfortable supine design and more gearing means you can gear down, spin slowly and enjoy the ride up.
Traffic
Although safer in a fall, a distinct downside to the low center of gravity and horizontal positioning is a lack of visibility for motor vehicles. 
In this regard, even though it'll feel a bit unnerving at first, every cyclist, reclined or upright, should always be using defensive tactics. 
Remember to keep your head on a swivel, watch for those "right hooks," and own the road around you. Ride as confident and safe as you do on a traditional bike, and you'll be fine.
Field of View
The field of view you'll receive on a bent bike is a positive and a negative. 
The reclined seat-backed position will allow you finally to enjoy the views and the sky, but you'll need some help seeing behind you. If your bike doesn't come with mirrors, pick some up.
Sale
West Biking Bike Mirror Handlebar Mount
🎁 TOOL-FREE INSTALLATION: Suitable for 22mm-32mm bicycle handlebar. Equipped...
🎁 MULTI ANGLE ADJUSTMENT: Our Bike Handlebar Mirror is an important...
🎁 SAFER CYCLING: No doubt cycling is fun and with a clear view mirror you can...
🎁 360 DEGREE ROTATABLE: Movable lens can be angled at any time to see what is...
🎁 FEATHER LIGHT & STURDY: Even though it weighs just 115g; you'll be...
And if you're a fan of your car's technology forward rear-view camera, there's now a digital bike mirror for you. 
Bike Mirror Camera
🚴145° camera & 4.3 inches screen: Replace the bike mirror and helmet mirror...
🚴‍♂️Can fit 21~26mm diameter of the handlebar,78 inches cable, fit most...
🚴‍♂️The 360 ° rotation axis bracket design adjustable the visual angle...
🚴‍♂️The screen is made of IPS material, which can display vibrant...
🚴‍♂️Multi scene use. Can be used for bicycle trailer to care for baby...
Are Bent Bicycles Challenging To Work On?
If you can work on a traditional bike, you can work on a bent one.
Despite the fact that the two bikes look different, they require the same tools and general know-how to maintain.
What to Look for When Purchasing Your First Recumbent Bicycle
There are a variety of bent bikes available based on size, use, and steering arrangement. An informed purchaser will have the knowledge and understanding required to pick a sound cycle in a sea of stray choices. 
If you're looking to stay on the trails and avoid going off the rails, here are some tips.
Type of Recumbent Bike
You'll first want to consider the type or combination of types of bike you need first.
LWB
Long wheelbase or LWB bikes position the front wheel in front of the cranks in a placement similar to that of a traditional bicycle. This gives long wheelbase bikes a larger, more complicated to manage turning radius. That long wheelbase, though, also means a much smoother ride that soaks up bumps better than their short wheelbase counterparts.
LWB bikes also tend to sit lower to the ground than other cycles. That low to the ground feel, and upright seating position make them easier to ride, as they feel the most similar to a traditional bike. 
SWB
Short wheelbase bikes are known for having, besides a shorter wheelbase, a more reclined seating position. That reclined position means the pedals of these bikes have a higher placement than those of LWBs. 
Because of their short frame, you'll also find these cycles are often lighter than LWB bikes. That reduced weight and short wheelbase make them easier to climb hills on and also easier to transport and store when not riding.
Short wheelbase bikes are generally speaking the fastest of the bent bikes thanks to their small, lightweight frame and aerodynamic nature. Still, that lightweight frame and placement of the front wheel nearly directly under the rider also mean they deliver more road feel to the cyclist's body. 
So if you're looking for a smooth ride, consider an LWB. If you're all about speed, you'll want an SBW.
OSS
OSS or over seat steering places the bike's handlebars directly in front of the rider in a form similar to that of a traditional cycle. 
Because the handlebars are in front of the rider and not out to the side as they are in an under-seat steering bike, OSS bikes are considered easier to use for first-timers. Handlebars in front also make for a more aerodynamic, faster ride.
USS
Under Seating Steering bikes has, you guessed it, has the steering assembly under the rider's seat. This means the handlebars come up to the rider's side instead of in front as they are in OSS bikes.
Many veteran riders prefer the comfort of USS bikes due to the lowered shoulders and easy maneuvering. Most riders also consider OSS bikes easier to mount and dismount, thanks to an out-of-the-way steering assembly.
Trike
Although for a lot of bent bike converts, two-wheel riding was once the norm, many find the relaxed nature of the new bike and increased ability to pedal for longer touring miles leads towards the desire for three wheels.
A three-wheel rider not only reduces the learning curve associated with balancing your first bent bike but also allows you to ride for longer right off the bat. And when you've become an expert and ready to go on ultra-length rides… Well, on a trike, you'll be able to carry more gear, climb steeper hills thanks to a more extensive gearing ratio, and even set a brake for rests. 
Stationary
Many of the benefits associated with a reclined road bike transfer over to the stationary variety. If you're looking to exercise your thighs, calves, and glute muscles without the strain and pain associated with a traditional exercise bike, consider a stationary recumbent.
Schwinn Recumbent Bike
With enhanced Bluetooth connectivity, users can set, track and monitor progress...
Explore the world and discover 50plus global routes that auto-adjust in real...
Fully-loaded console with DualTrack blue backlit LCD screens offers 29 workout...
25 levels of resistance for a wide range of workout intensity options
Telemetry heart rate enabled and ergonomically placed grip heart rate for a...
Material
When considering the material of your bike, you'll want to take a look at frame construction above all else. 
If you can afford it, go with titanium, as it'll be lighter than steel and also stronger. Titanium is also weather-resistant, meaning that upfront cost will produce a bike that will last you in the long run. 
If weight reduction is your most important concern, the lightest supine designs will come in carbon. Just be aware, carbon is tough, but carbon doesn't bend; it breaks. That means it'll be tough to spot any wear in the bike before the frame gives out.
Gearing
The purpose of gearing on any bike is to allow the rider to maintain a comfortable speed and stroke across all terrains and elevations. Bent bikes take this even farther and will generally have more gears than traditional bikes. 
Although most bent bikes are slow climbers, those extra gears mean you'll be able to get up that hill, albeit slower, with less effort. 
If you're looking for the most gears out of the most geared bikes, make sure you go with three wheels. Recumbent trikes will often have a three-gear chain-ring on the front and ten cogs in the back, making them excellent climbers.
Brakes
Whether you're going fast or slow or riding a traditional bike or a supine designed monster, reliable braking power is a must. 
As bent bikes weigh more than their traditional competitors, make sure you pick a bike with the best brakes you can find. Or just be ready to upgrade your brakes first. 
When looking into brakes and in doubt, disk brakes are the way to go.
Adjustability
Most riders will pick up their first horizontal bicycle searching for comfort on those long rides. But, unfortunately, a bike that is a poor fit, recumbent or otherwise, will never be comfortable. 
When looking at your first bent bike, make sure you find one that's adjustable to your height and body shape. Many also come with adjustable seats allowing you to switch things up a bit on those long rides.  
Conclusion
Even if you casually Google recumbent bike, you'll come across an odd thing known as the "Recumbent Grin." It's something that takes over every recumbent rider when the rest of the world fades away. It's what happens when complete comfort, ease of use, and lack of strain and pain meet the perfect patch of paved road.
If you're looking for the grin and all of the above, looking for a comfortable ride you can enjoy day in and day out, looking to put the pedal down whether in your backyard or on one of the best bike trails in the world, look no further than a well-chosen recumbent bike.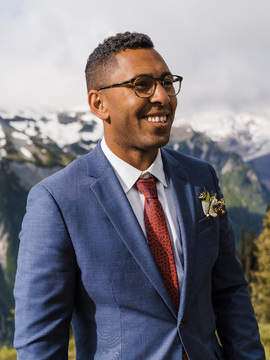 Jarrett Ziemer is a writer and author on biking topics based out of Snoqualmie, WA. He's been riding bikes since he could walk and never looked back.
Today, when he's not writing about bikes or the outdoors, you can find him sessioning laps at his backyard playground, Duthie Hill Mountain Bike Park. Most days, you'll see him on a slopestyle bike, but he loves riding downhill, to road, and everything in between.