Today's bike pedals come in all shapes and sizes. Some of them have a foot cage while others may not look like pedals at all, possibly appearing more suitable to stir up your morning egg-scrambler. Among them is an often sleek-looking pedal with springs and moving parts: clipless pedals.
You won't find them at the middle school bike rack, and they'll look a little out of place on a Walmart bike. Clipless pedals are for people who spend a little more time on bikes, whether the person uses an indoor trainer, commutes, tours, road rides, or mountain bikes.
Why Do They Call Them Clipless Pedals?
Listening in right before the start of the local group road ride, you might hear the ride leader say, "Clip in!" The sound of clicks comes from every bike as the group begins pedaling. The assumption would be that pedals with clips adorn all these bikes. Wrong!
The name for clipless pedals, then, is not straightforward. The reasons are historical. French company Look developed the first commercially viable clipless pedal in 1984, and they have steadily gained popularly ever since. Prior to 1984, except for the basic flat platform, pedals were equipped with adjustable toe clips.
Eliminating the toe clip meant you had a clipless pedal. Makes sense, right? Get clipless pedals and the tenth time you hear or say the words "clip in," it'll get jumbled in your brain again. Don't worry; you're not alone.
What is the Difference Between Clip and Clipless Pedals?
The purpose of the toe clip is to keep the foot in place. A clipless pedal requires the rider to insert the cleat, which is underneath a special shoe, causing part of the pedal to move back and forth, securing the cleat to the pedal. This connection keeps the shoe firmly in place, which a toe clip, with its adjustable strap, does less effectively.
Clips don't allow disengagement as easily as other pedal types. To get the advantage of pedals with clips, the strap should be relatively tight, making freeing the foot even more challenging.
What are SPD pedals?
SPD stands for Shimano Pedal Dynamics. It represents Japanese bike brand Shimano's introduction of the clipless pedal into the mountain bike (MTB) market in 1990. SPD introduced a much smaller cleat that is recessed and more easily integrated into the shoe. This makes the shoe better for walking or hiking, something that road riders, looking for other advantages, ignore.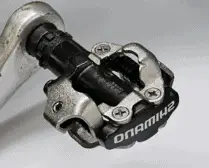 SPD pedals have two-sided entry, unlike road pedals, which have one-sided entry. When road riders have to unclip—say at a stop light or to explain to a cop why they didn't stop at a stop light—it's simple enough on a flat, open surface to clip back in, making sure first that the correct side of the pedal is up. Not true on a mountain bike, where you might be on an incline with a large rock or bear coming and you need to clip in, without looking, NOW!
If you want to put clipless pedals on your vintage bike, check out that article.
Advantages of Clipless Pedals
Clipless pedals are fashionable. But that can't be the reason to avoid looking like your toe-clipped, nerdy neighbor who commutes on his Schwinn 10-speed with his tie flapping in his face. The advantages are persuasive.
First, clipless pedals are more efficient. The tight connection of foot to pedal allows better power transfer. This efficiency may not seem significant, but when you consider 1000s of pedal strokes during a ride, it adds up.
The second part of efficiency is how clipless pedals allow you to transfer power to the pedals at every part of the stroke. The shoe's link to the pedal allows the foot to push and pull, permitting the rider to use his hamstrings to do a scraping motion after the downstroke; therefore, both legs can be working the entire pedal stroke—in theory. Even though most riders probably don't think much about using their hamstrings, you almost can't help but push the pedal at least a little longer than you would otherwise with clipped or, especially, flat pedals.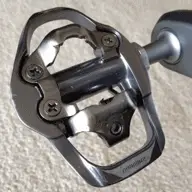 The security of the clip-in also means that when you get jostled by a bump, your foot is firmly planted on the pedal; it will not slip or bounce off as it might on a platform or even a clipped pedal.
Regarding bumps, have you ever been riding a bike with skinny tires and suddenly there's a pothole or crack you didn't notice until it was too late? Try jumping one of the several potholes on Chicago's streets with flat pedals. Result? Flat tire. Or your foot slides off the pedal with a bone-jarring landing.
With clipless, you just pull up the handle bar and pull up your feet, assuming you have enough speed to clear the obstacle. This is a bunny hop, and if a purist sees you do it this way on a mountain bike, he'll let you have it. That is, a proper bunny hop on a mountain bike does not rely on clipless pedals, though it's still a viable cheat!  
Disadvantages of Clipless Pedals
Of course, clipless pedals have their downsides. As life has shown us with everything else, it can't be all free power and undiluted goodness.
A primary concern of the uninitiated is how to release from the pedals. Clipless pedals do have a learning curve. Greenhorns may take a fall or two as a result of not being able to unclip when they come to a stop. But this slow motion "Timber!" style fall will likely only result in some inconsequential scratches. Once you learn, though, clipless are easier to get into and out of than pedals with toe clips.
In contrast to clipless pedals, platform pedals and toe-clip pedals allow the use of whatever shoe you feel like wearing at the time. Not to mention they don't require the purchase of another pair of shoes.
Speaking of shoes, have you ever seen a group of road riders enter a coffee shop to take in their Saturday morning java? You probably heard their clacking on the ground first, then saw their careful duck waddling. It's not that you can't walk on stiff road shoes with poor treads—but you don't want to. (See below for solutions.)
Let's talk about pain. At some point you will try to clip in and you'll miss that sweet spot or slip off the wrong side of the pedal. Most of the time you just have to retry your klutzy move. On rare occasions you'll slip and whack the pedal against your lower leg. That's right. Ouch. Stiff upper lip. Keep riding!
Cost. Unless you can find a pair at the bottom of your Christmas stocking, you're going to have to turn over a few greenbacks.
Choice. Is this really a problem? Modern capitalism has already invented virtually every combination and option that you can think of with pedals and shoes. If you enjoy shopping, you can explore the top 87 MTB pedals or the best 165 road shoes online.
If that's intimidating, find someone to hold your hand before going online, or go to your local bike shop and have a stranger hold your hand. The bike shop will have preselected options; you can see what you like, and your feet can touch them.
FAQ about Clipless Pedals
Are clipless pedals dangerous?
One might disconcertingly describe the foot as being "locked in" to the clipless pedal. If this sounds unappealing, some pedals and some cleats do provide float; that is, they allow the heel to rotate back and forth a few, to many, degrees.
There certainly are situations where you may go down too quickly to unclip, and being connected to the pedal in some cases could add to an injury. In the event of a sudden crash at speed, though, there is a good chance that your foot will come out of its own accord just from the movement of the crash.
Last, if cleats are worn or pedal tension is too loose, you can unintentionally come out of the pedal, which could come at an inopportune moment. Time to buy new cleats or redial the tension!
Can you ride clipless pedals with normal shoes?
This morning I was riding up a steep hill and, to get some extra power, I stood up. I was struck by how robust this stomping felt as a result of the shoe's stiff, virtually inflexible sole. Here lies another efficiency benefit of the clipless pedal: you don't lose the power you would with regular shoes caused by the foot's bending.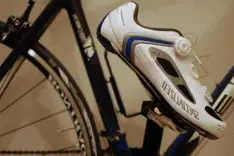 But if necessary can you use normal shoes? The answer, generally, is no. Sure, you can pedal the bike in your sandals or Vans to the grocery store a mile away, but it's a poor fit that will feel awkward.
SHIMANO Everyday Cycling Shoe
The EX-300 Series is the newest version of the popular CT-500 cycling shoe,...
Casual Styling: Sneaker-style designed for everyday cycling life so you can...
Cushioned Midsole: EX midsole softens impacts and increases walking comfort
Sleek and Stylish Outer: light and airy everyday comfort
Clip-In Compatible: Optimized for SPD and Shimano CLICK'R pedal systems
PEARL IZUMI
Bonded Seamless Upper delivers all-day riding comfort and durability paired with...
Quick-drying, highly breathable mesh/synthetic upper with a built in lace garage...
X-Road nylon plate delivers great pedaling stability, power and efficiency with...
Rubber lugged outsole for superior traction and durability
Flexible forefoot and a running shoe beveled heel
One option is to get comfortable, walkable clipless shoes, made by various companies including Shimano and Pearl Izumi, or even clipless sandals. These shoes use SPD style, recessed cleats. Another variation here is to use MTB shoes, which are also better off the bike than road shoes and have good treads for walking.  (Some clipless MTB pedals also have platforms, which allows you to use them with regular street shoes.)
Exustar Clipless Sandal
Toe guard
Breathable strap underlay for barefoot comfort
Screw-on cleat recess cover
Compatible with clip-in or platform pedals
Sizes 37-48
As with any clipless shoes, you just have to make sure they're compatible with your pedals.
Do mountain bikers use clip-in pedals?
Mountain bikers enjoy the same benefits from clipless as road riders. Clipping in and out can be more hazardous with mountain biking due to the sudden changes in terrain and sudden losses of speed. Whereas road riders experienced with clipless pedals never tip over from unclipping failure, every experienced mountain biker has had this misfortune.  
Plenty of mountain bikers prefer not to be clipped in, however, as sudden shifts in the terrain throw the body around, and it isn't always easy to unclip quickly enough. If one is doing jumps and tricks, being clipped in is not only impractical, it makes it difficult to separate yourself from the bike when the inevitable crash comes. Voila! Modern flat pedals with a wide platform and pins for traction!
What clipless pedals should a beginner use?
A solid entry level road pedal is Shimano's Unisex Pedal. Although pricier, a great combination of value and performance is the Shimano 105 road pedal. More affordable is the excellent Look Keo Classic.
SHIMANO 105
Wide lightweight carbon body provides large shoe contact area to maximize power transfer and support whilst reducing weight.
Wider cleat and binding mechanism for better shoe/pedal contact than traditional SPD systems.
Weight: 265 grams per pair.
LOOK Keo Classic
Simple to use, it is possible to adjustment the cleat entry/release tension to...
Its large and wide contact surface provides excellent pedaling stability.
The Keo Classic 3 spindle is made up of an oversized steel axle with miniature...
A new method of fitting the spindle into the pedal body also ensures the...
LOOK axles are only approved after a rotational test of 2 million cycles at 100...
For MTB, a good pedal for those that are clipless-hesitant is the affordable Shimano Dual Platform Pedal. Its hybrid design has a flat pedal on one side and a clip-in on the other. Another choice in this mold is the Funn Mamba. There's also the Shimano Clipless, and the Shimano Fahrrad-Pedale for those who want a bigger platform to stand on. A smart choice for the budget conscious is the SPD compatible, entry level Venzo.
SHIMANO Dual Platform Pedal
Combination clip/clipless pedals ideal for multipurpose use.
Fully featured SPD-specific clip interface on 1 side of pedals.
Other side features standard platform for use with street shoes.
Aluminum body with barrel finish; cleat retention adjuster.
Includes pair of 2-bolt cleats; pedals weigh 1.17 pounds total.
Funn Mamba Wide Platform
Versatile Use : Mountain bike flat pedals for enduro, freeride, trail riding and...
Pedal Engagement : A crisp and high-quality SPD compatible, single sided clip-in...
Our patented Grease Renew System (GRS) allows for mess-free and hassle-free bike...
Mamba clipless pedals are CNC machined from 6061 alloy to create a durable...
Axle System : International standard 9/16 inch CrMo axle with sealed cartridge...
SHIMANO Fahrrad-Pedale
Alloy.
Double sided light action SPD design aids frequent entry and release.
The large integrated cage provides excellent pedal to shoe contact increasing stability and control.
Adjustable entry and release tension settings.
Venzo Clipless Pedals
FULLY COMPATIBLE: Compatible with all for Shimano SPD MTB bike pedals system....
QUALITY: The pedal's cleat cage is made of a one complete piece high quality...
SEALED BEARINGS: LSL bushing & sealed, Binding: Dual-sided Cr-Mo. Very smooth...
ADJUSTABLE TENSION: Tension adjustable (80~140kgf.cm) .The cleats tension could...
VALUE & WARRANTY: Body: Die-cast aluminum , Axle: 9/16" CNC machined Cr-Mo....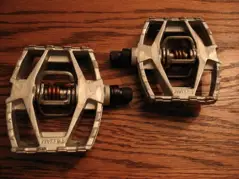 Crank Brothers Eggbeaters are an affordable and wise choice for MTB. Eggbeaters are light, mud-shedding, have float, are very easy to get in and out of, and have four sided entry. There's the basic model; the Candy, with more of a platform plus color; and the Doubleshot, a hybrid pedal with an even wider platform.
Crankbrothers Eggbeater Clip-In
Eggbeater design sheds mud while providing easy "no look" engagement and release
Cast stainless body, wings and spring with steel spindle add strength and...
Low-profile design delivers a more powerful and efficient pedal stroke
6 of knee-saving float with a choice of a 15 or 20 release angle gives you a...
Delrin bushing inner and cartridge bearing outer
Crankbrothers Candy Clip-In
VERSATILE- The Candy is Crankbrother's most versatile pedal and excels at...
4 SIDED ENTRY- Shed mud with ease and maintain an excellent connection with the...
CUSTOMIZABLE- Both the float and the release angle are customizable, allowing...
STEEL CONSTRUCTION- The spindle is forged SCM 435 chromoly steel, the spring is...
PREMIUM BEARINGS- Equipped with Igus LL-Glide inner bearings and Enduro...
Crankbrothers Doubleshot
spindle material forged scm 435 chromoly steel
body material A380 aluminum
release angle 15 / 20
weight 395g per pair
cleat premium brass cleats with shims included
How do I stop falling with clipless pedals?
Repetition is the key. Plan to practice and become experienced first before hitting that six way intersection or the biggest jump line at Trestle Bike Park.
At first, releasing from the pedal will not be intuitive. Generally, the release involves rotating the heel out. If the release is too difficult or too easy, adjust the tension.
To develop confidence, find a tree in your yard or a wall in your garage or home. Hold yourself up and clip in and out dozens of times. Get the feel for it. When you're ready to go on the road, hit a quiet street or parking lot and clip and unclip as you slowly coast; practice stopping.
Next step: roads with actual traffic! If you've done the previous steps, you'll be fine; if you're paying attention to your friend or the green Lamborghini, you'll forget that you're a clipless pedal gumby and you may crash. You'll have to be conscious of it—until it becomes automatic.
Conclusion
What's the quickest way to tell if someone is or aspires to be a committed cyclist? Clipless pedals. That's particularly true on the road. (The fancy platform pedals at the MTB trails or on the fixie also mean business.) Pedals with toe clips, on the other hand, may mean that someone took the bike out of the basement and is just using what was on there.
For those that spend enough time on the bike or want to get serious, clipless pedals will have you pedaling circles around your old self.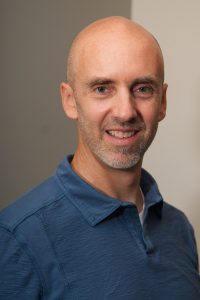 Trevor is an experienced road and mountain biker. He has mountain biked in many of the top places in the world, including Moab, Utah; Fruita, Colorado; Bend, Oregon; Durango, Colorado; Bentonville, Arkansas; Copper Harbor, Michigan; Lake Tahoe, California; amongst others.