In preparing to go out for a bike ride, what do you first think to grab? Helmet, bike, shoes, kit, and water?
Yes.
And so you're good to go?
No.
True, those necessary items will get you out of town. But there are many other accessories and essentials to bring along on a ride. Some you need on every ride; others for specific situations.
Let's go over those second order items that can sometimes be of first order importance.
What do Cyclists take on a Ride?
Before getting into cycling, you wondered what cyclists had in all those pockets, plus in that storage thing on the bike. How many Cliff Bars do you need for one ride anyway?
Ignoring food and water, I count 18 different items that I bring on an average day ride. (Even I didn't believe it when I counted it all up.) Although that might on the high end, the bottom line is that there's a lot to remember before hitting the road.
Not exactly the carefree, barefoot jump on the Huffy of childhood days.
Storage
A cyclist's pockets get filled up fast. A phone and an energy bar are just for starters. That's why many road bikes have saddle or frame bags. You can cram a lot into a compact bag; furthermore, you can just leave those things in there and never have to think about packing them. For me, that's nine of the 18 items I bring.
But let's look at the bags first. I've always used a small saddle bag. Tucked under the seat, they're pretty out of the way aesthetically. We're talking about the essentials here. Paniers for commuting or touring and bikepacking bags—not to mention all the items inside—are beyond the scope of this article.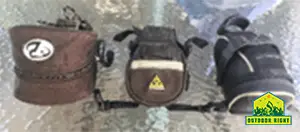 Lezyne Caddy QR Rail Mount – Big enough to fit a lot of basics. Simple design. Reflective rear loop that holds a rear light. Bonus pocket on the bottom fits a tool or other quick access item. Water resistant feature helps keep metal from rusting and paper from getting soggy. Lezyne also has Velcro models if rail mounted isn't desired.
LEZYNE Caddy QR Rail Mount Bag
medium sized, wedge-shaped bag
Main compartment features neoprene pockets for organizing tire repair and money
Durable woven nylon fabrics, water resistant zipper, and reflective tail light...
QR mounting system attaches the Caddy to the saddle rails
115g
Brooks Isle of Wight – Comes in small and large and different colors, but with any combination it's a looker with a great name. Pricey and not the most practical, it will get you the most style points, which does matter (well, to many). Might make you think you need to buy a new bike to match it with.
Brooks Isle of Wight Saddle Bag
Blue Sign Certified- The Isle of Wight is made using water resistant, blue sign...
Stylish Functionality - The main compartment is perfect for tools, an oil can,...
Quick Mounting- Easily mount the Isle of Wight to your saddle and go ride, no...
Double Zipper- Secure your valuables and keep them protected from the elements...
Vegetable Tanned Leather- Brooks England uses only the finest 3.5mm vegetable...
Topeak Wedge Drybag with Strap Mount – The waterproof feature is nice because even if you're only riding after a rain storm or through puddles, the spot under the seat will get hit with water. The bag comes in three different sizes and has a strap on the back for a rear light.
Topeak Fuel Tank – a frame bag that attaches easily around the top tube and head tube. Includes a cable hole to run a charger to a phone—for when it's mounted to the handlebars. Comes in two sizes.
Sale
Topeak Wedge Drybag with Strap Mount
MATERIAL - 210 denier / 420 denier nylon waterproof fabric sonically welded...
Protect your gear while riding in wet, nasty conditions
ATTACHMENT - Nylon straps / Buckle, Mounts with our innovative Quick Release...
INSULATION - Semi-rigid EVA foam
CAPACITY - 0.6 L / 36 ci (Small)
Topeak Fuel Tank
Battery cable access for charging your smartphone on a ride.
420 denier nylon/pvc.
weight 120g
Sport type: Cycling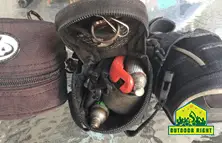 Inside the Bag
With larger bags you might be able to leave your cycling jersey's pockets virtually empty and leave all the essentials on the bike. For a smaller bag, repair items are the filling. Most of the following items will fit in a bag; the overflow can go in a jersey pocket.
A replacement innertube. They come in all shapes and sizes; make sure it matches the bike you're on!
Tire levers. If you have basic road tire levers, you'll want more than one as they can break. Recommended are Pedro's tire levers, which are all but indestructible, so you should only need one, though they may be more likely to cause you to puncture an innertube if you need a lever to mount the tire. Bontrager's burly lever may be a little better in this regard.

A handful of C02 cartridges. 16 grams is the ideal size. Bring more than one because:  1. you'll burn through one remembering how to use it. 2. If you don't work well with gadgets, make that two. 3. On the next hit, you may overinflate the tire, exploding the innertube. Which is when you go to plan B, your patch kit (see below). 4. Repeat steps 1 through 3. How many C02s did you use? Remember to recycle!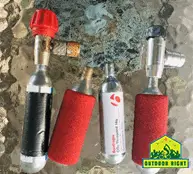 C02 Inflator. The Planet Bike Red Zeppelin is affordable and has served me well for years. The Lezyne Control Drive Inflator is more expensive but higher rated on Amazon. Plus it comes in a smattering of pretty colors that will sit hopefully sight unseen inside your bike bag forever.
Patch kit. Glue a patch instantly to the innertube, repairing holes of various sizes.
Planet Bike Red Zeppelin Inflator
Impact resistant body and precision machined head with Airflation Control knob...
Fits Presta and Schrader valves without adapters
Compatible with threaded CO2 cartidges
Head only. Co2 cartidges sold separately.
LEZYNE Control Drive C02 Inflator
Twin Speed head slips onto Presta and Schrader valves
Seals tight to maintain pressure after puncture
Control knob easily allows for desired airflow
Brass puncturing pin and anti-freezing seals
HEAD ONLY
Other repair items: Tire Boot. If you get a larger than usual hole in the tire—often these happen in the sidewall—the innertube will bulge out and probably puncture again. The Park Tool boot has adhesive to make it stay in place.
An energy bar wrapper will do the same thing, though without the adhesive. Duct Tape. You never know what you might need it for—tire boot; saddle bag repair; temporary "stiches"; cover for embarrassing crash-caused rip in the bum; MacGyvered broken collarbone repair; etc. Wrap some around a C02 cartridge.
Park Tool Emergency Tire Boot
The TB-2 measures approximately 76mm x 45mm (3" X 1.75")
A super strong pressure sensitive adhesive assures the boot stays in place in...
The all-new TB-2 is produced using a strong, waterproof vinyl membrane with...
Mini-tool. The Crankbrothers Multi-tool 19 will have your back when you need on-the-road repairs and adjustments. Not just Allen wrenches and screw drivers, it also has a spoke wrench and chain tool. Doesn't that mean you'd have to learn how to use these tools? Welcome to being less helpless.
Sale
Multi Tool 19 Gold
Includes 19 Tools
Comes with a Tool Flask
Includes Two Phillips and Two Flathead Screwdrivers
Has a Universal Chain Tool
Four Spoke Wrench Sizes

House key
Money. You forget to bring money, then realize your one bottle ride turned into a three bottle ride. Stop at a gas station and present your stashed Abe or Hamilton to buy more!
ID in case of a crash where you aren't conscious.
What about extra chain links for a broken chain? On the road it's probably easier to get rid of broken links, thereby shortening the chain, then joining the chain back together; once home, buy a new chain or add the good links then.

If you have the patience for such an on-the-road repair and have a really good chain tool with you, then go for it. Also, if you're touring or bike-packing, you won't want a shortened chain.
Other Repair Items
Some may wish to bring along an air pump instead of a C02 inflator. Gone, for most, are the days of the long pumps attached to the frame. Those long frame pumps, which sit under the top tube, are good for doing less work as they're bigger and push out more air per pump. Enter the mini-pump, which can be stored in a jersey pocket or bag.

At only 7" long and 4 ounces, the Pro Bike Tool Mini Bike Pump is small but efficient. It comes with a frame mount if you always want it handy and don't have space elsewhere. While it is slower, it solves the problem of blowing through all your C02 cartridges, per above; can inflate 1000s of tires.
Sale
PRO BIKE TOOL Mini Bike Pump
Portable Bike Pump - Get Back Riding Quickly: This bike pumps with gauge reach...
Compact & Lightweight Bicycle Pump - Take It Anywhere: This portable bike pump...
Built To Last Bike Tire Pump - Enjoy Safe Rides: Made of superior CNC machined...
Secure Presta Valve Pump - No Air Leaks: With secure thread-on valve connection,...
Secure Frame Mount for Mini Bike Frame - Keep Your Bike Pump Safe: Our...
Safety Items
Drivers love their phones more than they love you. Drive across town on any given day and witness at least one instance of bad driving. Bike lights are good for not getting hit by vehicles larger than you. Don't buy a cheap budget model nor use the one you got as schwag at the farmer's market.
Lights also help light the way in the dark. Picture a dark road with the occasional rock, crack, and pothole on it or a bike path without street lights—you want a lot of candlepower.
I use an obnoxiously flashing rear light, often even during the day. The Night Rider Cherry Bomb does the trick for me.
Its name suggests it means business. Its flashing mode will either give you a seizure or blind you if you try to look at it. Perfect for the newly minted teenage driver who's a quarter mile behind you and looking up every now and then from his favorite YouTuber's latest video. It also has a very bright steady mode and a dim mode, as the flashing and bright modes are too strong for group rides.
My only beef is that the rear clip broke on mine, after about five years of use, when I bunny hopped a pothole. I did put it on and take it off the saddle bag a lot, so that could be what weakened the plastic.
NiteRider Cherrybomb Taillight
Product Type: Outdoor Recreation Product
Package Dimensions: 6.096 L x 10.16 W x 25.146 H (centimeters)
Country of Origin: United States
Package Weight: 0.159 kilograms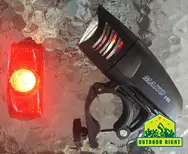 Lezyne's Macro Drive Bicycle Headlight strikes a good balance among (relative) affordability, long battery life, and brightness. At 1300 lumens, which will really help you see the road surface well, and claimed 148 hours of running time on one charge, it's a good deal at $100. With seven different modes, such as flashing, wide, and less bright to save battery power. Full disclosure: on the full 1300 lumens mode, the battery runs for 2:30 hours, which is still good.
Lezyne's Hecto Drive Bicycle Headlight delivers 500 lumens for 20 hours and, coming in at $45, for less than half the cost of the Macro. It has eight different output modes, such as flashing for daytime or when you really want to be noticed.
LEZYNE Hecto Drive Bicycle Headlight
Compact, durable cycling light with a machined aluminum body.
It features built in cooling fins and cutouts for side visibility.
Charging is simple with an integrated cable-free USB stick.
Another safety feature that some riders will want is a bell. Those riding strictly on roads won't need a bell, but bike path riders can benefit from a bell. People on bike paths march to their own drummers and sprawl across the path; they ride their bikes crooked and wobbly. Some extra-gravitational force pulls children to the left. If you get tired of using your voice to yell at these unpredictable rogues, get a bell! 
Something simple, small, and cheap is all you need, like the Accmore Classic bike bell or the low-profile and innovative Knog Oi bike bell.
The last safety item I'll mention is Road ID. Road ID incudes basic information such as your name and emergency contact. Additionally, it contains medically pertinent information such as allergies and medical conditions. Road ID is probably most useful for people with these special health issues.
Electronics
No one today needs to be reminded to bring their phone anywhere. So I won't mention your phone. But I will recommend a portable battery charger if you're going to be out long enough, if your phone battery is poor, or if you're touring. (I use one for longer mountain bike rides, where I run Strava, take pictures, and use electronic trail maps with GPS.) They come very small and can be tucked into a bag or jersey pocket.
Your battery is run down as you ride possibly because, like me, you have Strava running. Strava is the app you want for cycling (and running). It records your rides, generates tons of data and analytics, has a social media aspect, and allows you to compete with others on segments. It's a running diary of every ride you do. Strava users like to say, "If you didn't record it on Strava, it didn't happen."
Bike computers are still popular, though personally I've dispensed with mine since getting Strava. Strava isn't entirely a substitute for a computer, however, as Strava isn't about giving you live data, though if you have the right computer, some live functions are available. Bike computers are nice for live and recorded data about a ride—speed and time particularly. Cadence and heart rate would be next order info that some computers provide.
A heart rate monitor, which also requires wearing a strap around the chest, may be useful for various reasons, but if you ride at all seriously for exercise it is eye-opening to monitor how much you are actually working versus how much you think you're working. You're tearing it up between every stop light—all 12 of them—look at you go!
Heart Rate Monitor
Super Comfortable - A chest strap heart rate monitor made with super soft,...
Easy-to-Use - Want Chest Heart Rate Monitors that pair instantly? Our heart...
Workout Tested - Water & sweat proof design (IPX67 rated), this heart monitor...
Engineered Value - We build HR monitors with the quality & technology of the...
Unrivaled Warranty - Unlimited battery replacements & a 12 mth warranty make...
Guess what? You rested at eight of those 12 lights; due to stopping, in fact, your heart rate never got that high. Or, with a monitor reexamine your typical 45 minute ride on the bike path where you always crush it. Congratulations, your max heart rate is 190, yet on this go-to workout your heart rate never gets over 130. Fine if that's what you're after; but if you think you're doing high-intensity work and you're not, a heart rate monitor will be your truth-teller.
Of course, a bigger truth-teller would be a power meter, but that is a higher order, more expensive investment for racers, so we won't pack that device on this ride.
For those with the means, a Garmin is the bike computer of choice. It will give you a smattering of information, the data can be loaded into Strava and a home computer, and it offers useful GPS navigation. If you like not getting lost, want live information like speed and vertical feet climbed, and love analytics, a Garmin is the way to go!
Finally, when riding solo you have to bring ear buds, right? Talk about essential! Life is just better with a soundtrack.
On second thought, life is better with life. As in, when you can hear car horns and engines and other riders alerting you and sirens and dogs chasing you. Things that will help you stay alive and avoid injury. So yes, let's forget the ear buds.
And that's especially true if you ride on bike paths and around traffic. (Don't get me started about mountain biking with ear buds.) End of PSA!
Final Thoughts
If you forget to bring every single item covered, it might not matter on most rides. Luckily, you don't get a flat on most rides. And luckily, the sun doesn't go down unexpectedly on most rides. Nor does a chain break very often.
The accessories and essentials to bring along on a ride may seem like afterthoughts, and some of them are certainly luxuries, but proceed at your own peril if you don't pack most of them on every ride.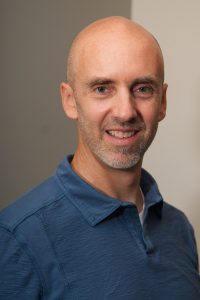 Trevor is an experienced road and mountain biker. He has mountain biked in many of the top places in the world, including Moab, Utah; Fruita, Colorado; Bend, Oregon; Durango, Colorado; Bentonville, Arkansas; Copper Harbor, Michigan; Lake Tahoe, California; amongst others.