Trek is a well-known name worldwide in the cycling industry. Perhaps you are familiar with Trek's innovative history and reputed products, or maybe you owned a Trek as a kid and are returning to the trusted brand. Regardless, Trek has built a product line of cyclist-favorites and you can't go wrong with any Trek road bikes.
Trek has something for every rider in their famed line of road bikes, and they continue to deliver impressive performance in every category. It may seem overwhelming to select a road bike in what seems like a saturated market, so how do you know which bike is best for you?
On this site, we have already covered the types of road bikes to help you select which one is best for you. In this article, we will pull from what we have learned about the types of road bikes and apply it to a discussion of Trek road bikes, specifically.
If you have not already done so, I encourage you to read our article, What is a Road Bike, that discusses the different types of road bikes and their purposes.
Eurobike Road Bike
Eurobike Road Bike XC550 with 54cm frame,Dual Disc Brake and 21 Speed Shifting...
【Disc Brake】The bicycle designed with dual disc brake,it provided great...
【21 Speed gear】Road Bike with smoothed 21 speed shifting and it can make...
【700Cx28C Standard tire】 700C double wall aluminum rim with the 3 spokes...
【 Drop-off handlebar】Choose different grip positions to adapt to different...
Trek is a proven, trusted brand, so before we dive in to covering the line of Trek road bikes, let's first take a brief look at their history and their rise to road bike dominance.
A Brief History of Trek Bikes
What began as a small operation building steel frames in Wisconsin has grown into one of the world-leading bicycle manufacturers. Trek has a history of innovation and is not afraid to start from the ground up to develop fresh, new concepts and put them into practice. Though they've been around for over four decades, Trek's rise to top in the road bike category truly began in the early 2000's.
The Madone, introduced in 2003, is Trek's flagship road bike and, arguably, one of the more famous road bikes of the 21st century. The iconic Madone pushed Trek into the spotlight as one of the top brands in the cycling industry.
Of course, it's impossible to mention the rise of Trek without mentioning Lance Armstrong, who worked with Trek to push the innovation of the road bike to the next level. With this partnership, Lance rode to seven straight Tour de France wins (since erased from the official records), and Trek became a global name in road bikes.
This early history of design innovation and evolution has defined the life of the Madone and of Trek as a company. Regularly overhauled by the Trek engineering team, Trek's line of road bikes has continued to impress everyone from pro riders to casual cyclists and maintains it place as a popular choice in the World Tour to this day.
Trek Madone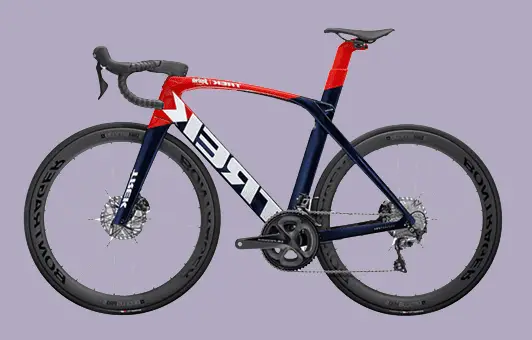 To put it simply, the Madone is and always has been designed to go fast. The newest Madone is Trek's aerodynamic road bike. At first glance, it is clear that Trek's engineering team designed the Madone to be as aerodynamically efficient as possible.
Every little detail of the Madone is designed for aerodynamics, including the tube and rim shapes, the integrated carbon handlebar and stem, and the aero disc brakes. Trek also offers a version of the Madone that uses rim brakes, which are positioned behind the fork to improve aerodynamics.
The Madone is designed primarily as a race bike. As such, it is one of Trek's only road bikes that is only offered with carbon fiber framesets, and every build level of the Madone features high-end drivetrain components, too.
Typically, an aerodynamic, performance-oriented race bike would be expected to have a harsh ride quality. However, the Madone turns that belief on its head. Trek incorporated their proprietary IsoSpeed decoupler into this bike, which provides a pivot between the top tube and seat tube. This absorbs bumps and vibrations, increasing comfort and substantially improving ride quality.
The Madone is not the lightest bike Trek has to offer. It is a bit heavier than their other performance road bikes, due to the wider tube shapes, but it provides the best aerodynamics of any of their road bikes. This can be felt instantly at higher speeds, whether you're riding downhill or simply keeping a quick pace on flat ground.
If you are at all interested in road racing or trying to ride as fast as possible, the Madone is certainly worth your consideration. This historically successful race bike continues to innovate and provide top-level of performance for all who ride it. Just be warned that if you do purchase the Madone, you will likely need to start shaving your legs, too, because they will be the largest source of aerodynamic drag on your new setup!
Trek Emonda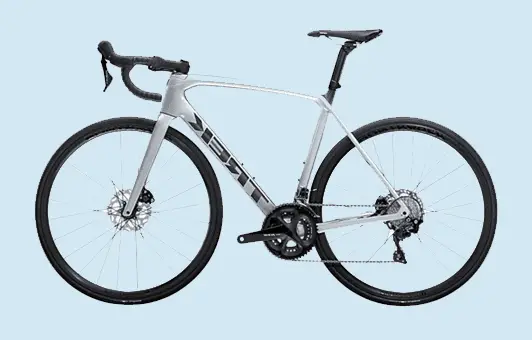 The Trek Emonda was released in 2014 and claimed to be the "World's Lightest Production Road Bike," a big claim in an industry that is so focused on weight. Even the name, which comes from the French word émonder – to prune or cut away, tells the story that this bike is focused solely on trimming away any excess weight from the build.
It's important to note that Trek did not sacrifice ride quality for the sake of weight savings. In fact, Trek claims that the Emonda is their best riding road bike ever produced. In my opinion, it is. I have been fortunate enough to ride the Emonda SL6 for a few long rides, and it truly is the nicest riding bike I have ever been able to ride.
While most of us can not afford the build level of the Emonda that qualifies for the "lightest in the world" label, Trek offers the Emonda in a variety of price ranges and builds. The Emonda can be purchased with an aluminum frame and carbon fork, or with a full carbon frameset.
This wide range of offerings makes the Emonda one of my most recommended road bikes. Whether you are new to road bikes or looking for a high-performance, lightweight machine, the Emonda is offered in a variety of packages that can suit almost everyone's needs. Even their aluminum builds push the envelope for performance in a lightweight package and provide an excellent riding experience at every price tag.
Many consider ultra-lightweight road bikes, such as the Emonda, to be climbing bikes or "all-around" bikes, because there is less weight to haul up a climb. The Emonda serves as an excellent all-arounder for those of us who want to ride hard and feel fast, but don't have an interest in racing.
The Emonda provides an incredible value to the rider. The saying "you get what you pay for" doesn't quite apply here, because you get even more with the Emonda. It is a bike that will last you for years and allow you to grow as a cyclist. With the Emonda, you will not find your performance limited by your bike, nor will you "outgrow" this performance machine.
Trek Domane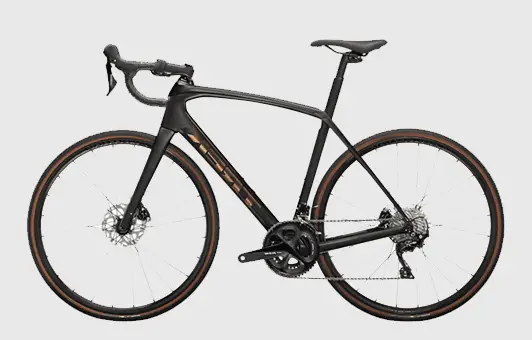 The Domane is Trek's endurance road bike, first introduced in 2012. The Domane is designed to let you ride further, longer, and on a wider variety of terrains. Built with a stable and comfortable geometry, the Domane is designed to minimize the aches and pains associate with road riding to keep you in the saddle as long as possible.
The development of the Domane has pushed Trek to innovate on mechanisms and design features to improve ride quality and comfort.
From the Domane, the IsoSpeed decoupler was born, which is essentially a pivot connection between the seat tube and top tube, allowing the seat tube to flex independently of the frame. This absorbs small bumps and vibrations that would otherwise cause fatigue and soreness over the duration of a road ride.
Trek also innovated on the Domane with the front IsoSpeed, which uses a similar concept at the top of the headset. There is a rocker cup that allows the steerer tube to flex, without permitting lateral movement. This reduces vibrations travelling to the handlebars while maintaining reliable and precise steering.
The Trek Domane was awarded Bicycling Magazine's 2020 Bike of the Year, due to its impressive versatility, smooth ride quality, and fast nature. The Domane is another top contender for your all-around road bike, with added versatility over the Emonda.
In addition to its superior comfort, the Domane is also offered in more budget-friendly options than any other Trek road bike. For a new rider looking for an entry-level option, the Domane presents the best option to cut your teeth on road biking without spending thousands of dollars.
Whether you plan to ride for 10 miles on cobblestone roads, adventure onto gravel, or put in a 10 hour day of ultra-distance road riding, the Domane can handle anything you throw at it. Better yet, you can find that performance at any build-level and price tag that suits your needs and fits within your budget.
Trek Checkpoint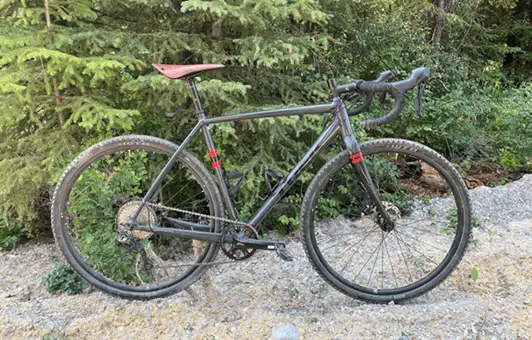 The Trek Checkpoint was released in 2018 and serves as their dedicated gravel bike. The Checkpoint straddles the line between all-road bike and gravel bike in its design, though Trek places it firmly in the gravel category.
The Checkpoint is certainly worth a mention in a discussion of Trek road bikes, as it serves as an excellent jack-of-all-trades. The Checkpoint is an incredibly versatile bike and can handle an even greater variety of terrain than the Domane.
If you're interested in riding road, gravel, singletrack, or a mix of all three (maybe even in the same day), then you should certainly consider the Trek Checkpoint. If this sounds like it could be up your alley, I encourage you to read through my detailed review of the Trek Checkpoint ALR 5.
Trek Speed Concept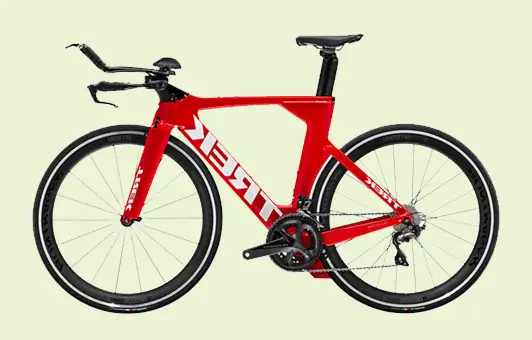 Trek's Speed Concept is their triathlon and time trial bike, designed specifically for athletes competing in those disciplines. It features an aerodynamic design with a geometry and fit specifically for triathlon competitors.
The only reason to consider a Speed Concept is for triathlons and time trials. If you are neither a triathlete nor a TT enthusiast, then skip past the Speed Concept and look at Trek's aero road bike, the Madone.
If you are a triathlete, however, the Speed Concept is an excellent bike for that purpose. It is not offered in very many build levels, but what they do offer represents a high-performance, high quality triathlon bike. The design has remained relatively unchanged over the years because Trek cannot find much to improve upon. The Speed Concept is tried and trued and proven to perform well within its craft.
Conclusion
When it comes to selecting your next road bike, there is a huge market full of great products. Choosing a reputed brand with a history of innovation and successful products is a good place to start your search, and a company like Trek certainly fits that description.
Trek road bikes are high-performance machines and offer great value for the dollar, regardless of the price range you are looking at. They have products in every road bike category and build levels to fit your budget, so the most important question you need to answer is: How do you want to ride and where do you want to ride?
For the newer cyclist looking to get hooked on road biking, I highly recommend the Trek Emonda or the Trek Domane. Both bikes are offered in aluminum frame builds, which present a high-performing bike that does not sacrifice ride quality for a more affordable price.
But don't just take my word for it. Get out, go for a couple of test rides, and you will experience for yourself how a history of innovation manifests itself into extremely high-quality products.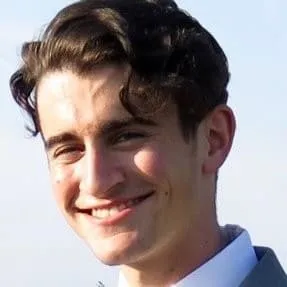 Mitchell Turk is outdoors enthusiast with a lifelong passion for bicycling. He previously worked at his local bike shop before entering the world of engineering, and he may even enjoy geeking out over bike tech more than riding his bike!
Originally a roadie, Mitch dabbled in mountain biking for a couple years and then jumped on the gravel bike bandwagon. He now spends his free time seeking out gravel rides and weekend-long excursions. His ideal outing combines biking, hiking, and climbing for a whole-mountain adventure.