When it comes to finding the best bike for tall guys, picking a bike that fits right, is comfortable and performs well can be a challenge. The last thing you want are injuries because of an improper fit. 
Some things you need to look out for are a strong extra-large frame that can stand pressurized usage and stable tires. If you are a beginner, you might also consider getting professionally fit for a bike. 
But remember, what kind of bike you ride makes a huge difference. How you get fit for a touring bike is different from a mountain bike.
And this ultimately affects your comfort. 
In this article, I will give you some tips on finding the best bike for tall riders. And I will give you my top picks, with pros and cons so you can make an informed decision about what's right for you.
So let's get right to it!
In a Rush? Here are Our Top Picks
Why It Is Important to Find the Right Bike Fit
If you've ever ridden a bike that's way too small, you know how important it is to find the right fit. Not only is it deeply uncomfortable, but it can lead to a host of health problems and even erectile disfunction in men!
This is why we always recommend getting professionally fitted- it is the best $100 or $200 dollars you will invest. And this is especially true for bikes for tall people.
Avoid Injuries
Having the wrong fit for your bike can have long-term consequences on your health. According to this study, most injuries in cyclists occur in the lower back and knee. If you have a history of problems in your back and knees, it is even more critical to get the right sized bike.
Comfort
This goes without saying, but finding the right sized bike will go a long way to making your bike-riding experience enjoyable.
And you will get the most out of your experience, riding with maximum efficiency.
A comfortable bike means a correct seat height, the right reach to your handlebars, and the right frame stack length (height) for your body.
Don't worry if these terms don't make sense, we'll explain them later in this article.
Safety
Especially if you are doing strenuous mountain biking, you want to be safe. Not only do you want a solid and strong frame, but also a properly-positioned saddle.
In terms of frame, we generally advise bigger guys to go for a lighter frame, especially if you plan on riding uphill often. The best option for this is carbon- the preferred frame material by serious and pro riders.
Not only that, but carbon frames will not bend and break over time, which is a common problem for metal frames under high stress.
In addition, make sure you look for things like more spokes, which ultimately means more stability. You will want to have more spokes than an average bike that has 28 or 32 spokes.
Best Bikes for Tall Guys
Let's face it: big and tall guys have it rough when it comes to finding the best bike. Often times, they end up using standard bikes, which is a big mistake.
That being said, here are the top bikes for tall people on the market today.
Royce Union 21 Speed Mountain Bike: Best Budget Pick
Royce Union 21 Speed Mountain Bike
Assembly video beside images; RMT is a great bike to ride; the hardtail frame is...
All tools are included for fast assembly; 22-inch frame is suggested for a...
Just twist to shift; the complete Shimano 21-speed drivetrain delivers seamless...
27.5 inch wheels maintain rolling momentum; all-terrain tread pattern provides...
Machined alloy wheel rims enable superior brake pad contact to enable the alloy...
The Royce Union 21 Mountain Bike is our best budget choice bike for tall riders. It is difficult to find a larger bike for this price range, so this is a great choice for taller riders.
It comes with up to a 22 inch aluminum frame that is rust resistant. This means that people as tall as 6 feet 6 inches (about what 36 inch leg inseam) would be able to ride this mountain bike. But remember to get fitted, as this bike also comes in 18 and 20 inch frame models as well.
The Royce Unions comes equipped with a front Zoom suspension fork system that makes riding off road comfortable. And it also comes with a storage rack that's easily installed.
It is also quite firm and can carry up to 300 pounds. But the seat is a bit narrow, so if you are on the tall and heavy side, we suggest looking into a replacement saddle for heavy people.
Overall this bike gets the job done if you're on a budget and looking for mountain bikes for tall people.
Road Bikes for Big and Tall Guys
Are there road bikes for tall riders with big builds? The answer is yes.
Nowadays road bikes come in sportive and racing road bike models. How you size your road bike will depend on a number of factors, including your flexibility. Here's a great primer on how to size yourself for a road bike.
A road bike is perfect for most casual riders with narrower tires and drop handlebars. In terms of frame size needed for road bikes based on your height, refer to the chart below.
The Tommaso Imola Road Bike is one of the best bikes in its class thanks to the original Shimano components, lifetime frame warranty, and its comfort.
About the Tommaso Imola Road Bike
Tommaso Imola Road Bike
THE IMOLA IS AFFORDABLE PERFORMANCE, NOT ENTRY LEVEL.
The Shifters, Derailleurs, Crank, and Brakes are all new Claris.
Only bikes with integrated shifters and brake levers will perform at optimal levels.
Premium aluminum in our frames, and back it with our industry leading lifetime warranty; We use only Shimano components.
Endurance is the best word to describe the Tommaso Imola Road Bike. So, you cannot go wrong with this road bike for a tall rider if you are looking for an off-road, heavy hitter.
Tommaso Imola comes with a 100% Shimano groupset, featuring a 24-speed derailleur and R2000 Claris STI Shifters. With the Shimano groupset, hill-climbing is much comfortable.
Its compact aluminum frame geometry and shallow-drop handlebar put you in a more comfortable position. Plus, its 700c tires provide you with maximum rolling efficiency.
Tommaso Imola is not just great for commuting but also fitness training and road cycling. That's thanks to its unmatched comfort and ruggedness.
Overall, this bike combines premium performance with affordability.
Highlight Features
100% Shimano groupset
Compact aluminum frame
700c tires
Drop handlebar
Steel fork
Best Mountain Bike for a Tall Person
Mountain bikes in general will require a lower frame size of about 3 or 4 inches compared to road bikes. Depending on what kind of riding you plan on doing, you will want a different frame size. If you're planning to do rough riding, you might want to go with a slightly smaller size frame.
Furthermore, reach tends to be what you want to focus on more than stack for mountain bikes. If you are more on the flexible side and are between sizes, go for a bigger bike size.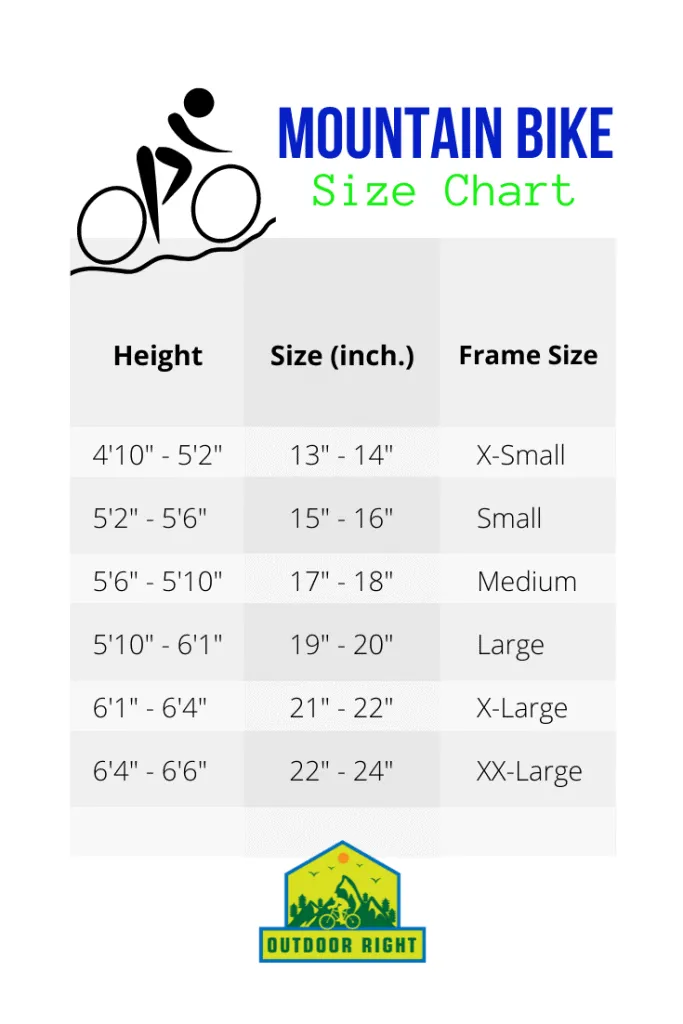 Every mountain bike will fit a little different, but you want to make sure the standover gap (space between top tube and crotch) is sufficient. This image from rei.com does a great job of explaining the concept.
The Huffy Hardtail Mountain Bike is a good choice for a Mountain bike for taller guys.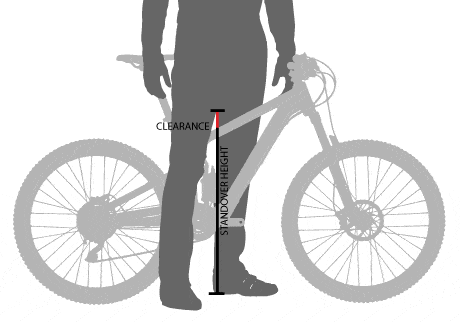 About the Huffy Hardtail Mountain Bike
Sale
Huffy Hardtail Mountain Bike
Assembly tutorial video located beside the images; with a Denim Blue hardtail...
An exclusive: Ideal for ages 13 and up and a minimum rider height of 5 feet;...
The indexed Shimano TZ-31 rear derailleur combines with the micro-shift twist...
26" X 1.95" knobby tires tear into dirt bike paths with ease; linear pull hand...
Slight-rise handlebar enables upright riding to minimize back and shoulder...
The Huffy Hardtail Mountain Bike is one of the best bikes if you are looking for a lightweight hardtail bike for tall guys.
Unlike the Diamond Bicycles Overdrive 29, the Huffy Hardtail Mountain Bike comes in a steel frame, hence it is super-strong.
Its front suspension soaks up bumps, offering you a smoother ride. With its linear-pull disc handbrakes coming in handy, the bike's stopping power is unmatched.
The Huffy Hardtail MTB Bike comes with a potent 21-speed Shimano rear derailleur with micro-twist shifters that deliver on-demand uphill acceleration.
Plus, its 26 x 1.95-inch knobby tires move smoothly on rugged trails. Its premium padded ATB seat, on the other hand, promises lasting quality but, more importantly, comfort.
Additionally, the seat features an alloy quick-release for easy height adjustment to suit different tall guys.
This bike comes with a slight-rise handlebar that relieves your shoulders from strain. What's more, it features ATB-style pedals that are quite user-friendly.
Highlight Features
Steel frame
Linear pull handle brake
Front suspension
21-speed Shimano drivetrain
Slight-rise handlebar
ATB pedals
Knobby tires
Full Suspension Mountain Bike for Tall Riders
Full-suspension mountain bikes are a variant of mountain bikes. Rather than just having the front fork suspensions for shock absorption, this bike embeds suspension at both the front and rear ends of the mountain bike.
This means a lot when it comes to exploring off-road adventures full blast. You can ride over challenging terrain, technical trails, and single tracks fast and efficiently without fear.
You can ride this bike with much control on the trails thanks to the double suspension setup. Also, the double suspension increases your overall comfort significantly.
Although full suspension bikes are a bit more expensive, spending the extra bucks for genuine value isn't a waste, in our opinion.
The Diamondback Bicycles Release 3 Full Suspension Mountain Bike is a great pick for tall people.
If you're looking for a great mountain bike for big and tall guys, check out this article.
About the Diamond Bicycles Release Mountain Bike
If you are looking for the comfiest full-suspension bike, the Diamond Bicycles Release Mountain Bike is your best bet.
Since it comes with full suspension, the bike promises maximum bump absorption, which is critical when you are tall and heavy. In general, the suspension alloy you to go over bumps smoothly.
Though a full suspension adds weight to the bike, the load isn't a big issue because it comes in an aluminum frame.
And when it comes to tackling challenging terrain, especially uphills, this bike delivers with its 11-speed drivetrain.
Its SRAM Level TL hydraulic disc brake offers you tremendous stopping power, while the front and rear thru-axle makes the steering more precise.
And thanks to its level ring suspension system, the suspension does not bob out once you engage the pedals.
Furthermore, its maxis minion tires move smoothly on surfaces.  As a result, this is our choice as the best full suspension mountain bike for tall riders.
Highlight Features
Full suspension
Aluminum frame
SRAM Level TL hydraulic disc brake
11-speed gearing
Front and rear thru-axle
Maxis Minion tires
Best Hybrid Bikes for Tall Guys
When talking about the best bikes for tall guys, you are not going to skip hybrids. Because hybrids pack a lot more comfort for any ride.
And as a tall person, you cannot compromise on the comfort aspect. The hybrid bike combines the features of other bikes such as road bikes, mountain bikes, or cruisers.
In the end, you have a multi-purpose bike that can handle anything from off-road biking, on-road biking, and even the challenging terrain. Hence, it's suitably used for commuting by many riders.
Just a bit of description, hybrid bikes depict flat handlebars like what you see in mountain bikes. They allow for more upright cycling and the tires are also larger and wider than the road bike's yet a bit narrower than those of the MTBs.
sixthreezero Explore Your Range Men's Hybrid Commuter Bicycle is a bike that's ideal for hard-packed trails. It comes with easy gear shifting systems.
About the Sixthreezero Explore Your Range Commuter Hybrid Bike
Nothing beats the Sixthreezero Explore Your Range Commuter Hybrid Bike when it comes to hybrid bikes for tall people.
It's the best blend of the modern mountain bike and a timeless road bike, making it one of the best commuter bikes for tall people.
This 26-inch bike comes in an aluminum frame that makes it lightweight and maneuverable.
It features a 3-speed Shimano drivetrain with Nexus shifters that allows hassle-free gear changes. As a result, it's perfect for conquering steep long-range roads.
Thanks to its front and rear coaster brakes, you can bring this bike to a stop hassle-free.
Its handlebar design and seat geometry put you in a heads-up, upright cycling position.
Sixthreezero Explore Your Range has smooth-rolling 700c double-wall rims and a comfy synthetic leather saddle.
Moreover, it comes with matching handgrips featuring classic stitching. The commuter bike generally suits men who are up to 6'2" tall.
Highlight Features
Aluminum frame
3-sped Shimano drivetrain
Front and rear coaster brake
Comfy leather saddle
Matching grips
Best Cruiser Bikes for Tall Riders
Perhaps these are the most popular among casual riders. Also known as beach cruisers, these bikes combine a lean footprint and tall thin balloon tires.
Moreover, this cruiser bike for tall people allows for upright seating and riding – a big bonus for comfort purposes. Normally, frames for cruiser bikes are steel-makes and the drive train features a single speed gear ratio.
For this reason, riding and controlling a cruiser bicycle is simple and easy. It also comes with fewer parts that need maintenance.
Don't expect these bikes to take your journey by storm. While they are heavyweight and durable, they don't have the speeds seen in other types of bicycles.
Sixththreezero Men's In The Barrel Beach Cruiser Bicycle is a great overall beach cruiser for big guys and tall riders.
About the Sixthreezero Men's In the Barrel Cruiser Bicycle
Sixthreezero Explore Your Range Commuter Hybrid Bike
Men's 26-inch 3-speed cruiser bicycle
18-inch extended frame with forward pedaling design
Shimano internal 3-speed hub with easy-to-use Nexus shifter
Low-profile bike with all blacked-out parts and components, including spokes
Custom embossed comfort bubble saddle with matching grips
This is another premium tall man bike by Sixthreezero that doesn't disappoint. Generally, Sixthreezero Men's In The Barrel Cruiser Bicycle is one of the best bikes for casual riding.
Its 18-inch frame has a low-profile geometry with a forward-pedaling design that offers you a smoother riding experience.
On the other hand, its balloon tires move smoothly on paved roads while its dual-spring extra-wide saddle absorbs bumps.
And thanks to its pedal-forward coaster braking system, the bike's stopping force is remarkable.
Sixthreezero Men's In The Barrel comes with a specially-crafted crankset that enables you to move smoothly outdoors.
It's a single-speed cruiser bike that's easy to ride around town and cheaper to maintain. Plus, the bike comes with matching grips to offer you optimum comfort.
Overall, Sixthreezero Men's In the Barrel is the best bike for big and tall riders who are 5'4"-6'4".
Highlight Features
Low-profile geometry
Balloon tires
Wide comfy saddle
Matching grips
Single-speed gearing
Pedal-forward coaster brakes
Best Electric Bike for Tall Person
Electric bikes are also known as e-bikes. E-bikes usually have motors that run their operation and they are powered by a rechargeable battery.
While riding an e-bike, you only use a little of your energy. Most of the movement comes from the propulsion by electric supply hence, you can travel a long distance without fatigue.
You can ride these bikes with a lot more control. They are easier to control – better yet, moving quick and smooth with a long-lasting battery that can be recharged when it runs out.
Aceshin Electric Mountain Bike ticks all the boxes a tall and heavy rider could be looking for. It features a 21-gear transmission meaning it's a speed machine.
Aceshin Electric Mountain Bike
There is no problem with getting a small push on a long, tiring road, which an e-bike does.
One such exceptional bike is the Aceshin Electric Mountain Bike.
Our choice for best electric bike for tall men comes with a powerful 250W brushless motor and a 36V li-ion battery supporting a 15.5 mile range.
The bike enjoys a 21-speed gearing shift system that gives you extra push uphill.
The Aceshin 26" Electric Bike has double suspension, offering you maximum shock absorption. Additionally, the bike features an ergonomic seat and handlebar, which gives you maximum comfort.
It comes with anti-slip and anti-wear tires that promise lasting use. And more, it features an LED headlamp that shines on your path at night and a horn.
Last but not least, the e-bike comes with a 3-speed LED smart meter that you can use to control its speed.
With the bike promising a 25-km top speed, you cannot go wrong with the Aceshin 26" Electric Bike as a commuter.
Highlight Features
250w brushless motor
15 mile range
LED headlamp
Safety horn
Ergonomic handlebar and seat
3-speed LED meter
Buying Guide for Tall Riders
There are a couple of things to keep in mind when buying a bicycle as a tall person. For a broad overview of the geometry of a bike, this is a great video:
Stack and Reach
A lot of tall people, especially beginners, focus too much on the height of the seat. What you really want to focus on (vertically) is what's called the stack.
Stack
What is the frame "stack" exactly?
Stack is defined as the distance vertically from the bottom bracket's center to the mid point of the head tube. As a tall person, a stack that is too low will mean you are bent over while you ride.
Reach
Reach is another important metric, especially for tall riders. Reach is essentially a metric for how "long" a bike is.
Reach is defined as the distance horizontally from the center of the bottom bracket to the middle of the top of the head tube (right under your handlebars).
Although there isn't that much of a variability in reach compared to stack, as a tall rider, you'll want a longer reach.
Now that you know about stack and reach, keep in mind that these are just rules of thumb to give you a broad idea of whether a bike is the right size for you. A longer reach and a shorter stack, for example, is more favored by racers. But it might not be right for your style of riding.
If you want to know what's right for you, just take your stack and divide it by reach. The higher the number, the more casual the ride; the lower the number, the more you are in racing territory.
Frame
One of the most important components for tall riders to look out for is the frame of the bike. You want to ensure that the frame is extra-large or oversized to accommodate a tall person. But in general, it is OK to have a frame too small- it is easier to make a bike fit bigger than the other way around.
As a general rule of thumb for road and hybrid bikes, take your inseam leg length and deduct about 10 inches to get the frame height that is right for you.
For example, if you inseam leg length is 30 inches, go for a frame of around 20 inches. This will give you a rough idea of what kind of bike you're looking for.
You will have to adjust the frame length depending on the type of bike you purchase though. For example, mountain bikes will require a frame length that is 3 to 4 inches shorter. We'll have more details with charts later on in this article.
Frame Material
If you are a taller rider, chances are you weigh more than the average person as well. If you are extremely skinny, you can disregard this next section!
But if you are curious about frames, here is a great introduction to the different bike frame materials and how they differ.
That being said, with your added weight you want a rugged and heavy-duty frame construction made with the right material. The most common materials include aluminum, steel, and carbon. Aluminum and carbon are very lightweight when compared to their counterparts, which is why they are popular for making frames.
In terms of which one is the best overall, I would suggest carbon fiber frame material for tall riders. Due to their highly durable and super strong nature, they are definitely the right choice if you are a little on the heavier side as well.
FAQs
Which Bike Is Best for Tall Men?
Ultimately the best bike for you as a tall person will depend on whether you are a recreational or serious biker, and your body type. There are no hard and fast rules, but definitely use stack and reach as guides.
Depending on preference, below are the best bikes for big and tall guys:
What Size Bike Does a 6 Foot Tall Man Need?
If you one of the taller riders, let's say about 6-foot tall, you need a bike with a frame size of about 23-24 inches if it's a road bike. For example, you need a bike frame size of 21-22 inches if you are 6'1"-6'4" tall.
Meanwhile, you need a frame size of 24-25 inches if you are 6'4-6'6" tall.
For Mountain bikes, you can just subtract 3-4 inches from your road bike frame size to get the proper fit.
How Tall Should You Be for a 29-Inch Bike?
You have to consider your inseam length (inside leg) to know what bike size to go for. Ideally, 29-inch bikes are best for riders with an inseam length of 29-31 inches.
Such riders usually are 5'6"-5'11" tall.
What Age Is a 26-Inch Bike for?
Generally, a 26-inch bike (referring to the wheel size) suits riders with an inseam length of 68 cm or more. That makes it perfect for kids aged ten or older.
Do I Need a 26 Or 29 Bike?
Overall, 29ers tend to have a much lower ground rolling resistance than their 26-inch counterparts. The difference is more pronounced on more challenging surfaces like gravel and asphalt, more so at a higher tire pressure.
So, you need extra force to power a 26-inch uphill than what you need to do the same with a 29er.
In Conclusion
When it comes to the best bikes for tall people, you need to be very careful in what kind of bike you like for. There are several bikes on the market – but the best bike for you as a tall guy depends on what you are looking to do.
The types and models I have featured are some of the more popular models. But of course, talk to a professional to get fitted- this is the most important thing to do for taller riders.

Alex Mwangi is the creator of Outdoor Right and an outdoor enthusiast. During his free time he enjoys riding his road bike or traveling the world looking for his next adventure.