Gravel bikes and road bikes look awfully similar at first glance. Look a little closer, and you'll notice that a gravel bike has slightly wider, knobbier tires than a road bike.
But, is that it?
Is the gravel bike just a road bike with a different tire that's been rebranded as a whole new class of bicycle?
Although they look very similar, there are several differences between gravel bikes and road bikes that make them both superior for their respective terrains. Read on for a detailed breakdown of a gravel bike vs road bike to determine what makes them so different.
Road Bikes: What are They Good for?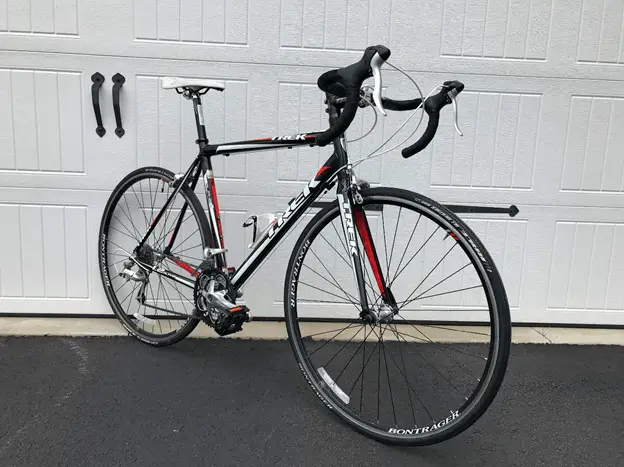 As the name suggests, road bikes are designed and built to excel on the road. The road bike has been around for over a hundred years, and it has been developed into an absolute tarmac-eating machine that can handle longer rides and more miles than the average human can dish out.
The road bike is designed to be as light as possible and to move efficiently and effortlessly on smooth pavement. While modern road bikes are very durable, they tend to sacrifice robustness in exchange for weight and aerodynamics.
We have a full, detailed breakdown on road bikes that you can read here, if you're interested in learning more about its history and development into the modern marvel that it is today.
If you're interested in riding almost entirely on pavement and want a bike that is built to be as fast and efficient as possible, then look no further than the road bike. For someone who is new to road biking, the effortless efficiency of a road bike can be experienced without shedding a tear at the price tag.
A good option to get an incredible bike for your money is the Specialized Allez.
For someone interested in stepping up their road bike and entering the world of ultra-light carbon fiber frames and high-end drivetrain components, I would recommend looking at the Trek Emonda SL5. This is a beautiful bike that floats up climbs and handles effortlessly.
Gravel Bikes: What are They Good for?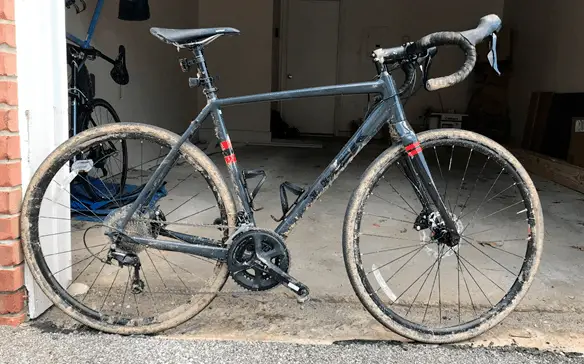 Gravel bikes are designed to handle a wider variety of terrain than traditional road bikes.
They can be ridden on loose gravel roads, dirt roads, and even on singletrack. Of course, they can also be ridden on paved roads, so don't hesitate to join in on your local group road ride. Just keep in mind that road bikes will still out-perform even the best of gravel bikes on tarmac.
Whereas road bikes sacrifice robustness for weight, gravel bikes embrace a more robust design and the additional weight that comes along with that. The added weight of a gravel bike provides a more stable ride quality on rougher terrain, whether that's beaten-up pavement or loose gravel roads.
Gravel bikes also utilize thicker-walled frame tubes than road bikes to handle the debris that inevitably gets kicked up on gravel ride. As a result, this also absorbs more vibrations and smooths out the ride, despite the rougher terrain.
If you've ever taken a carbon road bike onto a loose gravel road, then you immediately felt its limitations upon leaving smooth terrain. It is in moments like these that the gravel bike will out-perform and thrive on a bike ride, opening up more possibilities for adventures that extend beyond the asphault.
For someone looking for an entry-level gravel bike that allows them to break away from the pavement without breaking their bank account, I would recommend the Cannondale Topstone 4. This bike has an incredible value, featuring a 1×10 drivetrain and WTB Riddler tires, a gravel-chewing combination that is not often found on bikes in this price range.
For the gravel enthusiast who is interested in a higher-end build that still presents a great value, I would recommend the Canyon Grizl SL 7 1by.
This bike was just released this year and is everything that I, personally, would want for my dream gravel bike. It is a full carbon frame and fork, featuring a dropper post and Shimano's GRX RX812 1x drivetrain. The Grizl is ready to take on anything your ride can throw at it.
Sale
Shimano RX812
Material: alloy
Cage Length: long
Capacity: 31t
Cassette Range: [maximum] 11 - 42t, [minimum] 11 - 40t
Gearing: 1x11
Road Bike vs Gravel Bike Wheels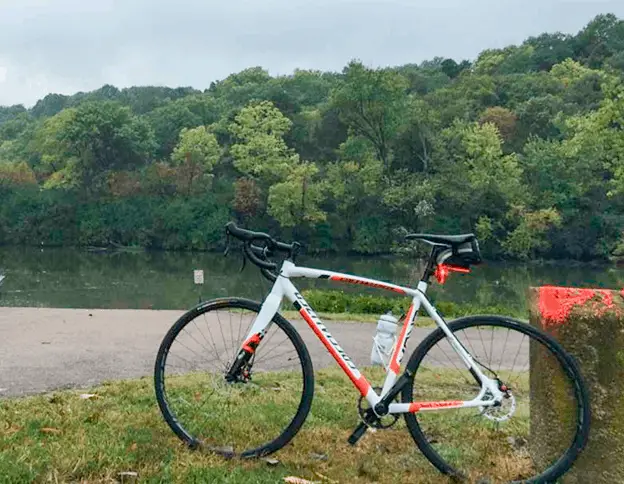 The most quickly distinguishable difference between gravel bikes and road bikes are the wheels and tires. Road bikes are equipped exclusively with 700c wheels that are designed to be light and aerodynamic, whereas gravel bikes offer two sizes to choose from: 700c and 650b (27.5in).
650b wheels have a smaller rim diameter than 700c wheels, allowing riders to equip even wider tires than can be used on 700c wheels. This provides the same rolling diameter as 700c wheels, but with wider, knobbier tires for a similar ride feel with added traction for off-road riding. Riders who run 650b wheels on their gravel bikes will often use mountain bike tires, such as a 27.5" x 2.1" tire.  
The majority of gravel bikes use 700c wheels as their stock size, but more and more now offer 650b out of the box. If you primarily ride on road with mild off-road riding, I recommend that you stick with 700c wheels. Alternately, if you want to gear up for mostly off-road terrain, 650b would be a great choice.
Tires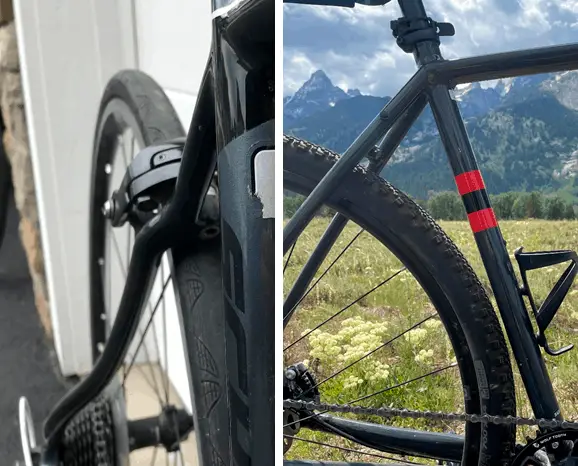 A key difference between road bikes and gravel bikes is the tire width that they can accept.
Road bikes use narrow tires with high pressures for low rolling resistance and maximal speed. Gravel bikes, on the other hand, use wider tires and lower tire pressures to provide a softer, more stable ride for rough terrain.
Road bikes run narrower tires and can rarely accept anything wider than 33mm. They typically come stock with 25mm and can be bumped up to 28mm without sacrificing the aerodynamic profile of the wheelset, allowing for a more supple ride without the tire ballooning wider than the rim profile.
Road bikes also have minimal tread pattern, if any at all. On a paved surface, excess tread and knobs do not provide any additional traction or grip, so road bike tires remain almost entirely smooth.
Gravel bikes are built for the loose, soft surfaces that come with off-road riding. As such, they use wider, knobbier tires to provide optimal grip for off-road surfaces. The tread pattern for gravel tires varies based on the surface they are intended for. Tighter, diamond-shaped tread patterns accel on hard-packed dirt trails and light gravel, whereas more widely spaced knobby tread patterns are superior for softer, muddier trails and loose gravel roads.
Gravel bikes can accept much wider tires than road bikes, as well.
Gravel racers tend to select tires that are 35mm to 40mm wide, striking a balance between off-road traction and speed. Casual riders, people who ride almost entirely off-road, or people just looking for more tire volume and a soft ride will often select tires that are 42mm wide or wider. When set up with 650b wheels, gravel bikes can even accept mountain bike tires wider than 2".
I personally use 700cx45mm tires with a knobbier tread pattern. I love the versatility of this setup, as it allows me to confidently explore off-road terrains without feeling limited to firmer surfaces.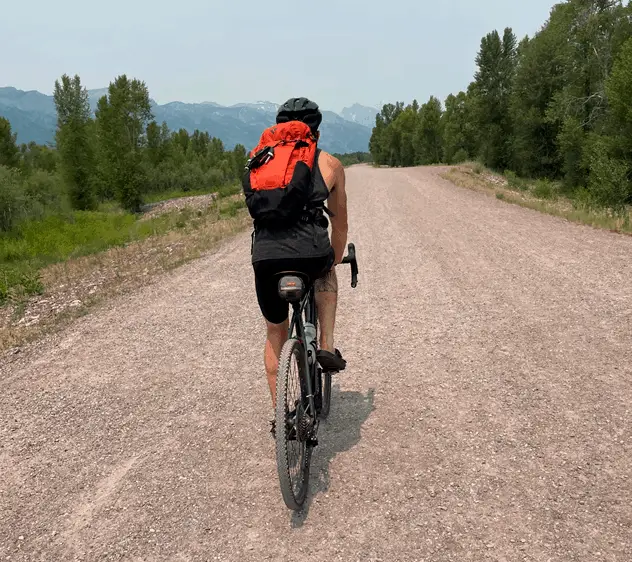 Suspension
Believe it or not, both road bikes and gravel bikes are available with various forms of suspensions. There is cross over of suspension designs between both gravel and road, but gravel bikes are unique in their implementation of air-sprung shock suspensions.
Development of endurance road bikes brought along various forms of suspension to provide smoother rides for road bikes. Specialized, for example, developed their Future Shock suspension above the head tube that provides 20mm of travel. The Future Shock is implemented on both the Roubaix endurance road bike and the Diverge gravel bike.
Companies like Trek and Cannondale have also developed pivot-based suspensions for their endurance road bikes and gravel bikes, allowing for the seat tube to flex independently from the rest of the frame. This provides additional vibration dampening and shock absorption beneath the saddle.
Gravel bikes stand apart from road bikes with the use of air-sprung shocks. Most notably, Cannondale released the Topstone Lefty, providing a 30mm front suspension on the gravel bike and using their iconic "lefty" suspension design that they use on their mountain bikes.
There are now even full-suspension gravel bikes, further blurring the line between gravel bike and mountain bike, such as the Niner MCR 9 RDO.
Eyelets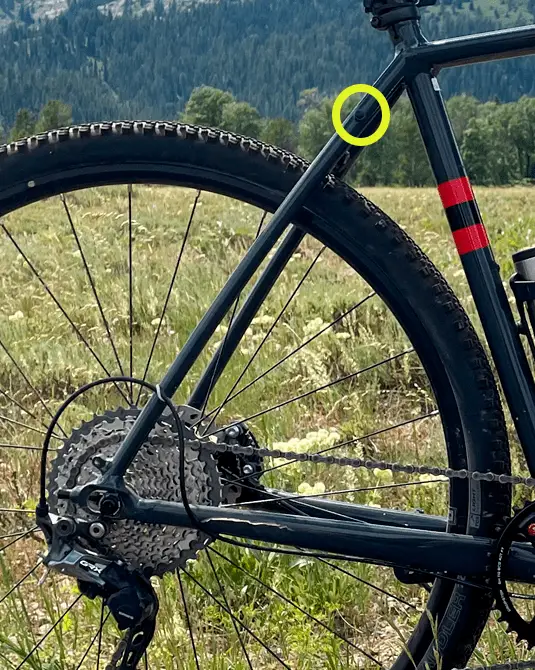 Gravel bikes embrace a more adventurous riding style than road bikes, resulting in more eyelets and mounting points for additional gear. Gravel bikes often come out of the box with eyelets for mounting racks and fenders, additional water bottle cages, and mud guards. They are designed with this versatility in mind.
Road bikes, on the other hand, tend to have far fewer eyelets. Endurance road bikes and commuter-centric road bikes may have mounts for fenders, and maybe even a rack, but this is less common. Race bikes and performance carbon road bikes almost certainly will not offer eyelets, especially when compared to what comes stock on a gravel bike.
Frame
Gravel bike and road bike frames are made from the same frame material. They even appear to have similar geometries, at first look.
Gravel bike frame geometry most closely resembles that of an endurance road bike. However, gravel bikes typically have a longer wheelbase and slacker tube angles, providing ample stability for the rougher terrains they encounter.
While these geometric differences appear minute, they make an enormous difference in how the bikes handle. Road bikes feel livelier and more responsive for quick handling on the streets in a more aerodynamic position. On the other hand, gravel bikes are slightly more upright, providing more stable and predictable handling for technical, off-road riding.
Gravel bikes also utilize thick-walled tubes when compared to a road bike. This provides a bit more durability to shield against the debris and obstacles associated with gravel riding.
Brakes
There is quite a bit of component cross-over between gravel bikes and road bikes. In fact, a lot of the components can be used interchangeably. One area where there is noticeable difference is the implementation of disc brakes.
Gravel bikes rely exclusively on disc brakes. They provide excellent all-condition stopping power, and the purpose of a gravel bike is to handle all possible conditions. With that in mind, it makes sense that disc brakes are the only option.
Road bikes, on the other hand, are offered with disc brakes and rim brakes. Endurance road bikes and hobbyist road bikes are more commonly offered with disc brake options, but many roadies still prefer rim brakes. In fact, a lot of performance race bikes and aero bikes only offer rim brakes due to their lighter weight and more aerodynamic profile.
There is really no debate that disc brakes are more reliable and controllable than rim brakes. Anyone who hops on a gravel bike will surely appreciate the controlled braking that it offers in any condition. However, rim brakes do still have their place in the world of road biking and are still the preference for elite riders concerned about weight.
Handlebars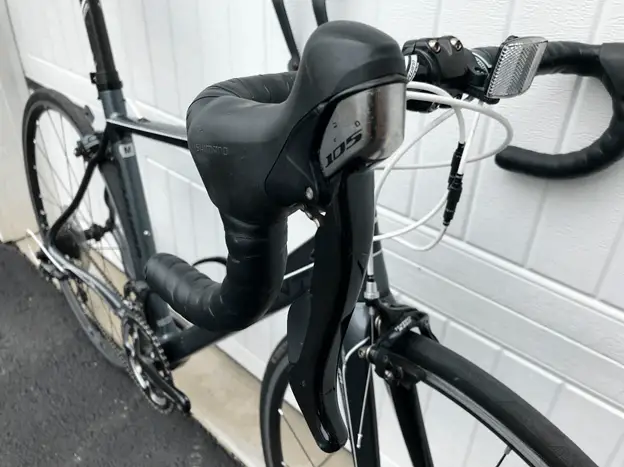 Drop bars are common are both gravel bikes and road bikes, but they have noticeable design differences. Occasionally, you will even find a flat bar gravel bike. Some manufacturers offer this as a stock option, such as the Specialized Diverge Comp E5 EVO and the Marin DSX 2, but it is more common that gravel riders prefer drop bars. It is rare to see anything other than a drop bar on a road bike.
Drop bars used on gravel bikes tend to be wider and the drops often flare outward. They also feature a shorter reach and smaller drop, allowing the drops to be used as a position of stability and increased control when compared to the hoods.
Road bike drop bars, on the other hand, tend to be narrower, and feature a longer reach and drop. This keeps the rider in a more aerodynamic, athletic position for transferring power through the bike as efficiently as possible.
Gravel vs Road Bike Speed
How much faster is a road bike than a gravel bike?
Road bikes are designed to maximize on every sliver of speed possible, and, on the road, they truly feel fast. Even though gravel bikes are designed to accel where a road bike meets its limit, this isn't to say they can't be fast, too.
Road bikes are the superior option on the road due to their decreased weight, improved aerodynamic efficiency, and the benefit that their performance-oriented geometry provides. The improved speed of a road bike is a result of the bike and the rider. By putting the rider in a more aerodynamic, athletic position than that of a gravel bike, the road bike faces much less wind resistance and provides more efficient power transfer.
Furthermore, road bikes use much more supple tire casings and offer lighter wheels and tires. This results in less rolling inertia and requires less power input from the rider to accelerate and maintain higher speeds.
While the road bike is the more efficient and faster option on the road, gravel bikes can still be fast, too. In fact, a friend of mine only owns a Specialized Diverge gravel bike that he uses as a race bike for his amateur race team. He uses thin, lightweight tires, and adjusted his bike fit to feel more like a race bike. As a result, he is still very competitive and successful in his racing.
FAQ
Can a gravel bike be used as a road bike?
A gravel bike can absolutely be used as a road bike. If you're craving a road ride or participate in regular group rides, don't be turned away by simply because you own a gravel bike. However, if you do plan on entering road races, you will likely find yourself outgunned by the lighter, quick road bikes in the field. Before choosing between the two, consider whether you value multi-terrain riding more than your performance on tarmac in a group or race setting.
Are gravel bikes more durable than road bikes?
Gravel bikes are more robust and durable than road bikes. Their frames are constructed with thicker tubing to handle more debris and impacts that comes with off-road riding. They also use more robust wheels to tackle the rougher terrains that gravel riders seek out.
While modern road bikes are indeed very durable, gravel bikes can surely outlast a road bike on the rough, off-road riding that defines gravel biking. They can absorb the vibrations, shocks, and impacts better than road bikes, which would be much more susceptible to damage.
Is there a difference in sizing a road and gravel bike?
Gravel bikes and road bikes are sized very similarly. Their frame sizes are measured in the same way, and they even use the same wheel sizes (for the most part). However, gravel bikes and road bikes rely on different frame geometry to supply the appropriate ride feel for their respective terrains and purposes.
It is worth being sized and test riding both styles independently. You may find that you like your road bike frame slightly smaller than your gravel frame, or vice versa. There is a level of personal preference that comes into play in addition to the varying geometries, so be sure to test out your options before assuming you already know what frame size you will need.
Conclusion
Personally, I love gravel bikes. I think they open an enjoyable world of biking through their impressive versatility. I was a diehard roadie for 7 years, and I loved to ride hard and go fast on road rides. Eventually, I let go of the idea that I needed to race or be fast to enjoy my rides. When gravel bikes hit the market, I didn't hesitate to immediately pick up my own.
Now, I love to leave the bike computer at home and just go out and explore on my rides. If you're looking for a sense of adventure for your rides or just interested in taking the occasional turn off of the tarmac, then you should seriously consider purchasing a gravel bike.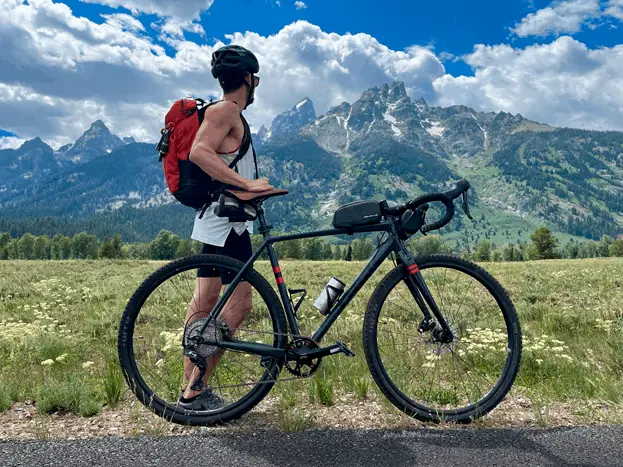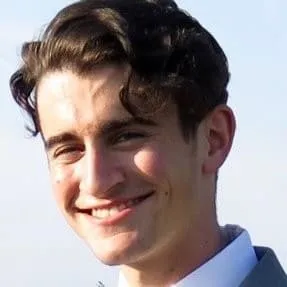 Mitchell Turk is outdoors enthusiast with a lifelong passion for bicycling. He previously worked at his local bike shop before entering the world of engineering, and he may even enjoy geeking out over bike tech more than riding his bike!
Originally a roadie, Mitch dabbled in mountain biking for a couple years and then jumped on the gravel bike bandwagon. He now spends his free time seeking out gravel rides and weekend-long excursions. His ideal outing combines biking, hiking, and climbing for a whole-mountain adventure.