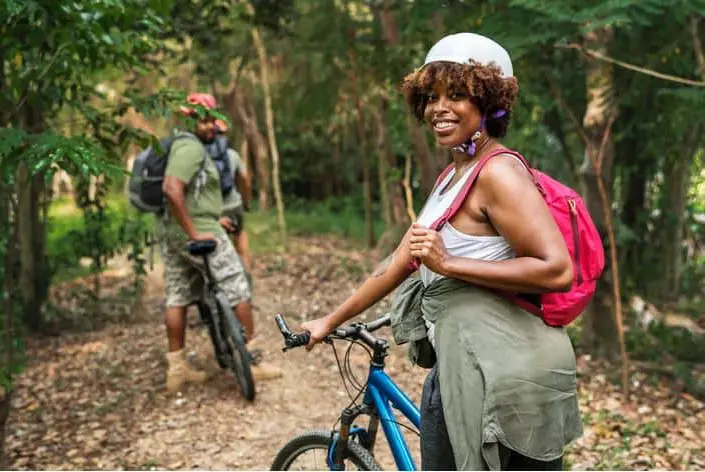 A nice cool multipurpose grocery backpack is not an option for regular cyclists – this is a must-have. With a trendy mountain or road bike, few bikers would want to imagine an attachment for holding groceries or doing other errands.
A basket in the front or a rack at the rear end of your bike does the job. But it also interferes with the fashion or design of your bike.
Again, you don't want to throw your stuff on a rack only to be rained on or damaged by intense sunlight.  So, the only best option is a backpack meant for carrying various groceries.
This backpack has to be designed in a manner favorable to the cyclists. Besides, you can use the backpack for tour biking, traveling or other hiking experiences.
Basically, you want this backpack that apart from being sizeable, it fits suitably on your back.
Need to buy this backpack quickly? Below are the hottest biking grocery backpacks for your considerations.
In a Rush? Here are Our Top Picks
Here are the Benefits of a Good Backpack (Benefits of the Best Biking Grocery Backpack)
A good grocery backpack is an essential accessory that you want to have around yourself every day. The good thing about the bicycle backpack is that it combines the advantages of a regular backpack with the convenience of a pannier.
A great backpack for groceries offers great carrying comforts.
The way this backpack is designed is such that it's quite comfortable on the back. It is usually padded fully and it's lightweight.
This bag comes with a number of compartments where you can lay your feedstuffs.
A backpack offers a better sense of stability compared to strapping things on a basket or rack. And you can ride comfortably knowing that nothing is applying unwanted weight anywhere.
A backpack grocery bag allows you to have all the stuff enclosed in a compartment. What this means is that you don't need to be extra-cautious with your riding.
Because there is no fear of dropping your groceries accidentally. So, you will keep riding on smoothly.
Your stuff is also safe inside and you don't have to be worried about bad weather or extreme sunlight leaking through an open basket.
Different Types of Biking Grocery Backpack
Let us look into the different types of backpacks for holding groceries in detail. Plus, running other daily errands.
1. Best Biking Basic Daypack
The design of this bag is such that it has a major loading compartment. Then, a large pocket in the front and shoulder straps and a grab handle.
The is simple and does only come with a few features. Most of the times, there is not any internal pockets – except for a few cases.
As it is with many other bags, the basic daypack has a zipper enclosure.
Here's a Herschel Pop Quiz Backpack; it can be found in many colorful designs. It's sleek and waterproof to resist light rains.
About the Herschel Pop Quiz Backpack
Herschel Pop Quiz Backpack
Signature striped fabric liner
Padded and fleece lined 15 inch laptop sleeve
Front pocket with internal mesh organizers and key clip
Waterproof zipper detail
17.5 inch x 11.75 inch x 6 inch (HxWxD)
A good daypack comes in the right size, weight, and style. Well, that's what the Herschel Pop Quiz Backpack is all about.
Just weighing 0.43Kg, this backpack is genuinely lightweight to carry on your back.
You expect a lightweight daypack to come with a smaller capacity, right? Wrong!
Herschel Pop Quiz comes with a 22-liter storage capacity, which is truly remarkable. It enjoys a classic style that makes it a sublime choice.
Design-wise, Herschel Pop Quiz features a polyester outer fabric that protects your belonging. The material generally gives the daypack lasting performance.
Inside is a 15-inch padded laptop sleeve for holding your laptop. Even better, Herschel Pop Quiz comes with a signature striped liner for extra cushioning.
With this daypack, you don't have to worry about your items getting wet. That's thanks to its waterproof zipper.
While there are enough compartments inside for your supplies, there is an additional zippered front pocket with mesh organizers for keeping your phone and a key clip for your keys.
This best biking backpack generally measures 17.5 by 11.75 by 6.0 inches.
Highlight Features
22-liter storage
Inner utility pocket
Waterproof zipper
Front pocket
Outer polyester fabric
Signature striped liner
2. Biking Rucksack
Unlike the regular backpacks that have a compartment that's covered with a zipper, a biking rucksack is not. Instead, this bag's main compartment is covered by a flap that is normally attached to the backpack body via a magnet or buckle.
The sizing of this bag is much smaller than most regular backpacks. Using this bag as a grocery shopping backpack allows you to carry about 15-30 liters of stuff.
There are several external pockets on this bag which are great for your convenience. You can also keep your laptop in some versions of this bag.
You can try out this Herschel Dawson Women's Backpack. Coming as a smart design with functional storage options, this bag is also very affordable on the market.
About the Herschel Dawson Backpack
Herschel Dawson Backpack
Internal zippered pocket
Adjustable draw cord closure
Signature striped fabric liner
Magnetic strap closures with metal pin clips
Herschel doesn't disappoint again when it comes to the Herschel Dawson Backpack. This rucksack comes in a 22.5-liter storage capacity despite only weighing 1.5 pounds. You can even carry a computer in this backpack for groceries.
Herschel Dawson Backpack comes in various stunning colors such as arctic, ash rose, and lavender crosshatch.
It features a magnetic closure that secures your belonging while also giving the bag a classic look.
Herschel Dawson Backpack enjoys an adjustable strap that helps you carry it more comfortably. The belt has distinctive details that give it a unique look.
When it comes to organizing your stuff, Herschel Dawson Backpack comes with two external pockets and one internal.
And if you have to keep some delicate items, the bag's polyester lining guarantees the best protection.
Herschel Dawson Backpack comes with a hidden drawcord cinch closure that you can fasten to secure your grocery properly.
Its large capacity also means you can carry the backpack on your travels. Its leather finish, on the other hand, guarantees sturdiness and lasting use.
Mark you; you can make it water-repellent by spraying a waterproof product.
Highlight Features
5L storage
Magnetic closure
Polyester lining
Adjustable strap
Multiple pockets
Hidden drawback cinch closure
3. Best Biking Laptop Backpack
The fundamental feature of this backpack set is a sleeve for slotting a laptop. These sleeves could be positioned on the inside of the bag or the external.
Some sleeves are even removable; that's the beauty of this bag. So, if you are wondering the laptop sizes to be accommodated in this backpack, then it's a common fit for 11", 13", 15.6" laptops.
This means that the sizes of these bags can range from 20-50 liters.
Make sure that you buy a laptop backpack that fits your laptop. And it should have good padding to ensure that it absorbs the shocks when it drops on the ground.
Swissgear Backpack has been rated highly by many Amazon users for the excellent padding and versatility of function. It also has a great airflow system that's needed for extended riding.
About the Swissgear Backpack Laptop Computer Backpack
Swissgear Backpack
It is an Organizer
Padded Shoulder Strap
Water Bottle Pocket
Audio Pocket
Computer Sleeve
A good biking backpack should not just carry your laptop but other things too. That also includes groceries.
This backpack for grocery shopping can fit a 15-inch laptop and many other supplies.
It features a water bottle pocket for your drinking water, and you get to keep your laptop in a unique computer sleeve.
SwissGear backpack also has an audio pocket, a mobile pocket, and a sunglasses holder.
Overall, its multiple pockets make it the perfect organizer.
The backpack is comfortable to carry on your back when biking, owing to its padded shoulder strap. You get to adjust the strap to your comfort level.
SwissGear clearly understands the needs of the modern backpacker. As a result, they've taken the time to design this backpack innovatively.
This is evident in smart features like USB charging capability, airflow back panels, and RFID pocket.
The back panels are also well-padded, and the backpack feels lightweight for all-day carrying.
SwissGear backpack is generally a versatile backpack that has so many uses. Besides, it's available in different color choices to suit backpackers with different tastes.
Highlight Features
Water bottle pocket
Computer sleeve
Padded shoulder strap
USB charging
Airflow back panels
Sunglasses holder
Mobile phone pocket
4. Tote Bags
A tote bag assumes the classic design and comes as a large bag with parallel shoulder straps originating from the sides of the bag. At the same time, two large carry handles are applied to the top of the bag.
Coming with the main compartment that's enclosed with a zipper, the bag also has a number of pockets both on the inside and outside. The shoulder straps allow for easy carriage on the back.
Most tote bags are made for women, but definitely not all. They are pretty sizeable coming with a capacity between 15-35 liters.
Some of these bags have laptop sleeves. Although there is an issue with the thin shoulder straps which make carrying the bag some hell of a task.
A good example is this Adidas Originals Tote II backpack that comes with a lifetime warranty and has an external zipper pocket for easy access.
About the Adidas Originals Tote II Backpack
Adidas Originals Tote II Backpack
Lifetime warranty - built to last
External zipper pocket for easy access
Adjustable shoulder straps and tote straps - two ways to carry
Polyester
If you are the athletic type, you could do yourself some good with the Adidas Originals Tote II Backpack.
The groceries backpack has a sporty vibe, but it's more than that. It comes in a 100% polyester fabric, thus wash-friendly, wrinkle-resistant, and fast-drying.
You can wash the tote bag gently by hand. It's essential, however, that you don't bleach the fabric.
The manufacturer offers you a lifetime warranty, which shows the quality of the tote bag.
The Adidas Originals Tote II only weighs 0.73 pounds, but it comes with so much storage space.
It features an easily-accessible outer zipper pocket for keeping some supplies. And when it comes to carrying the backpack, you do it calmly, thanks to its padded straps.
There are also tote straps, which means you have two ways to carry the backpack.
Adidas Originals Tote II comes with clean woven label branding. Inside, there is one large compartment and another smaller one. Collectively, they help you carry your essentials.
And given that the shoulder straps come padded, the tote bag feels lightweight despite the load you are carrying.
It's a unisex choice that anyone with a taste of the sporty style can take to the store.
You'll like its versatility since you can even use it as your travel bag, school bag, or beach tote.
Highlight Features
Two-way carrying
Padded shoulder straps
100% polyester
Outer zipper pocket
Tote straps
5. Best Biking Snowsport Backpacks
Do you want to go sporty? Well. The snowsport backpacks are some of the best biking backpack options around.
Produced in capacities ranging from 20-45 liters, these backpacks are featured with sport hip belts, adjustable and shoulder straps that are adequately padded for comfort.
You will also love the properly ventilated harnesses. They are specially designed for carrying your backpacking or hiking gear.
Which means that the straps are made to be strong and comfortable. They are lightweight and therefore wouldn't pose a carriage challenge.
On the exterior, the snowsport backpacks are waterproof. Thus, your items are safe and dry once you zip them inside.
The OGIO Renegade RSS Backpack is a high-quality  backpack for snowboarding that is made from high-quality material. If you intend to go to the upcountry, this is the perfect bag.
About the OGIO Renegade RSS Backpack
If you prefer a large capacity biking grocery backpack, you cannot go wrong with the OGIO Renegade RSS Backpack.
This grocery shopping backpack comes with a 20-liter capacity, despite only weighing 3.2 pounds. Its storage capacity allows you to fit groceries and just about anything you would want to carry.
Inside is a polyester lining that promises lasting service and a utility pocket for keeping your small stuff.
Even the outer fabric is polyester, thus wear-resistant and wash-friendly. There's a laptop-dedicated protected compartment that can fit a 15-inch laptop.
There's also a padded pocket for keeping your camera, iPad, or tablet and a crush-proof Tech Vault pocket.
What's more, there are integrated foam panels for protecting your electronics on transit. And when it comes to offering you ultimate comfort, its Hybrid Unibody Backpanel (HUB) has your back.
OGIO Renegade RSS comes with adjustable shoulder straps for carrying it more comfortably on your back. The shoulder strap has a sternum belt for securing it correctly on your body.
There are dual zipper side pockets for utilities and dual side water bottle holders.
Highlight Features
30-liter storage
Tech Vault pocket
Integrated foam panels
HUB
Side water bottle holders
Zippered utility pockets
Ergonomic shoulder straps
What to Look for in the Best Biking Grocery Backpack
Just an ordinary backpack may not be sufficient for your daily errands. You need to delve into a few key things that must be considered before you buy one.
Remember, you need something that will be convenient and just right for the function ahead. Here are some of these considerations to pay close attention to.
The best backpack starts with the ergonomics; how comfortable is the bag on your back? Once you sort this, you are definitely on the right path.
Obviously, this backpack is for biking purposes. So, you need to check for its comfort and stability when it's thrown on the back.
Still, keep in mind that you need the harness systems to be right. And that it's adequately padded to avoid fast fatigue as you ride on.
You don't need an extra-large bag as it would only mean unnecessary weight.
A big bag can easily push you into an awkward position and you don't want this to happen even an ounce.
With that being clear, always consider the number of liters (this is the standard unit for bag size). A bag between 10-15L is a small, compact one.
A medium pack capacity is between 16-20L, which is not bad. But of course, you don't want anything bigger than 30 liters.
There are hundreds of features that you want to choose from. For example, the laptop pockets, rain cover, small pockets, hydration packs, etc. – all of these are features that someone may want to determine if they are actually necessary before buying a bag.
Others come with extra carry handles on top. My top suggestion is to buy a bag with only the features that are going to help you.
More Buying Considerations for the Best Biking Grocery Backpack
This is a necessity especially if you live in wet climates. Because,  if the rain is a consistent occurrence in your locale, you don't want things inside the bag to be messed up just like that.
Therefore, this means that you will be looking to get a bag that is made from fully waterproof materials. They may have features such as coated zippers, welded liners, and synthetic fibers.
To bolster the waterproofness of a backpack, a rain cover is an essential accessory. You can add it on top of the bag for improved protection of the contents of the bag.
You also want to carefully choose a bag that blends in with you. If you don't like certain elements of a bag, just leave it.
Starting with the color, consider a scheme that won't be out of context with the bike. If you want the simple urban style, you can definitely go for it.
Some people want the rugged types which can be handled roughly without wearing them out easily. These are most likely the best option for mountain bikers.
Do you want to be sleek? Okay, you can also enhance your sophisticated look by going for something which is natural for you.
FAQs
1. What Backpacks Are Popular Right Now?
Here are not only the most popular but also the best biking backpacks:
2. Can You Bring A Backpack Into A Grocery Store?
If you are a regular customer at a specific grocery store, the chances are that they'll allow you to bring your backpack in.
However, if you are an unfamiliar face, you may have to leave your backpack at the entrance/exit and pick it on your way out. It's standard safety protocol in some grocery stores.
3. How Much Is A Good Backpack?
Backpack prices vary between brands and depending on material quality, style, and size.
On average, though, you can spend $70-$110 on a good backpack for groceries.
Note that big-name brands like OGIO, Osprey, and SwissGear are costlier than store brands.
4. Is A 50L Backpack Big Enough?
For most backpackers, a 50L storage capacity is just enough to carry everything they need for an outdoor adventure.
Besides, you don't want to carry so much weight on your back as it'll weigh you down, resulting in back complications.
5. Is A 70l Backpack Too Big?
Given that most backpackers carry a 20-50l capacity backpack, 70l sounds big. That is unless you are too strong, probably in the military, and do not mind some extra weight on your back.
But still, you don't need so much space when you could do with a 20-50 backpack.
6. How Big Of A Biking Backpack Do I Need For A 3-Day Hike?
Even though every backpacker has a different need, you need a backpack with a 30-50l capacity for a 3-day hike.
Such size will provide you with ample storage space to carry enough hiking essentials for three days.
In Conclusion
You will definitely need to sit down and have a serious individual thought regarding what grocery backpack you need for yourself. Fortunately, I have broken down this process for you.
Hopefully, this guide helps you secure the right backpack. Just be keen on the different types I have mentioned and look at some of the key considerations before landing a backpack.
Remember, this is a bag you need for transport, basically. So, don't go extremely big as you might just not like the experience thereafter.

Alex Mwangi is the creator of Outdoor Right and an outdoor enthusiast. During his free time he enjoys riding his road bike or traveling the world looking for his next adventure.