The fun for wheeling is catchy, it's endless – ask the enthusiasts. But things can quickly snap out of place if the bike is not up to the artistic cycling challenge.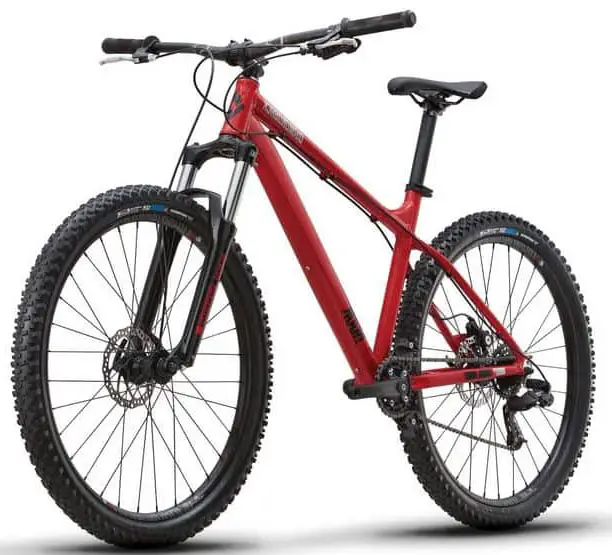 I repeat this is a challenge and a tricky one for the sake of caution. And so it means that when you are looking for the bicycle to use, there is no room for below-par standards.
Just that you develop a better understanding, a wheelie bicycle requires power, flexibility, and efficiency when operating it.
You want to be safe and confident while spinning and doing the stunts? I guess that's it and the best bicycle for wheelies will help you hit the pinnacle tricks.
Are you looking for the perfect part of the deal? In this guide, I provide crucial information about these bikes, reviewing different selected types and models.
Plus, you get a crisp buying guide to orient your way so that you get a good bicycle. Let's be on the move.
What is the Wheelie Bike?
A wheelie bike is used for performing challenging artistic cycling stunts. While performing a wheelie, the front tire of the bike lifts in the air and you can cycle on the rear wheel alone.
The rider is responsible for managing moves and tricks associated with the cycling. It is important to know how to do it the right way.
Even the most sought-after bike won't bail your inadequacies out. You have to have the right wheeling skill, or at least you should be training how to do it (you don't have to be Littleharry15 though).
Remember, it'll be requiring that you balance off your body mass really well. From seating to hand-positioning on the handlebars to leg and pedal work, there's no chance to lower the standard.
Benefits of a Best Bike for Wheelies.
So, what are all these pronouncements about wheelie bikes, anyway?
To get you started, it's super-important to know that wheeling is an emerging cycling style. It's newish.
But not in the sense of being the very first time that it's been done. In fact, and for the burden of proof, the trick can be traced back to 1890, when allegedly, stunt bicyclist Daniel Canary performed it the first time ever.
Wheelie bikes are without a doubt durable assets thanks to the high-quality components they feature. They come with an elaborate, industry-standard drive train, gears, brakes, frame, and so on.
In short, what you have is a solid construction of a bike that lets you do aerobatics without fear. This is because safety is definitely guaranteed.
When you know it's safe to do an aerial jump, your confidence certainly moves a notch upside. Confidence is a keynote quality in doing successful wheelies and it all comes down to the right wheel bike.
The other thing, especially for kiddos is showing off. I mean it's obvious and only fair that someone finds satisfaction in doing a unique thing that only a few people know about.
Not only can this create satisfaction but it also goes further across to boost self-esteem. So, basically, the tricks of wheeling may have a quick bearing on your self-improvement.
How about the fun-filled thrills of wheeling on these bikes? It's such exciting, enlivening, and boosts flexibility.
Different Types of Bicycle for Wheelies.
It is imperative to have the right bike for your fun stunts. And this is the reason why knowing which type of bicycle for wheelies matches your profile.
There are plenty of types at your disposal on the market. The different types come in various styles and designs.
Here is a look into a few types of bicycles for wheelies.
1.     Best Mountain Bicycle (MTB) for Wheelies
An MTB is made for hard-trail off-road cycling. The mountain bicycle is the right instrument for blasting the toughest of terrain – in the mountain trails.
It features durable components across its entire construction. Mountain bikes are identified with their flat handlebars, and of course, wide, knobbed tires for great traction on the narrow dirt roads.
Plus, the mountain bikes have powerful braking systems and elaborate drive train with lower gear ratios. Hence, they are efficient and more suited for wheeling.
Most of the time, wheelies are performed on tarmacked roads or pavements. But this doesn't mean MTBs are therefore not in the equation here – they are versatile and can be used anywhere even if they are more suited to hard-trails and mountain terrains.
Schwinn Bonafide Mens Mountain Bike is a solid, lightweight machine that comes with speed, power, and efficiency. It one of the best mountain bikes to wheelie.
Another great bike for wheelies is Diamondback Bicycles Hook , which is versatile, well balanced, light and durable with great suspension system and excellent build quality. 
2.   Best BMX Bicycle for Wheelies
Those of you wondering if it is possible to wheelie on a BMX bike the answer is yes. And just like the mountain bike above, a BMX is engineered for the off-road trail.
Actually, BMX bicycles are more oriented for stunt or aerobatic cycling. They are what I would prefer calling, naturals in this specific field.
Perhaps, you are more aware of their usage in competitive or freestyle racing. The reason is enough to prove that they are arguably the authentic wheelie bikes.
Into the construction, BMX bikes are smaller but sturdier. Also, they have a simple frame, thick fat tires that would make navigation easier in rough terrain.
These bikes, however, feature a few gears. Some models even come without any gears at all while most might include just one gear.
The idea is to have as few moving parts as possible. This includes a reduced braking system.
My recommended choice is the Redline PL 26 BMX Race Cruiser. It has a chrome-alloy fabricated frame that's durable and lightweight.
3.   Best Road Wheelie Bikes
Road bikes are also good bikes for wheelies. All you need to own is the right skill set to do the stunt correctly.
Road bikes come with a lightweight frame and you can easily note the narrow tires. The handlebars are drop-style.
Both these features make road bikes suited to tarmac road cycling. And that's why the bikes are common with competitive racing on paved streets and roads.
Besides being able to do stunt riding, the modern versions are designed for high efficiency, fast movements, and impeccable cycling. They are also comfier and compact in the footprint, allowing for easy weight balance and effortless stunts.
Effectively, it's super-important to understand that you will need a good bunch of practice to master the art of wheeling expertly on road bikes.
Schwinn Phocus 1400 and 1600 Drop Bar Road Bike is a valuable option for both men and women cyclists. It features a top-quality frame and components including the powerful brakes and a wide gear set for speed.
4.   Best Triathlon Bike for Wheelies
Triathlon or tri bikes are simply a variation of road bikes. But, here is the difference, tri bikes have steeper seat positioning and are more aerodynamically oriented thanks to the deep carbon fiber wheels and the aero bars.
What this means is that the rider's body is further inclined forwards. Tri bikes may not be the best bicycle for wheelies but they still would perform at the same level as road bikes – again it's your skill which sets your success on the go.
 SAVADECK Carbon Road Bike comes as an extremely lightweight option thanks to the carbon fiber frame it's constructed on. The bicycle seat tube and seat are aerodynamically built and great for beginners.
How Can You Do a Wheelie on Your Bicycle?
As a cyclist, you probably know one or two things about wheelies and wheeling. But, there's no offense if you don't have a clue how to do the wheelie on your bicycle.
If you are in this category of people, well, things are changing. You have to embrace modern cycling tricks that define the nous of a true cycling buff.
Need to learn the tricks? With the best wheelie bike, only the sky is the limit. Here is a quick process on how to learn to do a wheelie.
Ensure that your bike is in perfect condition.
You see, wheeling is a dangerous game. You can easily fall off and hurt your parts, which means a faulty bike is a good catalyst for falling off.
Before going for the stunts, check the components of the bike. Be sure that things are in totally perfect condition.
Set your seat in a middle position to ensure proper balance and minimize backward falls.
Start practicing with lower gears, like 1-1. Don't blast off, you are just starting your journey.
Practice in a large field or park for convenience.
First, cycle at a slower speed – something slightly above the walking pace – and pull off a wheelie
To do a wheelie, cycle your stronger foot to hit the 2 o'clock position on the pedal. In that position, it'll be easy to push down the pedal for acceleration.
Now it is the time to use the strong foot to promptly push down hard on the pedal. And lean backward. At the same time, you should lift the front wheel off the ground.
That's it.
Buying Guide for the Best Bicycle for Wheelies.
You should be thinking about your next option already, at least at this moment. Nonetheless, there are pertinent things that you need to look for when buying the best bike to do wheelies.
Next are some of the most important ones that should guide your decision making.
Having a reliable, elaborate drive train is very important. Because it is a drivetrain that absorbs most abuses of riding.
This is the "engine" of the bicycle. The gear system is housed here – plus, the crankset is part of the drivetrain.
These parts must be of great quality and therefore durable to outlast the rigors of riding. Also, the drivetrain should make it easy for the transitioning of gear levels.
Shimano drivetrain systems are the indisputable choice for your bicycle. They come with power, convenience, and efficiency.
Tires are essential parts of bikes. Wheelies are even easier when these tires are well-made from the word go.
It is obvious that tires hold all the weight of a bicycle. Make sure that the tires on your selected bike are sturdy enough to stand the test of time.
By the way, although the handlebars help you control the whole bicycle, it's actually the tires or wheels that hold everything under control.
The tires should offer a stable grip on the ground. Your best choice of tires has to be all-terrain types.
Actually, wheelies are performed around the rear tires of the bicycle. So you want to be dead-on sure about the quality of the brakes in that setup.
Just keep in mind that you will be needing these brakes like never before. Don't go for cheaper options of breaking mechanisms – the best bet is the disc brake set up that offers power and effectiveness.  That said and done, ensure they are simple to use and control.
In Conclusion
Looking for the best bicycle for wheelies may be somewhat a daunting piece of work. But you don't have to take yourself through such pressure and stress of the mind.
With this guide, I just hope you found the perfect info you really wanted regarding the bikes for wheelies. And I also enlisted specific models in here for your effortless selection.
Remember, the bike has to be efficient and deliver impeccable performance. Therefore, consider a reliable drivetrain and gear sets, tires, and the rear braking system.