Here's why a portable air conditioner for a pop up camper is a must-have:
Pop-up campers can really get hot during summertime. And you may not be able to tolerate the heat and stuffiness of a camper in the sweltering hot temperatures.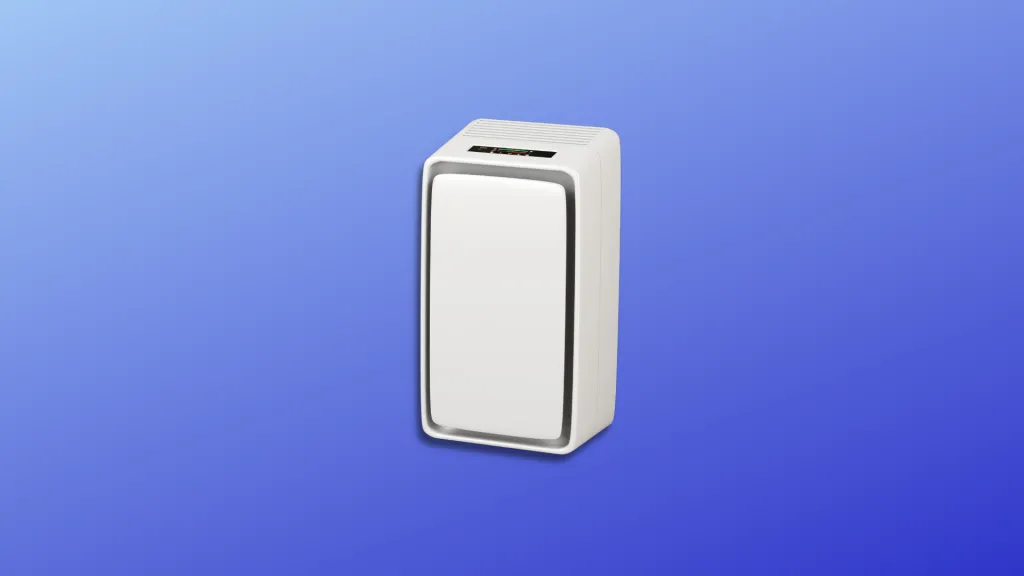 Neither can you rely on nature to do the cooling for you. While pop-up campers are some of the most affordable RV trailers in the market, they are not equipped with AC units for air conditioning.
This is not only disappointing but also presents a daunting task – finding the right AC unit for the camper!
Rather than continuing to suffer agony, I have put together a guide on portable air conditioners for pop up campers to help you eliminate hot air from your camping life.
So let's get right to it and find the perfect air conditioner for your space, shall we?
In a Rush? Here are Our Top Picks
Why You Need a Portable Air Conditioner for Your Pop Up Camper
When it's hot and burning in the summer, there are no two ways to approach this. You simply need to cool your space and focus on enjoying your outdoors experience.
Portable air conditioners cool your rooms at a cost far less compared to full-fledged AC systems.
And to top it off models nowadays are energy-efficient and light on electricity usage.
This equipment can also be used as both a temporary or a permanent heat control measure. Power outages, anyone?
As long as it works just fine out there in your RV unit, why not keep it as a backup for home?
The other advantage of the right portable air conditioning unit for campers is their space-saving design. We have tried to find units that are small and compact to fit just perfectly in limited spaces, whether the ac is window mounted or portable.
And the right portable ac units should also dehumidify your air. So in the end, you have two huge benefits – cool air AND dry place for rest and sleep.
Most pop up camper air conditioners should be easy to install and to service if anything goes wrong. Plus, ac units for pop up campers are often light and mobile and come with caster wheels for mobility.
How Do Portable Air Conditioners Work?
With that said, how do portable air conditioners work for your pop-up camper?
To start, here are the very basic parts you should know about portable air conditioners:
Refrigeration system
Coolant
Reservoir
Ventilation or exhaust hose
However, be sure to check the components of your machine. Some parts may differ and that is fine.
All portable air conditioners draw in hot air. They use their cooling mechanisms to cool the hot air and then release or drive it out via the exhaust duct into the room.
The air released into the room is cool. This is the general process of how the air conditioners cool rooms.
How to Use Portable Air Conditioners Efficiently in a Pop-Up Camper
Place the air conditioner at a strategic location to cool the entire space.
Make sure to close all doors and windows of your camper. This helps to keep off any entry of outside humidity.
It is important that you maintain your unit regularly. Clean the filters to prevent the accumulation of dirt and dust.
5 Best Portable Air Conditioners for Pop Up Campers
1.     Honeywell Portable Air Conditioner
Honeywell Portable Air Conditioner
[SAVE ENERGY, SAVE MONEY] Perfect for targeted spot cooling in rooms up to 450...
[QUICK INSTALLATION] Fully Packed Window Kit with adjustable window bracket,...
[ADVANCED SAFETY FEATURES] Thermal overload protection for added safety & peace...
[EASY MAINTENANCE] Filter Clean Alert & Washable Filter designed to protect from...
[DESIGNED FOR COMFORT] Enjoy simple digital control with 3 fan speeds, 24 hour...
This Honeywell Portable Air Conditioner for camper trailer is designed with a compact, lightweight, and portable build. The cooler indeed forms a picturesque silhouette thanks to the attractive modern design.
The Honeywell Portable Air Conditioner is 10,000 BTU and adds great functional performance to its beautiful structure. The recommended room size is about 450 sq ft, so this will be sufficient for most campers.
The model comes with a 3-in-1 functional design. You get a cooler, a fan, and a humidifier wrapped up in one, and it features three different speed settings for cooling your space.
The portable air conditioner eliminates dust and other particles from your room. This job is executed by the humidifier component that constitutes a carbon filter to trap the pollutants.
It is cost-effective as it consumes less energy during operation. The included remote system allows you to run the unit right in your bed.
The control panel is very attractive and simple to operate. With a programmable timer that can last 24 hours, just set up the air conditioner and stay worry-free.
Even more, maintaining this tool is a breeze. The tank is can be detached from the rest of the ac unit for cleaning while the dual carbon filter is washable for its improved performance.
One negative of this pop up trailer friendly ac unit is it doesn't come with smart features.
Pros:
Easy to use
Elegant design
Easy installation
Quiet at 52 decibels
Cons:
Verdict: This portable ac unit offers excellent value for money. For an easy-to-install and control portable air conditioner, this one makes the cut.
2.     MIDEA Window Mounted Air Conditioner
Sale
MIDEA Window Air Conditioner
3 IN 1 COMFORT - The Midea EasyCool Window Air Conditioner unit has three modes...
ENERGY EFFICIENT - The EasyCool window air conditioner is Energy Star certified...
QUIET & EASY TO USE - This window AC unit is quieter than a household...
EASY INSTALLATION - Install easily in your home or apartment's existing window...
WORLDWIDE LEADER - Midea is the world's #1 air treatment brand with a motto to...
If you are looking for another air conditioner with three functions fused into a single system, MIDEA Window Air Conditioner provides that option. This system comes in about four different model versions, but this one is a 10,000 BTU-rated unit.
Powerful and efficient, these are conditioners are recommended for spaces of about 450 square feet. Your comfort is secured by the fact it provides cooling, dehumidification, and a fan.
The Midea MAW10R1BWT Window Air Conditioner is relatively simple to install. You just need a bit of experience with its mounting accessories and you will be done putting it up.
This portable AC for RV features user-friendly features including a control panel with easy digital controls. There is an LED display on the panel which you can decide to operate directly.
It comes with three key control settings: the timer modes, energy-saving mode, and the sleep mode. Simply toggle between these modes to set what you wish for.
Tired and need a deserved rest in bed? Use the remote control to operate the unit in a comfortable position.
Pros:
Fast and efficient
Three in one system
Easy to window mounted installation
Cool air in big spaces
Relatively inexpensive
Cons:
Too much outdoor exposure is not good
Verdict:  The pop up trailer air conditioner is a great fit for quiet operation and for cooling bigger spaces. It is also relatively inexpensive for the BTU rating (10,000).
3.     Dometic Rooftop Air Conditioner
Dometic Rooftop Air Conditioner
15,000 BTU model
Cool only model
Requires inside ceiling assembly and control kit or ADB (all sold separately)
Ducted or Non-Ducted applications
Input Voltage (AC): 115 V; Input Frequency: 60 Hz
Is there a better premium product in this category other than the Dometic Rooftop Air Conditioner? It's hard to find a similarly powerful air conditioner fit for most pop up campers.
It is a lighter model compared to many others in the market. It works efficiently, fast and its build incorporates some high-quality materials (which the manufacturer has not specified).
This unit matches the description just as expected. It comes with a 15,000 BTU power-rating, although you there is also a 13,500 BTU version. With the 15,000 BTU version, you should be able to comfortable cool a 750 sq ft camper.
This rooftop air conditioning unit is your perfect companion in the hottest areas. Since it works both in the ducted and non-ducted systems, Domestic Rooftop Air Conditioner is versatile and applies in any type of RV system. Just make sure you have a 14 X 14 inch space in the roof of your pop up trailer.
With a 2-year warranty on these air conditioners for pop up campers, you can see why even at this price point, people are still ready to buy it.
The air conditioning unit doesn't come with a control panel, which is a pain but you can buy it separately.
Pros:
High-quality build
Strong and powerful
Compact and lightweight
Great for large pop up campers
Cons:
No control panel
Expensive
Verdict:For a high quality roof-top pop-up camper air conditioner, the Dometic Rooftop Air Conditioner may be a perfect pick. It will cool a larger area than the average rooftop air conditioner on the market today, which comes with a higher price.
Keep in mind that 15,000 BTU is quite strong, so this level of cooling capability is only really necessary in the absolute hottest climates or the largest pop up campers.
4.     Black+Decker Portable Air Conditioner
Sale
Black+Decker Portable Air Conditioner
Portable AC: Use this personal air conditioner (15.3" x 14" x 24.8") in...
3-in-1: 3-in-1: Our 5800 BTU DOE (10000 BTU ASHRAE 128) air conditioner also...
Impressive Features: Set the temperature just right with this ac portable air...
Easy Mobility: Thanks to casters on the bottom and side handles on both sides of...
Installation Kit: When it comes to fans that blow cold air, this indoor ac unit...
The Black+Decker Portable Air Conditioner is an ac unit that many enthusiasts are using in small to medium-sized rooms. A pop-up camper would be a perfect amount of space to cool using this unit.
Same as the other portable air conditioners in this guide, the unit integrates three features of cooling, dehumidifying and a fan that combine for ultimate comfort. Installing takes less time – about 15 minutes because most of the things are already in place.
The rather loud air conditioner unit includes a highly-functional remote control. Other than increasing and decreasing the speed of operation, you can also use this remote to set temperature.
This is a lightweight ac unit measuring only 52.9 lbs., and with the caster wheels at its bottom it is one of the most portable ac units. The main thing is that these ac units are only 6,000 BTU, so we would not recommend it for a bigger pop up trailer (above 300 sq ft).
Pros:
Advanced remote control features
Portable ac unit
Quick to install
Window mounted design
Cons:
Verdict: A decent medium-priced air conditioning unit with great functionality and relatively lightweight. But this is not the best option for extremely hot and humid climates or spaces larger than about 250 sq ft.
5.     Honeywell Portable Evaporative Cooler
Sale
Honeywell Portable Evaporative Cooler
3-in-1 Design—Evaporative air cooling, fan, and humidification ideal for areas...
Extra Safety Features—With 10+ years in manufacturing safe appliances,...
Powerful Portable Cooling—Portable air cooler has 2.6-gallon water tank for...
Environmentally Friendly—Super low electricity consumption and...
Not an Air Conditioner & Not Just a Fan—No-compressor cooler reduces...
If your goal is getting an extremely lightweight portable ac, Honeywell Portable Evaporative Cooler is a good point to start. It is about 1/3 or 1/2 the size of other portable AC units.
Its compact design means it is only suitable for cooling spot areas, though.
This is the type of a cooler you can actually carry to the bed. It looks stylish and modern and its performance is backed with nice, functional features.
You get three cooling and dehumidifying settings, a carbon filter that traps elements efficiently, and remote control for operating this unit from the comfort of your chair and bed.
Plus, you can set the timer for up to 7.5 hours for continuous, uninterrupted operation. The pop-up camper ac unit is also cost-effective, spending less energy – you won't pay more on your electricity bills.
The ac unit is pretty easy to clean with a detachable water tank and a washable carbon filter.
The main downside of this portable ac is that it doesn't cool a large space (only 175 sq ft). If you are looking for cool air in a bigger space, we would go with the Dometic Brisk II Rooftop Air Conditioner mentioned earlier.
Pros:
Very lightweight
A simple remote control system
Easy to maintain
Highly portable ac unit
Cons:
A loud fan
Only cools 175 sq ft
Not good for humid climates
Verdict: This is the best lightweight, budget option for a portable air conditioner for your pop up camper on this list. But this ac unit will only cool a very limited space and is more of a "have by your bed" option.
Keep in mind this portable ac is ideal in dryer climates (Midwest and Southwest United States).
Considerations When Buying a Portable Air Conditioner for Pop Up Camper
Power
The air conditioners mentioned in this guide have decent power ratings. But even so, you want to get a fairly powerful portable ac unit for effective performance.
Make sure to know the sq footage of your pop up camper and the correct corresponding BTUs your portable ac needs to be. It will help decide which power rating would work best for you.
Here is a chart that will give you an idea of how strong of a portable air conditioner you need for your pop up camper.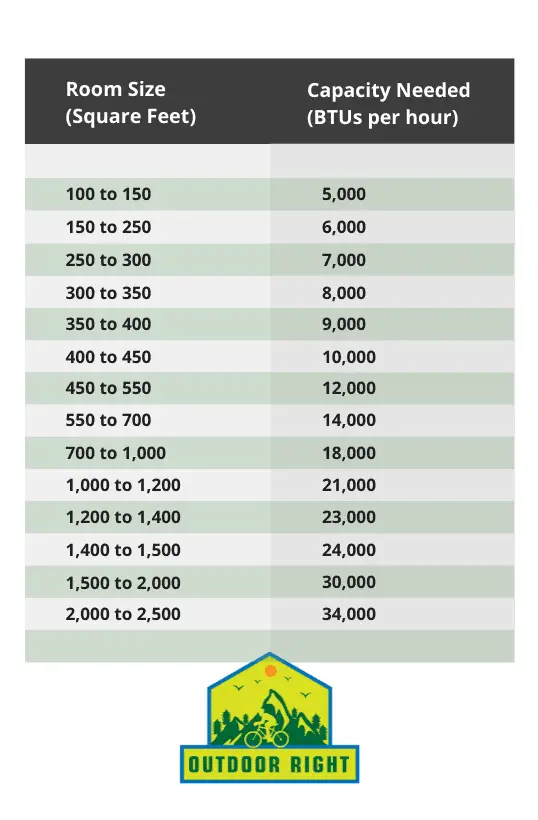 Size
We are talking about portable ac units here. It makes little sense to pick a larger air conditioner when your pop up camper is likely not the size of a room.
Your goal is to choose a pop up camper air conditioner that is as light as possible for the number of BTUs you require for your room size.
Ease of Maintenance
Look for an air conditioner with self-evaporative design. These automatically remove moisture collected so you don't need to worry about draining them.
If you buy a portable ac of high quality, it will require little maintenance.
Budget
As it stands, pop up camper air conditioning is much cheaper compared to traditional air conditioners. That said, you can get decent models on the market at very affordable prices.
All air conditioners in this guide sell between under $1000. Depending on what quality impresses you, keeping within the confines of a budget can help you avert pointless spending.
In Conclusion
When you finally make a decision about what portable air conditioner for pop up camper you want, make sure the unit you pick will serve your needs.
Consider the size, power rating, ease of installation, among other factors when buying a pop up camper air conditioner. Do you really want to gamble with your comfort?

Alex Mwangi is the creator of Outdoor Right and an outdoor enthusiast. During his free time he enjoys riding his road bike or traveling the world looking for his next adventure.