As a camping buff with a big stature, disappointments over the right chair to use while seeking outdoor adventures are inevitable, sometimes. Many potential options sadly fall short on the tall and big community.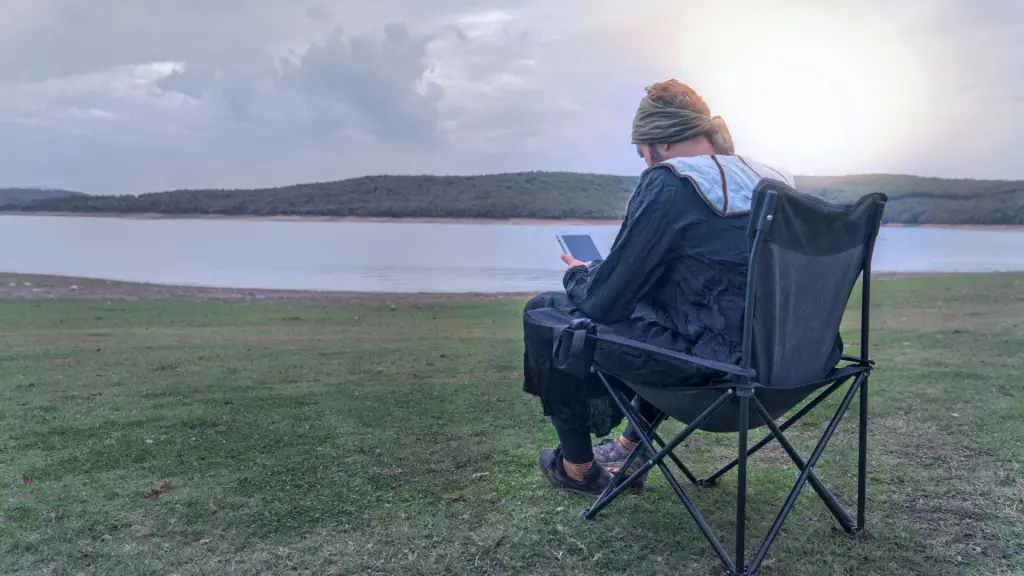 The ordinary camp chairs are a no-no. They crumble sooner, with just a few uses and this is not only bad news for you but also a step closer to personal economic sabotage.
If you are 6 feet and more, big and tall camping chairs are definitely the way to go. The big and tall chair should hold on really well without infusing premeditated thoughts of unexpected collapse.
Characteristically, the chairs for big guys have to be heavy-duty, sturdy, and comfy. And lasting for a long time is not an optional feature for the tall camping chair either.
Find my most recommended camping chairs for huge and tall guys below.
In a Rush? Here are Our Top Picks
Why Would You Need a Big and Tall Camping Chair?
The reason is pretty loud and clear – because you are big and tall.
But the fine details that go into the structure, form, and function of such chairs cannot be understated. For instance, these camping chairs are constructed on super-strong metal or wood frames.
This robust footprint is capable of supporting your weight just fine. Thus, you are not going to have to worry due to an impending fall, which in all honesty, is both dangerous and embarrassing!
For a comfortable fit, the dimensions are cut to your build. So you don't have to squeeze into some flimsy, tight space the whole night trying to catch warmth around a campfire.
Neither would you be bending your long legs too much above the hips for a long time.
A good camp chair for tall guys needs to be easy to use. You can effortlessly get in and out and it comes with the perfect seat height to accommodate long legs.
With that being said, the perfect chairs complete your comfortable stay. And the confidence that comes out of using a reliable chair for camping provides just the peace of mind you need to enjoy the camp.
5 Best Big and Tall Camping Chairs
1.   ALPS Mountaineering Camp Chair
ALPS Mountaineering Camp Chair
Made of 600D Polyester fabric, providing you a comfortable sitting experience every time.
Lightweight pro-tech aluminum frame provides strength and stability for a long-lasting use.
Padded curved armrests, extra tall back and cup holder provides you with all the features you need in a chair.
Detachable back frame specifically designed for compact transporting and storing.
The ALPS Mountaineering Camp Chair is built on a strong and lightweight aluminum frame. The craft that went into the construction of this camp chair depicts a spacious build thanks to the generous 24inches x 18 inches x 36-inch footprint.
As for its capacity, this tall camping chair can support up to 425 lbs., although the chair itself weighs just about 10 lbs. This is because the frame is very sturdy and since it's also powder-coated, durability is not a big concern.
The lightweight footprint ensures it is easily transported.
For further ease of storage and transportation, the ALPS Mountaineering Camp Chair is designed with the folding feature. This means that it collapses once you're done and you can tuck it easily in the car trunk.
It takes a bit of time to assemble this chair. It comes along with some back inserts that need to be mounted before use. Ensure that you mount the inserts with the chair just a bit unfolded to make life a little easier for yourself.
Your comfort is not at stake with the high-quality polyester fabric on the seat. It is also easy to clean.
The camp chair features an extra tall back to take your height fully. It offers a comfortable distance from the ground when you are seated.
Better yet, ALPS Mountaineering Camp Chair is packed with extra features useful for your sitting experience. You get padded armrests, cup holder or pocket which enhance usability.
Pros:
Sturdy
Long-lasting performance
Tall back
Easy to get in and out
Cons:
A bit of process to assemble
A little bulky
Verdict: ALPS Mountaineering Camp Chair is a good investment for your hard-earned buck. It is sturdy, heavy-duty, and foldable.
2.   Timber Ridge Zero Gravity Locking Lounge Chair
Timber Ridge Zero-Gravity Lounge Chair
Outstanding Loading Capacity: Anti gravity chair supports up to 350lbs. Sturdy...
Adjustable Reclining Position: This outdoor recliner designed with easy locking...
Oversized Dimension: 43.5 x20 x21.5 inches. This oversized camping reclining...
Comfortable Design: The outdoor reclining chair designed with full padded...
No Assembly: This folding lawn chair can be folded and unfold in seconds. The...
Timber Ridge Zero Gravity Locking Lounge Chair is a heavy-duty camp chair with premium features including the special zero-gravity functionality.
This chair lets you recline in an almost zero gravity position – where the body rests in a weightless form – and the comfort is worth a repeat. Timber Ridge Zero Gravity Locking Lounge Chair combines its modern form and unique functionality to benefit campers with back problems.
With a solid construction that incorporates a steel frame into the build, the chair doesn't fall short of support. The structure also comes with a suspension system which is useful for relaxation.
Tall people will love that Timber Ridge Zero Gravity Lounge extends its length up to 72 inches. This is nice for their overall comfort.
Even better, the chair is wider so that getting in and out is just a breeze. It supports a maximum capacity of 350 pounds, which is ideal for plus-size individuals.
With a plastic-finished armrest, a robust locking system, and a bungee-cord suspension, it is easy to see why this large camping chair is loved among its faithful.
Pros:
Zero gravity position
Folds up for easy storage
Easy to set up
Cons:
Verdict: This camp chair is suitable for campers with back problems.
3.   ALPS Mountaineering King Kong Chair
ALPS Mountaineering King Kong Chair
Our Extra Wide King Kong Folding Camp Chair brings plus size support and comfort...
To the beach or in the backyard, this chair is ready for whatever the outdoors...
Extra-Wide 24'' Seat . High Backrest . Side Pocket Cooler . Powder-Coated Steel...
ABOUT THE BRAND: Making Homes Beautiful. Since 1998, BrylaneHome has been...
Sturdy powder-coated steel frame and 600D polyester fabric provides stability...
For the oversize community, the ALPS Mountaineering King Kong Chair might be one of your most important chairs you want to try out. The King Kong Chair is a massive one, with supreme workmanship going into the footprint.
Sitting on a sturdy powder-coated steel frame, King Kong is going to hold on to 800 lbs. maximum weight. This material also makes for a durable chair that can stay for long while putting in a reliable performance consistently.
Surprisingly, this chair weighs only 13 lbs. It is therefore lightweight and easily portable. It has a padded seat and back which increases the comfort of the user.
Moreover, 2 beverage holders and hanging pockets on each arm display rare but lovable accessories of the chair. The armrests can be adjusted to fit your comfort on the go.
On top of that, this model also demonstrates a compact design with a useful foldable function. Of course, this feature ensures that storage and transportation of the chair are never going to a problem – the included shoulder carry bag takes you with it just about anywhere.
Pros:
High capacity
Durable
Extremely sturdy
Cons:
Verdict: King Kong oversized camping chair is the perfect staple for very big guys thanks to its heavy-duty make.
4.   Kijaro XXL Dual Lock Camping Chair
Kijaro XXL Dual Lock Camping Chair
This portable Dual Lock chair gives you a premium seating experience with no-sag seating, durable diamond ripstop polyester, and breathable mesh on seat back.
The Dual Lock chair is perfect to take with you whether you are tailgating, camping, or watching your favorite sports teams.
Includes: 2 cup holders, organizer with zip & mesh pockets, carry strap attached to chair, and carry bag.
Supports up to 400 pounds. 0.87inches steel tubing.
Locks open for extra stability/ Locks shut for easy transport.
Kijaro XXL Dual Lock Portable Oversized Chair is an amazingly huge folding chair that boasts a dual lock for locking the chair when folded or unfolded. In terms of capacity, the chair can accommodate persons as heavy as 400 lbs.
Kijaro XXL Dual Lock is both superbly built and sturdy. A secure steel-frame construction with strong diagonal bars is evidence of a robust form depicted in this chair.
It is incredibly stable and offers reliable support for the back. Even more, you get a durable polyester fabric on the seat and back, which also feels comfortable for extended stays on the chair.
The chair is also very breathable as the back features a mesh fabric in the center. Other accessories you get include two mesh cup holders for carrying your drink cups or bottles, there is an organizer pouch where you can keep your small effects such as phone or glasses.
It does come with a carry bag to complete its portability. Nevertheless, the chair also has a carry strap fitted on the frame so that once the chair packed, you simply throw it on the back.
Pros:
Dual lock system
Lightweight
Sturdy
Cons:
Verdict: This is probably the best among big and tall camping chairs as far as added security is concerned.
5.   Coleman Big-N-Tall Quad Camping Chair
Coleman Big-N-Tall Quad Camping Chair
Extra-large camping chair provides ample space for lounging.
Oversized seat and large feet offer exceptional stability.
Seat Drain system empties collected standing water from the seat.
CellPort water-resistant cell phone sleeve for storing electronic devices in wet conditions.
Steel frame supports up to 600 pounds and provides long-lasting use.
Department Name: Unisex-Adult.
The Coleman Big-N-Tall Quad Camping Chair is a sturdy, well-built, heavy-duty camping chair for a big man may come to appreciate. Coleman Big-N-Tall Quad chair is known for being a very stable chair courtesy of the well-spread out legs and an oversized seat that carries a weight limit of 600 lbs.
As usual, the frame is made from strong and long-lasting steel metal. With this build, you expect another bulky footprint but that's not it – this chair weighs just less than 10 lbs and it's a folding type.
In that regard, the chair is pretty quick to pack and easy to store for transport. Bet yet, the seat includes an added Seat Drain system that filters down water from it.
Also, the chair has a high back but lacks a headrest. Its armrests are adjustable with front bars for easy entry and exit on the chair.
In addition to these, there is a water-resistant cell pocket for storing your phone. It is made with a clear PVC case that allows you to still operate it even when stored away.
Pros:
Strong and sturdy
Large capacity
Lightweight
Cons:
Front bars uncomfortable on thighs with time
Verdict: for a perfect 600 lb. capacity folding chair, the Coleman Big-N-Tall Quad Camping is going to give you a good run for your money.
Considerations when Buying the Best Big and Tall Camping Chairs
As a tall and big fellow, it might take you some time to get a suitable chair that fits your bill. It is a matter of digging deep into your research.
To avoid the chances of poor purchases, the guide below is set to help you in your decision making. These are features you should be looking out for.
Strong Frame
The frame is arguably the most important part in these chairs. Given your size, you cannot afford to settle for low-quality frames.
The frame should be industry-standard and robust. In most cases, steel metal is used for frames because this metal is not only strong but also long-lasting.
Otherwise, consider a solid hardwood for this component. You want the chair to remain intact even with the highest of pressure.
Weight Limit
This cannot be emphasized the more. If the camping chair falls short on your weight, you are already risking by even trying to shop for it.
You want to consider an extra-large camping chair with a higher weight capacity. Remember it is better big than exact or less.
Sitting Space
The dimensions of your chair have to be bigger across all parts; seat, back, legs, etc. This opens up the chair to a wider space in which the big person sits comfortably without feeling clutched.
The rule of thumb is that both getting in and out of the camping chair should be easy.
Weight and Folding Design
This refers to the weight of the chair – I already mentioned about weight capacity. This feature affects the portability of the chair and your comfort.
Make sure the chair comes with minimum weight for you to carry around. Anyway, even heavy-duty chairs for big guys don't seem to be that super-heavy.
In Conclusion
Camping for big men and women may have been disastrous the past holiday. Not this time around though.
With these options featured on this guide, your search has never been easier. Actually, the big and tall camping chairs discussed above are awesome options for most plus-size campers.

Alex Mwangi is the creator of Outdoor Right and an outdoor enthusiast. During his free time he enjoys riding his road bike or traveling the world looking for his next adventure.