As you look forward to actualizing your dream hobby – biking, there are two key things you must know. First, you need an easy-to-ride bicycle and secondly, it doesn't have to blow your purse dry. Luckily, this Vilano road bikes review will answer both questions.

Few brands seem to match the two requirements and Vilano is one of them.
Vilano bikes are some of the best in the industry for beginners and novices.
They are mostly constructed with lightweight footprints. All thanks to the lightweight aluminum or carbon frames that connect the rest of the components in place.
Although some components on Vilano road bikes are cheap quality, they can easily be replaced. And you will have a full-strength, long-lasting bike with you.
If you are interested to know about Vilano road bikes, stay tuned for this Vilano road bikes review to the end. You will definitely know whether these bikes are worth your bucks or not.
In a hurry? Below are the hottest Vilano road bikes on the market today.
Vilano Road Bikes Review: 4 Hot Vilano Road Bikes
Who are the Vilano Road Bikes For?
If you are a newbie and you wish to start commuting on a bike, Vilano road bikes are perfect options. You won't have to strain with lots of weight.
The bikes are user-friendly. This is due to their lightweight nature owing to aluminum frame construction.
Moreover, Vilano sells its products very affordably. That's why you can buy the bikes at fairly low prices and still get a machine with a lot of value. So, these bikes are a great catch for budget buyers.
4 Best Vilano Road Bikes Reviews.
If you want an extremely lightweight bike to commute, this Vilano Aluminum road bike may serve the purpose well. The bike is 26 pounds and therefore handling it is going to easy-peasy.
The bike's white color shade is appealing to both male and female riders. It is a unisex model anyone can ride and its aesthetic look makes it a solid match for the urban environments.
It is also a speedy bicycle given it features a 21-gear set speed drivetrain. These gears are efficiently shifted by the handlebar-mounted shifters.
As an urban rider, you also want to be on speed. 21 gears are going to be a bang for your money as far as speed is concerned.
Other components very important on this bike are the wheelset and brakes. Vilano road bikes integrate the use of CNC alloy wheels which have issues with durability. So you will need to consider changing them.
The same aspect applies to brakes. They are alloy caliper brakes which usually feature pads. You might notice these pads wearing out fast hence replacements.
From the look of things, the saddle seems to offer good comfort for the urban ride. The seat post is alloy-made, strong, and stable.
Pros:
Extremely lightweight
Great gears and shifters
Cons:
Low-quality wheels
Brake pads require regular replacement
Overall, this bike is a suitable pick for first learners. This owes to the extremely lightweight footprint that makes it quite a breeze to handle.
If you really want a hybrid bike that tackles anything from the paved roads to sub-difficult terrains of the countryside, Vilano Diverse 3.0 is the quick pick.
The bike is going to introduce you to the versatile life of biking. Just with the same bike – so that you don't spend on another one – you should explore the busy urban environments and a bit complex ones in the outskirts.
Its frame comes in two dimensions: you have 53 cm and 57 cm. So, whether you are 5 feet 5 inches or 6 feet 4 inches tall, your size is well covered under this bike model.
As it's a commonplace tradition for Vilano products, this bike too comes with a lightweight aluminum frame. You also get Shimano EF 51 3/8 Speed shifters that play a handy role in controlling the 24 gear-speeds of the bike.
The bike also comes with easy control features. The handlebars are well-positioned with brake levers in perfect reach.
Diverse 3.0 outscores other bikes in the braking department. The brakes featured on the bike are disc types which means they are more efficient, powerful, and durable.
You get standard Vilano rims with sturdy and warp-resistant characteristics. While Kenda tires are kind of thin and therefore a bit unsuitable for difficult terrain.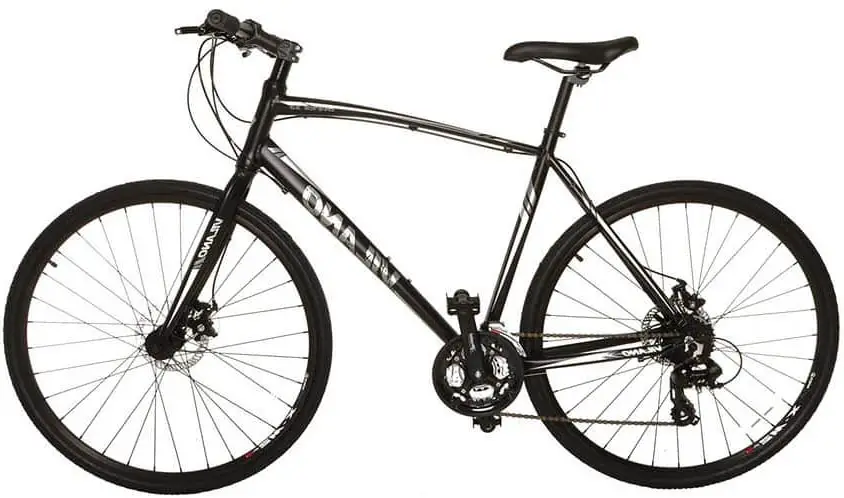 Pros:
Comfortable riding position
Very lightweight
High-quality disc brakes
Cons:
Poor clearance due to the arching top tube
Overall, the bike is your perfect choice for both speed and durability.
Now here is another Vilano road bike for commuting. The Vilano R Commuter.
This bike comes on a strong and lightweight 6061 double-butted aluminum frame. As usual, you will get to love the durability of aluminum frames.
Then its speed. It has a 21-speed drivetrain and dedicated shifters. This system makes the bicycle an efficient speedster.
But you won't have to risk top speeds without good brakes. So, you will definitely need to keep monitoring and changing the pads on the alloy brakes that this model has.
The double-layered CNC wheelset and tires are both 700c. Don't rely too much on these wheels especially for the heavyweights – they don't just hold for many moments.
The saddle included on the bike is not perfect but quite comfortable for the short run. If you are planning to go the distance, swapping the saddle is the best way to go.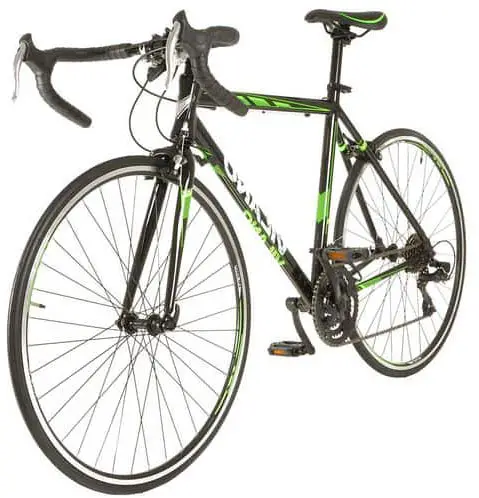 Pros:
Offers great speeds
Efficient gear shifters
Cons:
Alloy brakes not the best
Doesn't have tools, rear rack, nor kickstand
Overall, it is a great bike with good smooth components for cycling starters.
Vilano Shadow Road Bike comes as a respectable model that offers top-quality components. Fast forward, the frame is cut from double-butted aluminum and it takes an upright incline to increase your comfort on it.
The frame is lightweight, even more, puts in long-lasting performance. Since it will be used on the road, this bike is poised to serve you in the foreseeable future.
The bike also offers better control. Combined with the efficient Shimano STI integrated shifters that get gears running from 1-14, you can go the distance on this bike.
There is also an integrated brake lever to operate caliper brakes on this bike. Don't worry about the caliper brakes, they are safe and fit for use on this kind of bikes. If they get used up, it can be a bit rough for your stopping – but you can as well replace the pads by getting newer ones.
As for the wheels, concerns have been reported. The wheels used on this bike are 700c Double Walled CNC Alloy. This type of wheels is thought to last short term and is not the best for bigger individuals as they warp quite easily.
However, the good news is that they are replaceable. So, find better wheels and replace them.
The saddle is quite small. And this means with a big butt, going long distances might be a big massive test thanks to discomfort.
You will feel better by, again, substituting it. The only let down here is that all these replacements raise your expenses.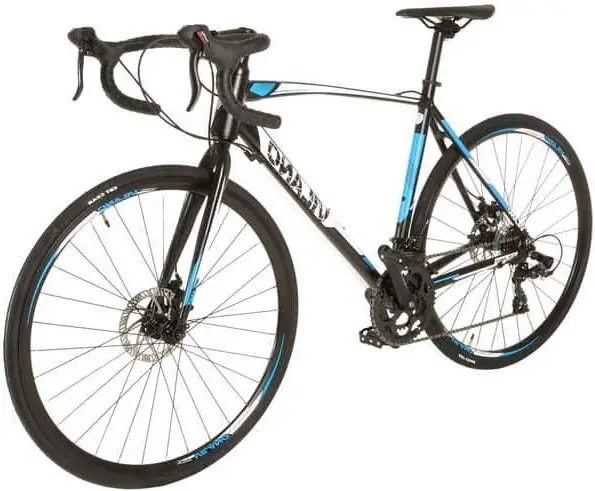 Pros:
Offers better control
It comes with efficient shifters
Cons:
Several replacements shoot up your expenses
Poor quality wheels
Overall, this is one of the Vilano bikes that offer great value for your bucks.
Related Post: Best Vilano Bicycles
Buying Advice for the Best Vilano Road Bikes.
When shopping for the best Vilano road bikes, review and scrutinize the features before making a decision.
There's a wide range of road bikes from Vilano so you want to have a thoughtful buying process.
Here are the things that you need to look for:
Be sure to check the saddle, pedals, handlebars, and other comfort features. Sometimes, you get some narrow saddles that pinch butts. This can only hurt you so avoid them.
If possible, you have the right to replace these parts for comfort's sake. Lightweight bikes will make it easy for your ride since they are more maneuverable.

I wouldn't guide you to settle for less here. There is nothing that beats mechanical disk brakes.
These are the brakes you will be looking for in a road bike. They are not only strong and solid but also deliver powerful stops.
Alloy caliper brakes, however, are common with Vilano road bikes. If you go with these, then be sure to replace pads more frequently.
In Conclusion
Hopefully, this Vilano road bike review above helps you to acquire the best bike for a commute. Vilano road bikes will be awesome for cycling beginners.
These bikes are conspicuously inexpensive. You can have your bike of choice from as low as $200-$500. But the low price tag has little to do with the quality of components.
These bikes are also characterized with super-lightweight frames. Hence, you can use them comfortably and easily with fewer maneuverability problems.
Impressed with this post? Sharing is Caring!