The Razor Power Rider 360 electric tricycle is one top spinner that kids love thanks to the fun-filled rides it offers. The tricycle combines easiness of use and safety to give your child deserved fun on three wheels.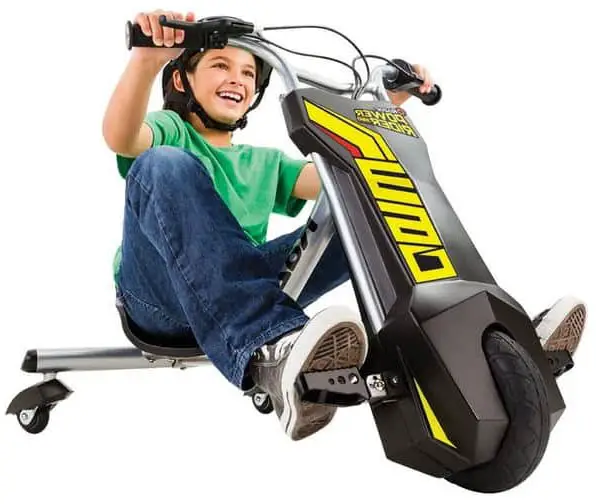 The toy trike is easy to assemble – and being electric, it holds decent charge to sustain enough ride time for younger ones.
That said, there's no doubt that it packs plenty of good features including no pedaling function, spins, and speeds up to 9mph.
But the big question is whether it could be a good fit for your kid or not. If you are split on this, check out the details in this guide that reviews the tricycle piece by piece.
Key Features and Specs
Up to 9 mph speed
Push Button Throttle
Hand operated front brake
Welded steel frame and fork
MX style double crown design
High-torque chain-driven motor
Hi-impact pneumatic wheel
Dual inclined caster wheels
Folding foot pegs
12V sealed lead acid rechargeable battery
360-degree spins
Features of the Razor Power Rider 360 Electric Tricycle
The frame featured on this tricycle is molded from high-quality welded stainless steel. This is an indication that the Power Rider 360 is prepared to outlast the abuse that comes in its way.
Not only is this frame durable but it's also strong and stable. It can support up to a maximum of 120 pounds. What this means is that whether your kid is 8 or 12 years, the trike is up to the task.
Plus, the tricycle also offers a moto-style twin crown fork design. The fork is sold and holds well the hi-impact pneumatic front wheel.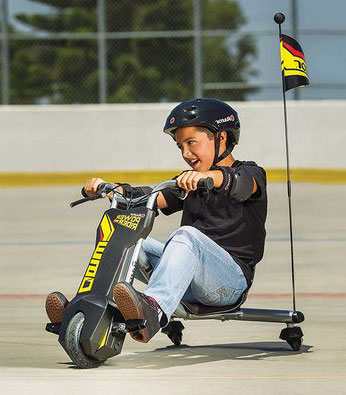 Given it's a kid's trike, don't expect extreme speeds. That's the reason it comes with just up to 9 mph or 13Km/h of speed.
This is still a bit fast, especially for younger kids. But for much older ones, it's fun riding a little bit faster. And, it's vital that they can control the trike really well.
Better yet, the kids can make 360 spins without serious repercussions even if they tipped over. So, it's a very kid-friendly trike to have for your children.
The better part about riding on this bike is that there is no pedaling. Just place your feet on the pedals and off you go.
Since this is an electric trike, it uses a battery power. Once the battery charge is finished, you recharge your razor tricycle.
The trike also provides about 30 minutes of continuous runtime on a fully-charged battery. Some users have reported even less battery runtime. Low runtime is one specific area that can be improved for a better riding experience.
To recharge the battery, just plug in the charger and leave it for 12 hours. You can definitely do the charging overnight so the kids can have it during daytime.
Power Rider 360 uses a 12V sealed lead acid rechargeable battery.
Related Post: Bike Size Chart For Kids.
The trike also offers a three-wheel system that features a hi-impact pneumatic front wheel, and two solid back wheels. All wheels are stable and easy rolling over surfaces especially if you are lighter.
While these wheels roll effortlessly on concrete surfaces, the vehicle may move slowly with more weight on it. That means heavier individuals will not help its speed course.
Even more, the rider will experience fewer bumps or no bumps at all. And this is perfect for your comfort while riding. The dual rear wheels also become extremely vital for fun drifting and 360s.
On the other hand, it boasts one of the most efficient brake system. There is a hand-powered front brake which is a breeze to handle.
The brake has a powerful stopping power on contact. Thus, it is reliable and safe for any kid riding on the tricycle.
360 Spinning and Drifting
The Razor Power Rider 360 comes with some of the most thrilling 360 spins and drifting actions.
While it offers this exhilarating thrill, you must watch over the kids to ensure they are not ending up toppling over and hurting.
Spinning and drifting are the most exciting part of the Razor power rider 360. If your kid gets used to these little tricks, they will definitely keep doing it over and again.
Furthermore, the trike is offered with a simple 1 push button throttle. This makes it absolutely easy for kids to adapt using the button to start off and stop when they want to.
With the 9mph recommended maximum speed, kids don't have any other speed options to adjust their vehicle to. Because of this simple push button, most kids regardless their age find it easy and comfortable to get going.
Pros:
The trike features a strong solid welded steel frame that's both durable and just the right fit for kids 8-13 years old.
It can support a considerable load of weight. To be specific, Razor 360 electric carries weight up to a maximum of 120 lbs.
However, it can even accommodate more than this weight as it's reported by many users.
The tricycle offers exhilarating 360 spins and thrills. Not many trikes within this price range do offer such incredible fun features.
It comes with very sharp instant brake which is hand-operated. Thus, it is reliable for instant stopping even if your child was speeding.
Highly functional and easy to move wheels. The front wheel is hi-impact pneumatic to hold the front of the trike just fine and it's designed to provide immense strength.
You don't need to worry about the safety of your kid as the trike doesn't feature very high speeds. In fact, the fastest it can go is 9mph.
Comfortable seat plus, grips are also fitted with rubber.
The trike also offers simple operation. Coming on with a one push button throttle, there is nothing to confuse the younger as far as controlling the toy can go.
Wheels are solid and roll very easily
Also Read: Best Bicycle For 10 Year Old Boy
Cons
There is plenty of cheap plastic used on many parts of the trike. As such, you shouldn't expect it to last longer.
Recharging the battery takes a lot of time. For a full charge, it requires you to charge for 12 hours. The most concerning thing is, however, that this would take a paltry 20-30 minutes of running before it goes off.
Verdict
The Razor 360 power rider is generally a decent trike. It provides an incredible overall functionality and performance.
Notably, it can be used by both younger children and older ones weighing up to 120 pounds or even more. It is designed with decent speeds and simple one push button throttle for efficient operation.
The trike also sells at a fair price compared to others within the same niche. Yet, it carries with it the most exciting form of fun in turns, spins, and drifts.
Overall, the Razor Power Rider 360 will keep your kids active all day. It's solid, reliable, and meant to carry around both beginners and intermediates to experienced riders.
Nevertheless, you can train your kid effortlessly using this trike on how to control a real bike or trike. After they have well-trained, you'll thank yourself later for their remarkable progression in the real biking adventures.
Liked this Review? Share it on Pinterest!
Recent Posts