In this Diamondback Cobra 24 review, you're are going to learn whether this bike is your kid's perfect go-for machine or not.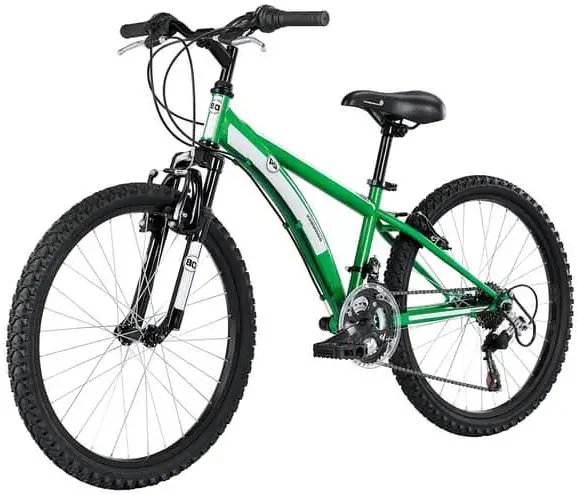 Diamondback Cobra 24 has been around for quite a long time. The bike is already an established choice among many riders thanks to its high-quality features that qualify it for every single penny.
In a nutshell, it comes with 24-inch wheels, a 21-speed gear setup, excellent suspension, and a solid steel frame that depicts great durability.
It is a bike that been reported to give your kiddo the perfect riding experience while keeping safe.
Do you want to buy the bike for your kids? Then in this detailed review, I'll help you discover everything about this bike.
Who Is This Bike For?
Cobra 24 is a perfect outfit for your 9-12-year old boys. Basically, it's oriented toward helping the young riders start gaining the experience of biking at an early age.
It will help out your kid to start learning the tricks of navigating the tricky countryside trails. Therefore, it is a perfect bike for transitioning from toy bikes into mature bicycles.
The bike size is 24" which is the perfect size for young riders in the mentioned age range. Although it is important to check if the size fits your kid before making a purchase.
Features of Diamondback Cobra 24 Bike.
Now, let's dive into the gist of the features provided by the bike.
1. Frame and Fork
The frame and fork of this Diamondback Cobra 24 Mountain Bike depict great strength and durability.
The frame is made of high-tensile steel which is strong and sturdy while it outlasts the test of time.
This means that it doesn't matter the nature of the terrain, this rugged frame is capable of withstanding various difficult terrains without a fuss.
As for the fork set up, you have a reliable suspension system. The 40mm travel fork outruns the bumps and obstacles of dirt trails thanks to its great shock-absorbing qualities.
Your kiddo will ride safely and won't get tired of the ride because this suspension system and the frame form a robust outfit.
2. Wheelset
Another important component of the bike is the wheelset size. Poor wheels would give you a rough-riding experience, to be honest.
Your younger one was probably used to riding on paved paths without major collisions. However, mountain biking is going to be a bit rough and tough, and having better wheels or tires would be really beneficial.
The bike has 24-inch wheels. The wheels are capable of handling a variety of conditions with ease giving your kid the best experience of biking.
This means that your kid could transition from riding on easy pavements to the challenging trails with a few problems. Furthermore, the 24-inch tires are smooth-rolling and navigate the hard trail effortlessly.
3. The Saddle
When riding on challenging paths with obstacles and collisions, a great saddle is super-important for your overall riding comfort. The younger ones may never see the bigger picture of a comfortable seat.
They could even sacrifice as long as they got their favorite bike. But let's face it: a bad saddle can hurt even if they don't say it aloud.
Thankfully, at least for parents, the Diamondback Cobra 24-inch bike offers a reliable saddle. It is adequately padded for comfort during the ride.
Better yet, this seat is neither wide nor narrow, taking butts of your kid with kindness.
Into the mix, you also have an adjustable seat post/pole. It allows you to alter the position or angle of the seat height. And your kiddo will fit on the bicycle without strain.
4. Braking System
There is no doubt that brakes on any bike should be reliable all the time. For a kid's bike, brakes get even more important.
For safety reasons, an effective braking system cannot be understated. That's why in this Diamondback Cobra 24 review, you quickly learn that the bike's brakes are powerful and therefore, enhance the safety of your younger ones even when you are not keeping an eye on them.
The brakes used in this bike are linear-pull brakes. Although these brakes are nothing for an adult biker, they are still efficient for young riders. They will pull an instant powerful stop to your moving bike.
With these brakes in place, it doesn't matter the terrain you are rolling on. They are reliable and effective and would boost your kid's confidence on the bike.
5. Gear System
Most kids bikes initially used to have just a single-speed gear setup and nothing more. That would mean kids were limited to riding on easy surfaces such as pavements and the likes.
That has changed though. That's why this bike comes with a wide speed range. It has multiple gear gears thanks to the Shimano 21-speed drivetrain.
Your kid will be able to ride the distance, uphill, and downhill mountainous terrains. And through tricky, narrow trails.
With the 21 gears, your kid can switch from one gear to another to maintain riding speed according to the terrain. These gears transition effortlessly for easy control of the bike.
So with this gear system, it doesn't matter the nature of the terrain. Multiple speed settings deliver the much-needed torque to outlast the harsh conditions without sacrificing your legs.
6. Riding Comfortability
The Diamondback kids bike is quite comfortable to ride on. And this is very important for your kid's success in using it.
For a great riding experience, there is no doubt that all components on this bike should interact superbly. Luckily, most features are crafted towards making kids as comfortable as they can possibly become.
For instance, the pedals are non-slippery. They are plastic and flat. At the same time, the handlebars are well-formed with nice grips.
The saddle is well-padded to prevent hurting your butts. The suspension system ensures that your ride is smooth and safe, even on bumpy trails.
Related:Best Bike For 11 Year Old Boy.
Pros of the Diamondback Cobra 24 Bike.
This Diamondback Cobra 24 boys mountain bike comes with lots of benefits that distinguish from the rest of the park.
Find out if the bike is truly what your kid is going to need to transition into the world of mountain biking.
It Comes With Multiple Gear Speeds
This bike has 21-gears which offer a wide range of speeds. Young kids love fun and this is definitely the perfect way to do it.
Better yet, transitioning from one speed to a higher one is easy and precise. You can blast the track with friends thanks to the many speeds.
One of the most important parts of a bike is the frame. On this bike, you have got a high-tensile steel frame that's sturdy and can stand the test of time.
Tough wheels for the hard trail: the bike also features 24" tires that can roll well in the mountainsides. They are stable and move over obstacles with ease.
The linear-pull brakes are reliable and effective for powerful stopping power.
Whether your kid is 53 inches tall or 62 inches tall, this bike is designed for that bracket of height. The kid age ranges between 9-12 years.
The bikes utilize high-quality Shimano drivetrain. Shimano components are not only powerful but also last long.
Cons of the Diamondback Cobra 24 Bike.
No quick-release front wheel.
Difficult to assemble
Not a durable bike
No kickstand for supporting the bike
The Final Verdict
As you have seen in this Diamondback Cobra 24 review, this bike packs a punch. It is a bike for kids that comes with comfort features.
From a stable, durable steel frame to multi-speed gears and reliable brakes, this bike is probably the next thing you should be buying for your adventurous boy the next time he asks for a birthday present.
Liked this Review? Share it on Pinterest!
Recent Posts