Commuting on a bike to college is fast becoming a lifestyle among students. The best bike for college students is a good way of keeping your shape in check.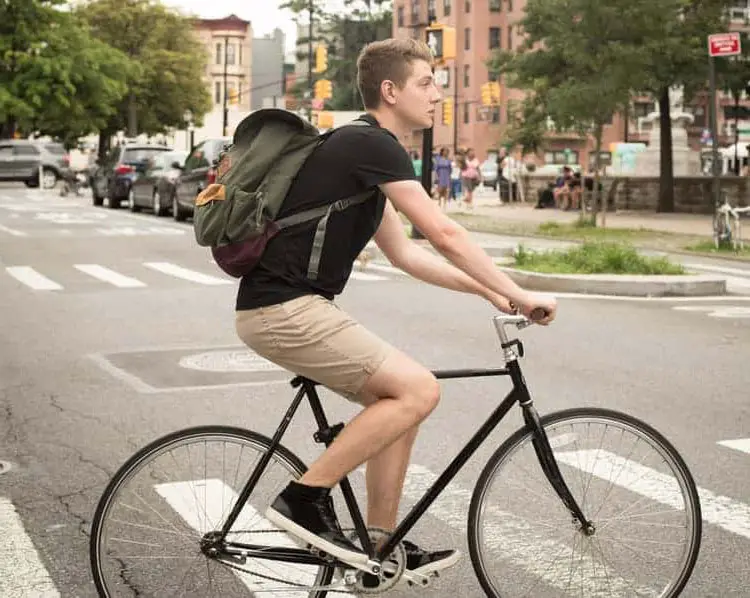 Not only that, but you also get to have fun and cut down the cost of transportation. Students using bikes to go to school enjoy many benefits but it may not be very easy to notice this.
As we all know, most of the times students are cash-strapped. Which means it's not easy to get the top-quality models they may desire.
However, there are great budget to buy bikes in the market that I am going to list some of them in this article later on. These bikes come with great features including high-quality frames that are durable, a luggage holder to carry stuff to school and fenders, and comfortable handlebars for ease of control.
What is the Best Bike for College Students.
Schwinn Discover Hybrid Bicycle is one of the best bicycles for college students to consider. Coming with a fair price tag, it's the type of bike for students having a low budget.
It's the exact bike that combines the much-needed features to give students the comfort they want. The bike is a classic design and has a desirable color mix with white and black making up the entire structure.
With wider tires, there is extra stability for safe and convenient riding. While the fenders have been incorporated to ensure that dirt and mud don't splash on the rider.
Schwinn Hybrid Bike forks are strong and effective. This helps in absorbing shocks while you are riding – at least it's inevitable to encounter potholes and bumps on roads and you don't want to let the pain get the better part of you.
The bike features a speed capability of 21 which makes it a swifter of climbing up the hill and steep slopes with comfort. The bike also has a durable aluminum frame that lasts long and the Promax alloy brakes are a great addition to its effectiveness.
To that end, if you get this bike, you will be definitely guaranteed of the following:
Padded saddle for a comfortable ride
The lightweight aluminum frame is great for convenience
Pedaling up the hill or slope is fairly easy
Very affordable bike
The color design is impressive and can match with any clothes you wear
The quality of this bike, as adjudged by the current and previous users on Amazon is pretty above average. Which means that while it's not the heck of deals, it is just the version a student would thank heavens for.
Benefits of Using the Best Bike for College.
The cheapest mode of transportation is provided by a bicycle. And if you want to save well from the limited funds you are given for your stay in college, finding a good college bicycle is all you want.
The bike would also provide you with flexibility during transportation. You don't want to wait for heavy traffic on the roads to clear.
While in school, no need for parking space. Those coming cool cars to schools may love the swagger but on the other hand, there's not a term, flexibility, in their vocabulary.
Bikes are convenient and you could even ride from one lecture room to the other if the university campus is enormous. This saves your time and a lot of energy.
It's important to mention the importance of workout programs. For college students, a commuter bike is a perfect opportunity for keeping your fitness aspirations up to the standard without setting apart time for special sessions.
And without forgetting, riding is fun and it's adventurous. You can have great moments with similar-minded friends.
Different Types of Bikes for College Students.
Most of these bikes are cheap bikes under $200 and will suitably fit within your budget.
1. Mountain Bike For College
If you love style and function rolled into one block, then a mountain bike is something you are supposed to consider buying. Mountain college bikes are characterized mainly by the thick tires 26" or 29" wide.
Although you may not be regularly using dirt roads, these bikes will still cruise perfectly on the tarmac. The handlebars are flat and the frames are rugged and strong to withstand the pressure of bad or harsh landscape.
Riding to school is not a hardcore task for mountain bikes. Therefore, looking for a lower-end recreational version is what you need in such situations.
This Schwinn High Timber Mountain Bike does not only come in different fashionable colors but also it offers 21 speeds. Brakes are everything on a bike and the front and rear pull brakes on this model provide ultimate security while stopping.
2. Hybrid/Comfort Bike
Hybrid bikes share the same features as comfort bikes. The only difference comes in the wheel size – hybrids have larger thinner wheels compared to the smaller, wider wheels of the comfort bikes.
Hybrid bikes can be ridden with comfort on smooth dirt, trails, and even cycling trips. The low-placed handlebars position the rider in an upright position while riding.
Schwinn Capital 700c Hybrid Bicycle is a great choice for a woman looking to consolidate her fitness efforts in fashion. I like it for being a multipurpose bike that can be used for riding in the bustling city or in events in the countryside.
The bike is also durable, lightweight and has 21 speeds to its ride.
3. Commuting Bike
For college students looking for the real deal to use for general movements to the college, a commuting bike is a perfect version you want. It's featured with useful accessories such as lights, rear racks, bags, locks, and fenders.
This Retrospec Harper Single-Speed Fixed Gear Urban Commuter Bike is a great deal for commuting. Besides the great pricing, the bike is applied with Promax brakes which provide safety for the riders.
The bike has Kenda city tires which don't puncture easily. These lead to optimized smooth riding.
4. BMX/Trick Bike
BMX or the Bicycle Motor Cross is a single-speed bicycle with a 20" wheel. The trick bikes are best known for being strong, tough and durable.
Check out this New 2017 Diamondback Grind Complete Youth Bike, a one-size bike that is crafted with a steel frame and fork for durability. The drivetrain is very simple and light which enhances the handling of the bike.
5. Cyclocross Bike
This bicycle has features such as drop handlebars and wide knobby tires. These are meant to provide comfort and stability respectively.
If you Cyclocross enthusiast, then besides using your bike to commute to school, you can also go for the Cyclocross events and rack the up the fun that this bicycle type can offer.
A good model to try off with is this Takara Kabuto Single Speed Road Bike. Very affordable and therefore great for a budget buy and also, it comes with a durable steel frame.
6. Adult Trike
This is your choice if you have problems balancing on a two-wheeled bike. Trikes come with three wheels.
Otherwise, unless you are just looking for fun with this type of cycle, other people can ride the types mentioned above.
Schwinn Meridian Adult Tricycle is strong and durable and super easy to ride. You will also like its swift and safe braking system.
Things to Look for in the Best Bike for College Students.
The market for bikes is no doubt presented with several different models. But as a keen buyer, you want to ensure that you look for the best bike for college students.
Remember, it's vital to have a bike that provides comfort while fitting the budget you have.
1. Bicycle Type
You have just seen the different types of bikes available on the market. Therefore, depending on which activities you will be engaging on, choose the appropriate type.
This means that examining your lifestyle and then finding a style that befits it is vital. Mountain bikes are generally known to be great on both tarmac and trail roads.
Comfort bikes and hybrid bikes come with excellent convenient features needed for unforgettable riding experiences.
2. Bike Frame
You need to check for the material used to craft a frame because this determines whether your bike is going to last for long or not. Most often, aluminum frames are the favorite for many riders.
The reasons for this include lightweight, durable, stylish, and don't easily rust. This positions aluminum frames highest on the ranks.
But we also have steel frames. Which have excellent qualities such as style, affordable, durable, easy to maintain – however, they are thought to corrode easily.
Carbon frames are the best. The problem may be the price attached to them. \
Still, on frames, size and style are of great importance. Find a bike that comfortably matches your torso and the length of your legs – you don't want to strain.
Ensure that you adjust the frame size if it happens that it's too big for your body.
3. Handlebars
Talking about handlebars, it's all about being comfortable on your bike. And this feature comes in different styles.
But the general consensus is; the higher they rise above the seat, the more comfortable it gets for the rider. If you don't have a problem with pedaling, there should never be any problems.
Consider the following types of handlebars: drop bar for road bikes, mustache bar for road and hybrid bikes. The flat bars are common with mountain and hybrids while rise bar is characteristic of mountain bikes.
4. Luggage Holder
A luggage holder is essence on a bike for college commuting. A backpack is great but the extra stuff can find ample space inside the luggage holder.
So, any items that can be directly strapped to the rack without a cover won't become stressful for you anymore.
5. Fenders
While these are not key pain points, having a bicycle with fenders is a great way to enjoy your comfort in the sunshine and rain seasons. Fenders block off dirt and debris including water from flying off to you when you are riding.
if the bike doesn't have fenders you may buy your own and fix them on.
6. Price
Look for cheaper options to stay on the safer side of the budget. If you have enough extra cash to splash, that's still okay too but I bet you'd prefer the former recommendation – go for affordable options as there are best cheap bikes out there.
In Conclusion
The best bike for college students needs to be durable for regular riding, affordable to fit the budget and be fashionable for purposes of fun. As a student, these factors should mean a lot when shopping for a bike.
A good bike should save you the unnecessary costs of commuting to and from college.
However, before jumping on your bike, make sure that it has been assembled by a skilled mechanic to avoid accidents during rides.
Explore some of the options indicated in this guide and I guess you will find something special for yourself.
Liked this Post? Share it on Pinterest!
Recent Content