Cyclists know that a bike in top form is everything they need for a truly exhilarated riding experience. But they would tell you that a great bike isn't just about buying the expensive model.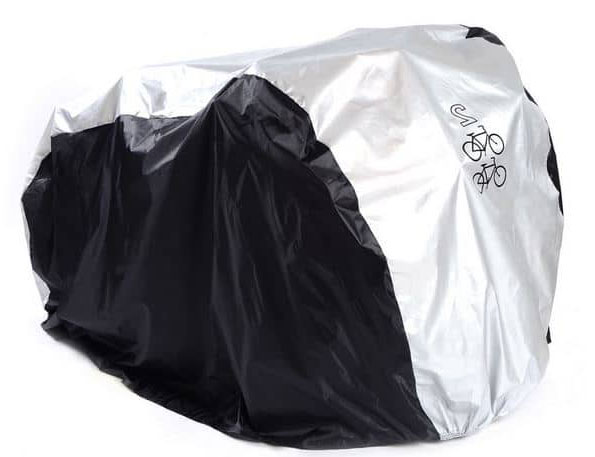 A true rider will tell you that maintaining your bike is the core. And protection against the elements of weather such as rain or snow is to be a necessary practice.
That's why in this article, it will be all about choosing the best bicycle cover. The cover ensures that even if you don't have the space to store your bike inside, you'll be able to have it enclosed and somehow protected outdoors.
A protective cover ensures that your bike lasts longer. Given that your bike is going to stay outside for most or even all times, getting a high-quality cover is an essence.
The cover should be waterproof to resist rainwater from percolating down the components of the bike. It also protects the bike from sun damage which would deflate or burst the tires of a bicycle.
Here is Why You Shouldn't Leave Your Bicycle Outside Uncovered
I have seen guys who have left their bikes in the outside to rust – good, top-rated bikes. So what happens is that the metallic components on it rust, weaken and easily begin breaking down.
All this can happen because of the prevailing conditions; winter elements such as high humidity, heavy snow or rainfall.
You don't need to have the bike outside for a month to start seeing the parts corrode. Just give it a few days to a week and you will begin seeing symptoms.
For example, without a bike cover, rusting would commence on the chain in wet conditions. You will also see plastic and rubber parts on the bike begin breaking down, in the hot sun.
If you are a color enthusiast, sorry, your bike color starts fading. The plastic becomes brittle such that when you accidentally knock against it, it breaks.
Bolts corrode and get stuck, the bearings also seize and break down. Your cables may start rusting and this is bad for your brakes.
The period it takes your bike to degrade is determined by whether it's in direct exposure to elements of weather or not.
Disclaimer: in areas where the weather conditions are near perfect, the components of your bike may take a while to corrode. It could take about 3 – 4 months before the first signs of rusting begin showing up.
So whatsoever the conditions you are in, your bike needs a cover. Because even in the great weather, after some time, the bike would still rust.
Different Types of Bike Covers
1. Best Bicycle Cover for Mountain and Road Bikes
Here, I want to recommend the Ohuhu bike cover. This bicycle cover is waterproof and one of the best sellers on the market.
Get This From Amazon!
The cover is specifically designed for mountain and road bikes. It comes as a durable 210T nylon that is ready to stand the worst of the weather.
Whether you are looking to protect against heavy winds or extreme sunlight or heavy rains and snow, Ohuhu bike cover has been stitched for the task. Your bike's rubber and plastic parts are protected perfectly because the cover is UV-proof 40+.
The size of this cover is just what you need for your bike. At 78.7×43.3×27.5 inch, larger 29" bicycles can be housed under this shelter conveniently.
But again, this doesn't mean that storage is going to be hard. The cover can be compacted into an alarming weight of 70g or .7 pounds.
Last but not least, this cover is affordable and yet it does wonders. Just check its ratings on Amazon – it's simply one of the best.
This bike is suitable for just one bike.
2. Best Bicycle Cover for Two Bikes
The honorable mention here is the YardStash Bike Cover. It totals an extra-large size of 82 inches x 30 inches x 44 inches) that can comfortably shelter two bikes without any problems.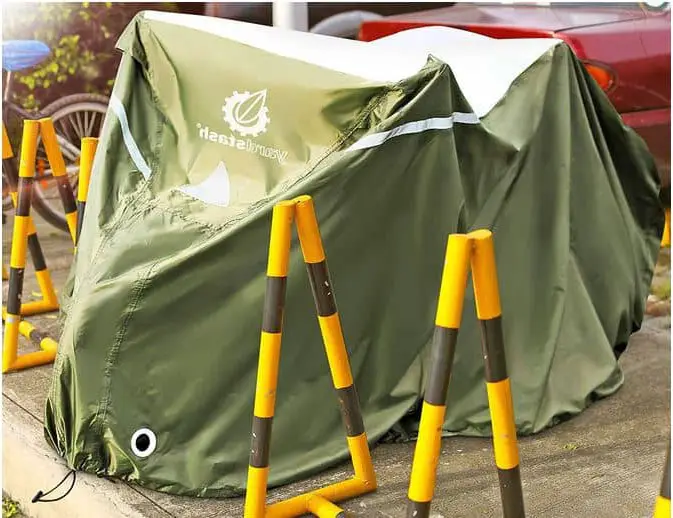 Whether you have a large beach bike or another heavy-duty bike, YardStash bike cover is not a gamble at all. It will protect your bike completely right from the top to the wheels and to the pedals offering ground coverage.
This bicycle cover comes with a special design that's wide tapered. So that you can keep a wide range of bikes under it from adult bikes to mountain bikes to electric bikes etc.
The cover is made using top-quality materials. It is heat resistant, the polyester material is UV-protected, more durable and stronger.
The fact that it's waterproof and elasticized on its front and back hems and that it comes with a middle clasp buckle makes it becomes the real deal in the heavy rains and winds.
It has a carry bag just like the Ohuhu bike cover above. And it has air vents on the front to help eliminate corrosion and condensation.
3. Best Bicycle Cover for Outdoors
Well, the overall pick Pro bike cover features a truly strong and durable Oxford fabric material. The best part is that the cover comes as a double stitched and it has a heat-sealed seam which makes it highly durable and resistant to tearing and ripping.
This cover ensures that your bike is protected from ice, snow, wind, rain, dirt or sun. The material that's used to produce it is waterproof and anti-UV with PU coating.
For additional security, the front lock-hole design and the adjustable buckle strap is handy in the windy conditions. The Pro Bike cover is not your cheap companion but trust me it's one undeniably one of the best.
Explore the three different sizes it comes with – normal, large and extra-large (which is great for two bikes).
4. Best Heavy Duty Bicycle Cover
This is Savfy 180T bike cover which is waterproof and heavy-duty and therefore ideal for mountain bikes and road bikes. The tough nylon (180T) is also dense and durable.
It's big in size, large enough to cover two bikes at ago. And with waterproof qualities embedded in the structure, you can be sure that your expensive bike is well shielded from UV, rain, scratches, and dust.
On top of that, Savfy is one of the best waterproof bike covers with a strap and buckle at the bottom. As you know these accessories come in handy when the weather is windy and blowing away stuff.
It also comes with a nice little bag for its storage. While it lightweight and therefore you can travel with it.
Things to Consider When Buying the Best Bike Cover
Size
Check for the size; the length, width and height dimensions. Getting the right size means that your bike will be protected well from the degrading agents of weather.
A large-sized shelter ensures that the entire bike is covered. That's from top to the ground coverage.
Material
You also want to consider the quality of the material used to make the cover. We've already seen that waterproof materials are best in wet conditions of winter.
However, quality also integrates things like the stitching and anti-UV properties. The UPF rating would tell whether the material is a great blocker of UV rays or not.
The material should also be thick enough to last over a long time. You should look for covers made of Denier – great for durability and strength.
Color
While color may not make any significant difference in the effectiveness of the cover, some people would still say black color absorbs and retains a lot of heat.
But the thing is just to choose what is best for you. Although other colors apart from black usually give out that shouting impression.
Avoid covers with manufacturer's logos. But if this is inevitable, simply make the side without the logo to face on the outside.
As key advice, although it has a small limitation (heat), black is discreet and blends in better without creating scenes.
Price
You should also consider how much you are willing to spend. But as a piece of advice, always make sure that quality is on the front.
Most of the times, cheap bike covers usually below $20 may not be equal to the task. They may have issues with durability and weak features.
Therefore, strive for a cover above $30. You will get the quality you are looking for.
Warranty
Look for bike covers with great warranties. Manufacturers with quality products tend to provide good warranties of many years on their products.
This is because they believe in them. Basically, a 2-year warranty is meant to do you good.
You can also consider a lifetime warranty to be safe and guaranteed that the cover is not going to break down after a couple of months only.
Final Verdict
Getting the right bicycle cover needs a bit of your effort. You want to ensure that you know your bike/s well so that you get it spot on with the dimensions.
Consider the waterproof, UV-resistant and durable material. This will bolster the weatherproof capabilities of the cover.
Liked this Post? Share it on Pinterest!
Recent Content